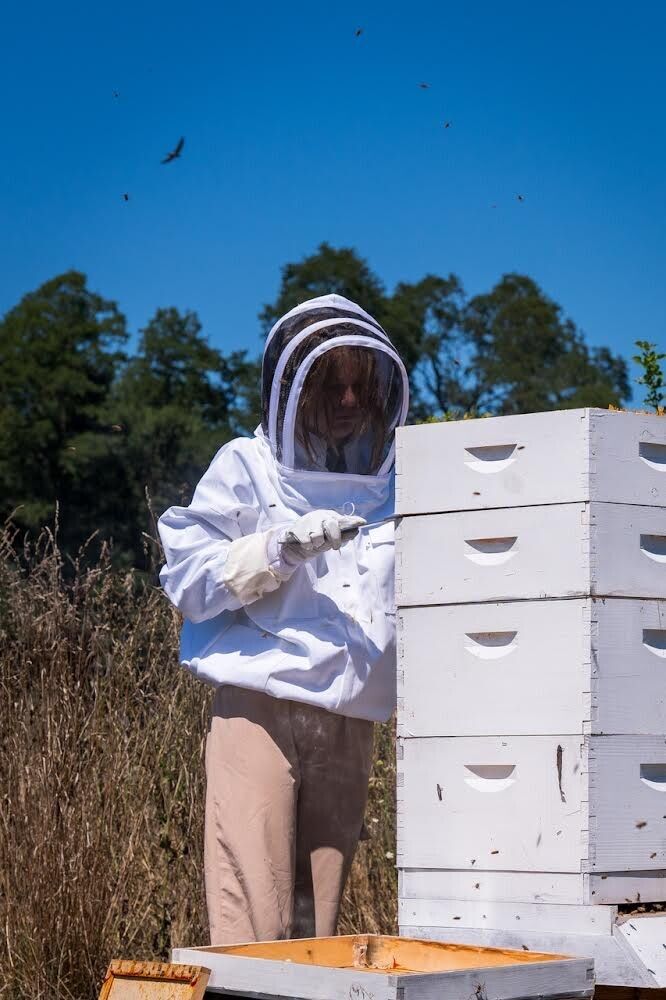 The Hudson Valley Apprenticeship program provides education and support to ten apprentices across the Hudson Valley. Over the last few months, we've written about HVA apprentices Melissa and Janine at Phillies Bridge Farm Project, Eric at Stonewood Farm, and Betty and Kanav at Ecological Citizen's Project. Today, we'd like to introduce Sophia Perkins. 
Sophia is a student at Bard College, and spent this summer apprenticing at Four Corners Community Farm in Red Hook. While she resumed her classes as of September, Sophia plans to continue attending trainings (including antiracism and business planning) along with the rest of the cohort through the fall months. 
Sophia Perkins(she/her)
Four Corners Community Farm 
"I have always been interested in farming but this is my first time actually getting to do it!"
Sophia grew up in Bucks County, Pennsylvania, but now calls Hudson, NY her home. A student at Bard, Sophia is majoring in Russian Studies, and has been studying the Russian language for 2+ years. During her time at Four Corners Community Farm in Red Hook, she got to learn about farm equipment (one of her initial interests upon joining the HVA) and discovered a budding interest in honeybees. Sophia chose to use her $400 educational stipend, which Glynwood provides to each apprentice, on a new bee suit, pictured above. 
What drew you to this apprenticeship? "I have ALWAYS dreamed of working on a farm and I jumped at the opportunity to work outside and to cook and eat food that I harvested myself. I am simply excited to be outside and to be learning about something new (to me) that benefits myself and my community."
Where were you one year ago today? "Same place I am today, actually: at Bard college doing school! But I was living in a residence hall and I'm now living in a farmhouse in the woods so I consider that a major upgrade."
Do you have a favorite memory from the apprenticeship? "I was thrilled to get the chance to treat our beehives for mites, in my own bee suit that I'm now able to keep forever thanks to the Glynwood program. I will get to continue working with these bees during the fall and hopefully throughout my remaining time at Bard College."
 
Stay tuned next month to meet the last group of farmers-in-training from the Hudson Valley Apprenticeship program.