Focused on Glynwood's core values, these workshops are tailored to specific professional audiences in order to provide the skills, knowledge, and networks needed to advance a regenerative and equitable food system.
_________________________________________________________________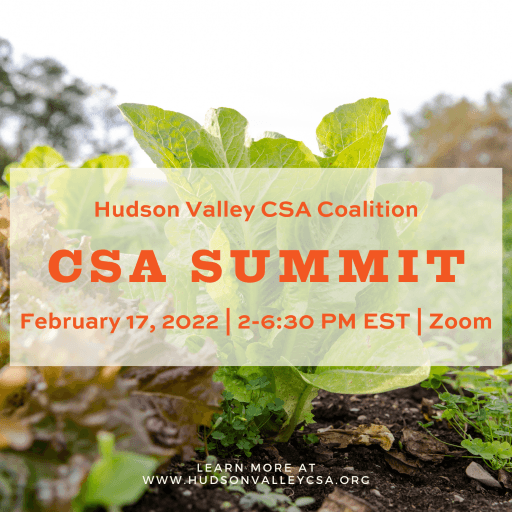 We don't need to tell you that the past two seasons were unlike any other. Whether changing consumer patterns, supply chain disruptions, climate volatility or worker shortages, the challenges of the past two years have forced farmers to pivot on a moment's notice and adapt to new norms time and time again. This constant state of flux is exhausting both mentally and physically, and can be devastating for farm businesses. But you don't have to face these challenges alone.
This year's Hudson Valley CSA Coalition Summit is bringing our community together to ask:
-How can we, as a network of Hudson Valley CSA farmers, effectively navigate our region's food system and feel more stable within it?
-What present issues, whether farmer housing or employee retention, can we collectively troubleshoot?
-How should farms anticipate and prepare for risk such that they are better equipped to weather future, inevitable storms?
-Critically, how does Community Supported Agriculture further regional resilience?
These are just four of many questions we will explore in our second annual Hudson Valley CSA Coalition Summit. The Summit is an opportunity to reconnect, learn from one another, and identify solutions and connections to make your CSA operation as successful as possible. Join us for an afternoon of peer learning, educational presentations, and community building.
Keynote presentation: Laura Lengnick, Director of Agriculture at Glynwood, will talk about farm resiliency thinking and the resilience benefits of grower networks such as the Hudson Valley CSA Coalition.
Register here or by clicking the "Register Now" button above. Registration for this event is FREE for paying members of the Hudson Valley CSA Coalition. If you purchased a Coalition membership between last year's CSA Summit (Feb. 18, 2021) and now, we will send you a discount code that you can apply in the Summit registration form. Otherwise, purchase or renew your farm membership here, and we will send you a discount code once your membership purchase is processed.
______________________________________________________________________________________
AGENDA***
I. Welcome
II. Breakout Session #1: Farmer-Led Learning Circles
-Growing for food access & fundraising for solidarity shares
-Member engagement and retention
-Labor recruitment and retention
III. Workplace CSA panel and presentation
IV. Breakout Session #2: Farmer-Led Learning Circles
-Small grains and staples focus group
-Farmer housing
-Collaborative crop planning/aggregation
V. Coalition Annual Report: Year in Review and Priorities for 2022 (Kate Anstreicher, Michelle Hughes and Megan Larmer)
VI. Keynote Presentation: Laura Lengnick, Director of Agriculture at Glynwood and founder/owner of Cultivating Resilience, LLC
VII. Closing
***Order of events/organization of peer learning circles subject to change
______________________________________________________________________________________
About the Coalition: founded in 2016, the Hudson Valley CSA Coalition is a collaborative effort of CSA farmers in the Hudson Valley who share a common desire to bring the CSA experience to more of their neighbors and community members. The Coalition is facilitated by Glynwood and includes more than 120 growers in the region.