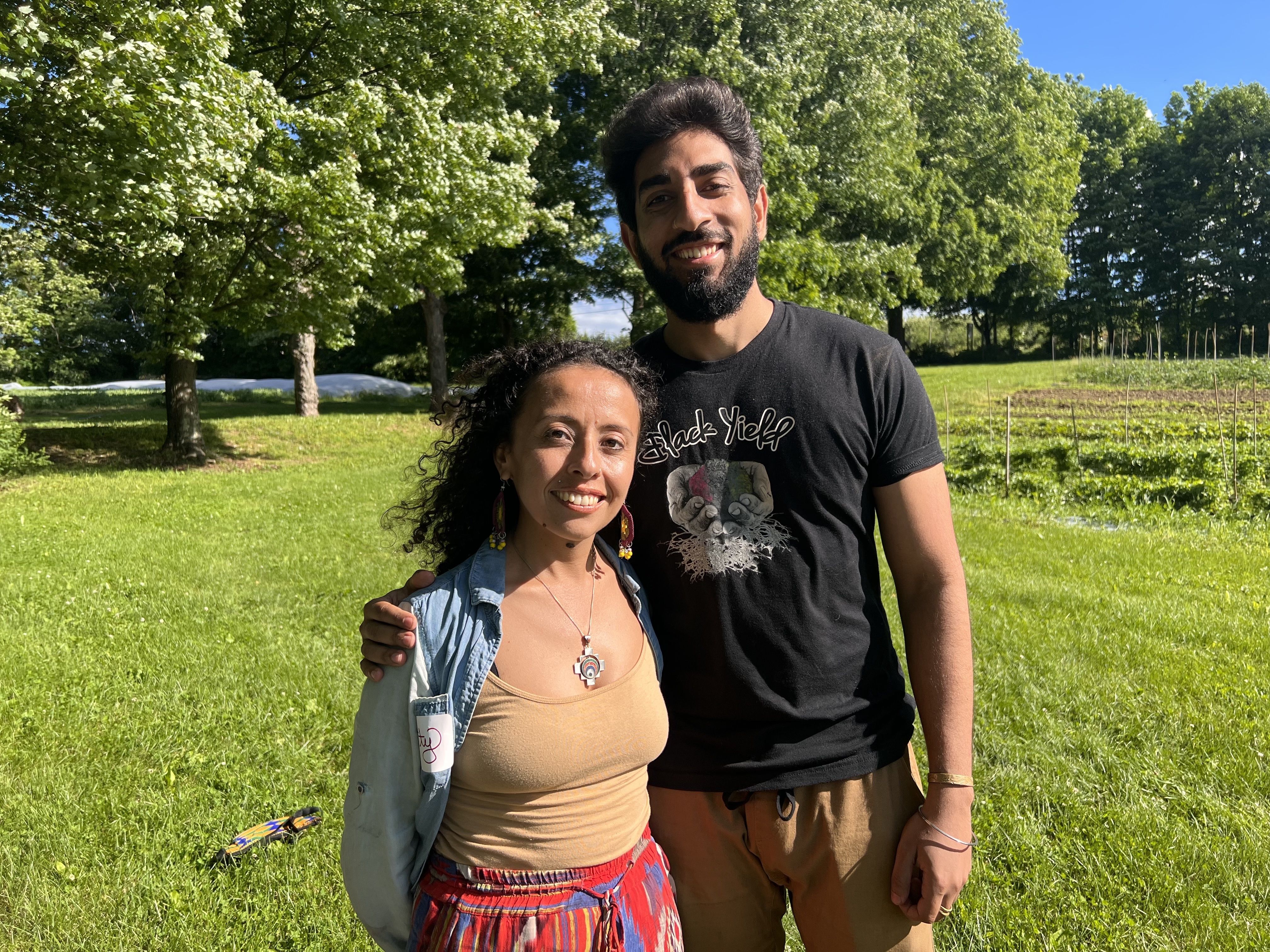 Meet Kanav Kathuria and Betty Bastidas, apprentices at the Ecological Citizen's Project—and the newest additions to Glynwood's Hudson Valley Apprenticeship. 
The Hudson Valley Apprenticeship (HVA) is a decentralized apprenticeship, drawing on Glynwood's extensive agricultural network and decades-long expertise in farmer training to prepare farm apprentices across the region to successfully manage their own climate-resilient farm enterprises. (For a full description of HVA, read the blog post here.) 
In its pilot year, the Hudson Valley Apprenticeship is supporting and resourcing apprentices at six Hudson Valley farms: Phillies Bridge Farm Project, DIG Acres, Four Corners Farm, Stonewood Farm, Maple View Farm, and the Ecological Citizen's Project at Longhaul Farm. 
The Ecological Citizen's Project (ECP), run by Longhaul farmers Jason Angell and Jocelyn Apicello, is a Garrison-based nonprofit dedicated to regenerating land and communities building toward a more healthy, equitable, democratic and regenerative way of life. Through their Regenerative Communities (RC) program, they train new farmers on their production space at Longhaul Farm before placing them on underutilized urban land in the Hudson Valley to establish public food gardens that incorporate inclusive community programming. These new farmers, which this year include our apprentices Betty and Kanav, are known as "Regenerators." Regenerators cultivate growing spaces as launching pads to regenerate their communities by increasing food security and economic security and building community wealth, healing and freedom. 
Read on to learn more about the 2022 Regenerators and newest additions to Glynwood's Hudson Valley Apprenticeship!
 
Kanav Kathuria (he/him)
Ecological Citizen's Project
"I started farming to learn how to be in right relationship with land, with spirit, with self, and with community."
Originally from India, Kanav moved to the US at the age of nine, and recently relocated to New York from Baltimore. Kanav is a founding member of the Maryland Food & Prison Abolition Project, a collective that works at the intersection of food sovereignty and abolition to use food as a tool of resistance. He brings his commitment to abolition and collective liberation to his work as a Regenerator at the Ecological Citizen's Project, and is eager to incorporate the hands-on experience of growing food into what he has learned from years of organizing and activism. 
What is something you're excited to learn? "There is so much I'm excited to learn — soil science, how to compost, plant combinations, plant medicine, seed politics, soil composition, and the differences between regenerative agriculture and industrial food production at each stage of the production process. Already I feel my entire relationship to the land changing. I'm thinking much more deeply about soil as the basis for freedom."
Where were you one year ago today? "I was in Baltimore, preparing to move to New York and wrapping up my in-person work with the Maryland Food & Prison Abolition Project." 
What do you envision for your future? "A vision I have for my future is to imagine and build towards what a collectivized, people's-based, radical public health educational institute could be. Land stewardship would be a major component of this work in terms of praxis." 
 
Betty Bastidas (she/her)
Ecological Citizen's Project
"One of my missions is to be a change agent and community catalyst for the community of Newburgh, a historically underrepresented community made up of low-income working families that are mostly Black and Latino."
Betty is a teacher, a gardener, a homeowner, and a mom. Her commitment to historically underrepresented communities comes in part from her own experience as an immigrant, having moved to the US from Ecuador at the age of nine. She is passionate about collective organizing and building community around growing food, and joined the Ecological Citizen's Project to learn how to make a living from small-scale regenerative farming while also doing social justice activism work. 
Betty is committed to educating and empowering the public. One way she has been doing this is through her work as a photographer and filmmaker. Betty has been making media for fifteen years. Most recently, her short film, Can't Hold Me Back, was featured on HUDSY TV. 
What is something you're excited to learn? "I am eager to experience the various cycles of farming, harvesting, and sowing seeds, and to regularly immerse myself in nature as a source of inspiration – it is where I feel most balanced and grounded!"
Where were you one year ago today? "A year ago I was a NYC media arts teacher for immigrant youth in the Bronx, working at Crotona International High School for 5 years. I had just purchased my first multi-family home in Newburgh and relocated to the Hudson Valley area. Prior to that, I was running my video production company, Maracuya productions, where I told stories of injustice and inspiration. My stories were broadcast on PBS and film festivals. As an immigrant I've always approached my work through a social justice lens, finding ways to empower our immigrant and BIPOC communities that have faced so many barriers to entry."
You've accomplished so much already. What's next for you with this apprenticeship? "I'm committed to being a bridge towards building a just, equitable and healthy world. I aim to build relationships with people with aligned values, and to collaborate and support one another to grow and become our best selves while being in service to our community. I look forward to being a regenerator, someone who can work with others to demonstrate an innovative model for community development that builds local economic, food, and civic sovereignty."
We are inspired and invigorated by the work that Kanav and Betty have set out for themselves—and by all they've accomplished so far. Follow along with their work on social media at @ecologicalcitizensproject and @longhaulfarmny.
Stay tuned next month, when we'll introduce apprentices from another participating Hudson Valley Apprentice farm.