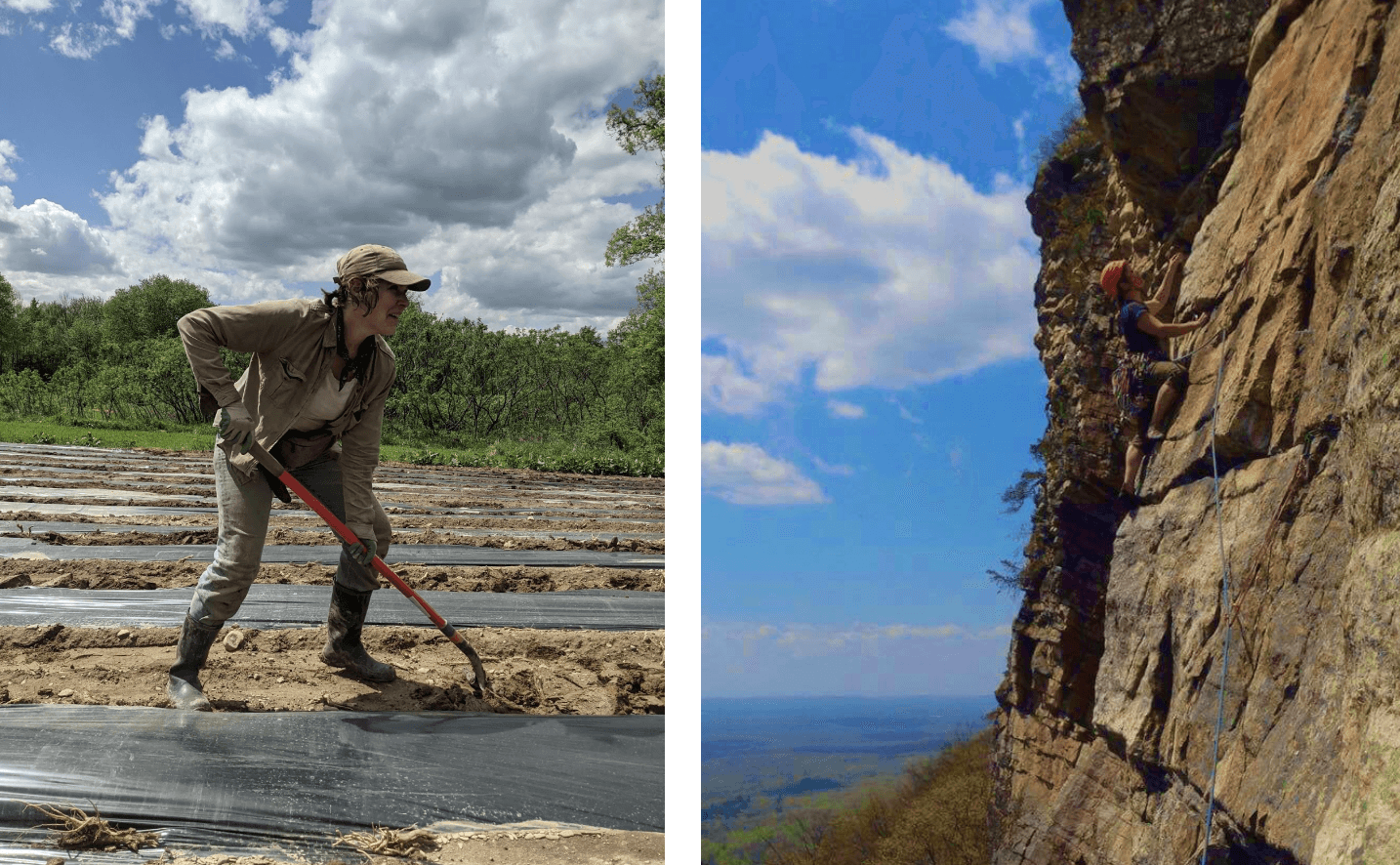 This month, we want to introduce you to Melissa Schultheis and Janine Connell, who are apprenticing at Phillies Bridge Farm Project as part of the Hudson Valley Apprenticeship program.
The Hudson Valley Apprenticeship (HVA) is a decentralized apprenticeship designed to prepare farm apprentices across the region to successfully manage their own climate-resilient farm enterprises. (For a full description of HVA, read the blog post here.) In its pilot year, the HVA is supporting and resourcing apprentices at six Hudson Valley farms including  Phillies Bridge Farm Project as well as DIG Acres, Four Corners Farm, Stonewood Farm, Maple View Farm, and the Ecological Citizen's Project at Longhaul Farm. 
Phillies Bridge Farm Project is a non-profit working farm located on 65 scenic acres in New Paltz, NY. Their mission is to develop and demonstrate sustainable agriculture; educate the community about food justice and the sources of healthy food; and provide access to sustainably grown produce for local community members, with a focus on food-insecure households.
Amid miles of woods and wetlands, Phillies Bridge Farm has five acres of vegetable fields. On those five acres, Melissa and Janine, together with Farm Manager Heather Wodehouse and Assistant Manager Haley Tietz, grow mixed vegetables for a year-round, sliding-scale CSA and several food relief partner organizations. 

Melissa Schultheis (she/her)
"I've loved my time as an educator and researcher, but now that I'm in my third season of farming in the Hudson Valley, I'm looking forward to building a future in agriculture."
Originally from Illinois, Melissa is finishing a PhD project in literature, about how agriculture influenced English Renaissance poetry. Her grandparents were tomato farmers and florists in Indiana. Growing up, she was mesmerized by stories about her grandmother's greenhouses and her grandad's compost recipe. But it wasn't until studying the history of farming in graduate school that she decided to start volunteering and working on farms. 
What is something you're excited to learn? This season I've been excited to learn more about weed and pest management.
Where were you one year ago today? One year ago today, I was digging up carrots and enjoying a well-deserved post-work swim!
Janine Connell (she/her)
"Wow! I was blown away by the amount of detail that goes into a crop plan and I love watching that play out over the season."
Originally from Philadelphia, Janine has had many different, and mostly unrelated, careers. Before finding her way to farming, she was a lawyer, a teacher, an ICU nurse, and a ski instructor. ("Farming and ski instruction, so far, have been my favorites!") This is her first time ever working on a farm. She loves growing things, and the tangible and visible results of a day's work. Even after just a few months in the field, Janine is interested to learn how to grow on a large scale. 
What is something you're excited to learn? Heather [my farm mentor] has given me an intro lesson on crop planning and shared her crop planning spreadsheet for the season. I was blown away by it. I'm excited to learn more and am looking forward to the crop rotation and succession planning CRAFT event at Tributary Farm.
Where were you one year ago today? Rock climbing in the Adirondacks.