Click on event titles to learn more before registering
The spread of COVID-19 in our region is affecting many of our regularly scheduled programs.  Click here to read our current statement on our operations.   
---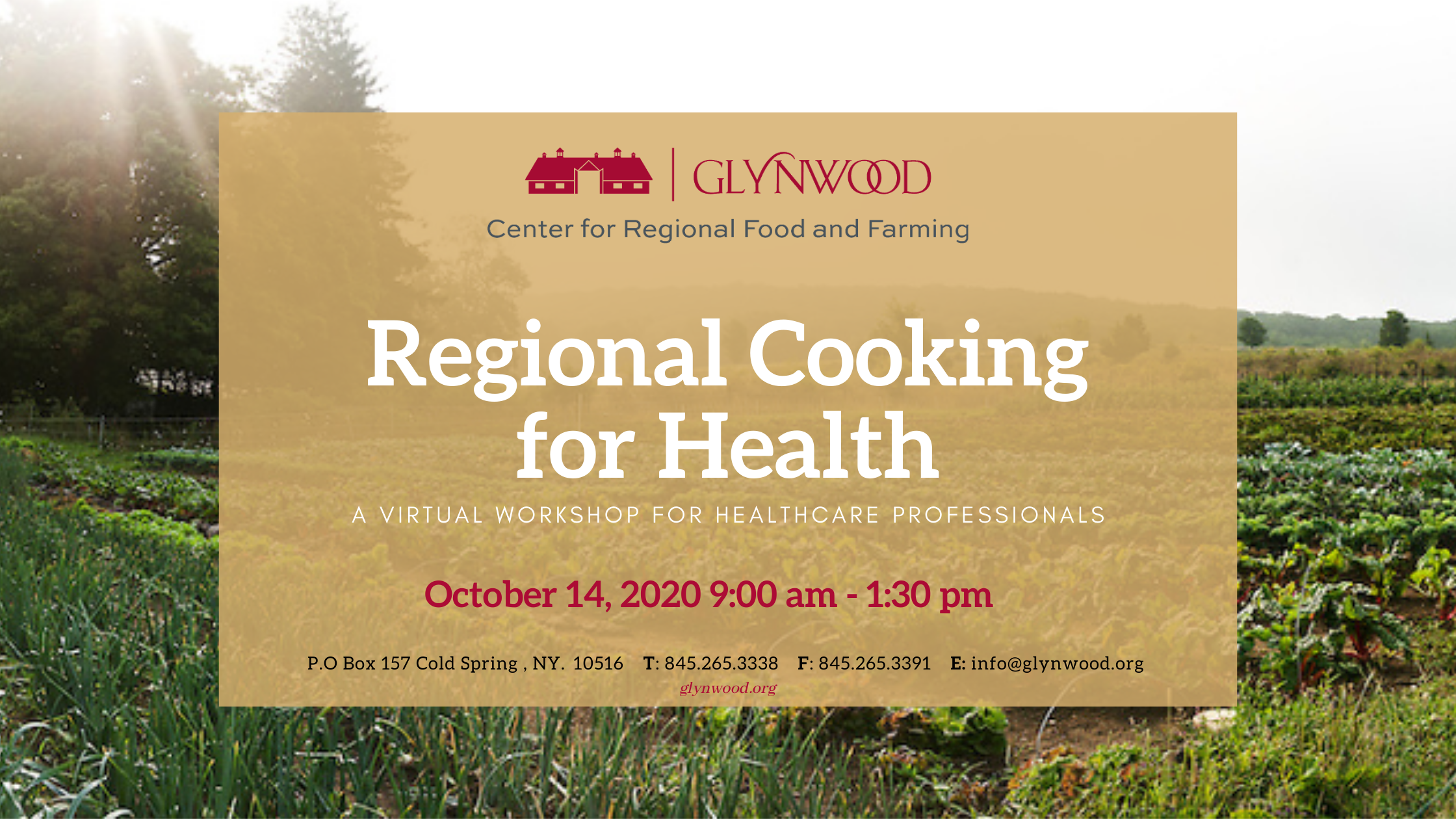 Join farmers, food experts, and physicians for an educational online event to learn about the role of regional food in improving health. Workshop includes presentations about regenerative farming and food access, Q+A with Dr Sezelle Gereau and food writer Mark Bittman, and an online seasonal cooking class with chef and physician Dr Robert Graham.
Reserve your spot today! General Admission is $50. If this ticket price presents a burden to you for any reason, scholarships are available. Contact Kate Anstreicher (kanstreicher@glynwood.org) for info on scholarships.
Workshop Session Descriptions can be found under "Related Links."
October's Farm to Home Dinner Box:
Featuring Alicia Walter from Harlem Valley Homestead
Box pick-up at Glynwood: Thursday, October 15, 2020 (local delivery available for a fee)
October's recipes will feature beef as the primary protein, but options for vegetarians and carnivores alike are always available.
Glynwood's Farm-to-Home Dinner Box is a meal-kit service with a local twist: each box features recipes created by our guest chef partners and contains locally-sourced Hudson Valley farm-fresh ingredients.
Alicia Walter loves to feed people. She is a chef, educator and former farmhand with over a decade of experience in the restaurant industry. Alicia is a recent transplant from NYC and came to the farm on a mission to learn even more about agriculture. She is passionate about connecting folks to the land - especially those in foodservice - through classes, events and farm visits. Alicia finds culinary education deeply rewarding and has taught hundreds of cooking classes at Vetri Ristorante, Eataly NY, Del Posto, New York Botanical Gardens, The New York Horticultural Society and out of her Airstream trailer. Alicia holds a certificate in Advanced Food Policy and Sustainability from the University of Gastronomic Studies in Bra, Italy and is currently pursuing her MPS in Design Management at Pratt University.
How it works:
1. Pre-order a Farm-to-Home Dinner Box before 10/05/2020.
2. Final box details (including recipes and pantry list) will be confirmed via email by 10/12/2020.
3. Pick-up your box at Glynwood during your pre-assigned time slot on 10/15/2020 (local delivery available for an additional fee).
4. Get your family ready to create your at-home-farm-dinner and enjoy.
With your purchase you will receive:
-- custom recipes from that month's guest chef
-- all the primary ingredients from Glynwood's Farm and other regional producers that you will need to create that month's custom recipes (you will need to provide your own pantry staples like oils, dairy, spices)
---