Good Meat Matters: A Whole Carcass Butchery Demo, Cut Analysis, and Comparative Muscle Tasting for Hudson Valley Livestock Farmers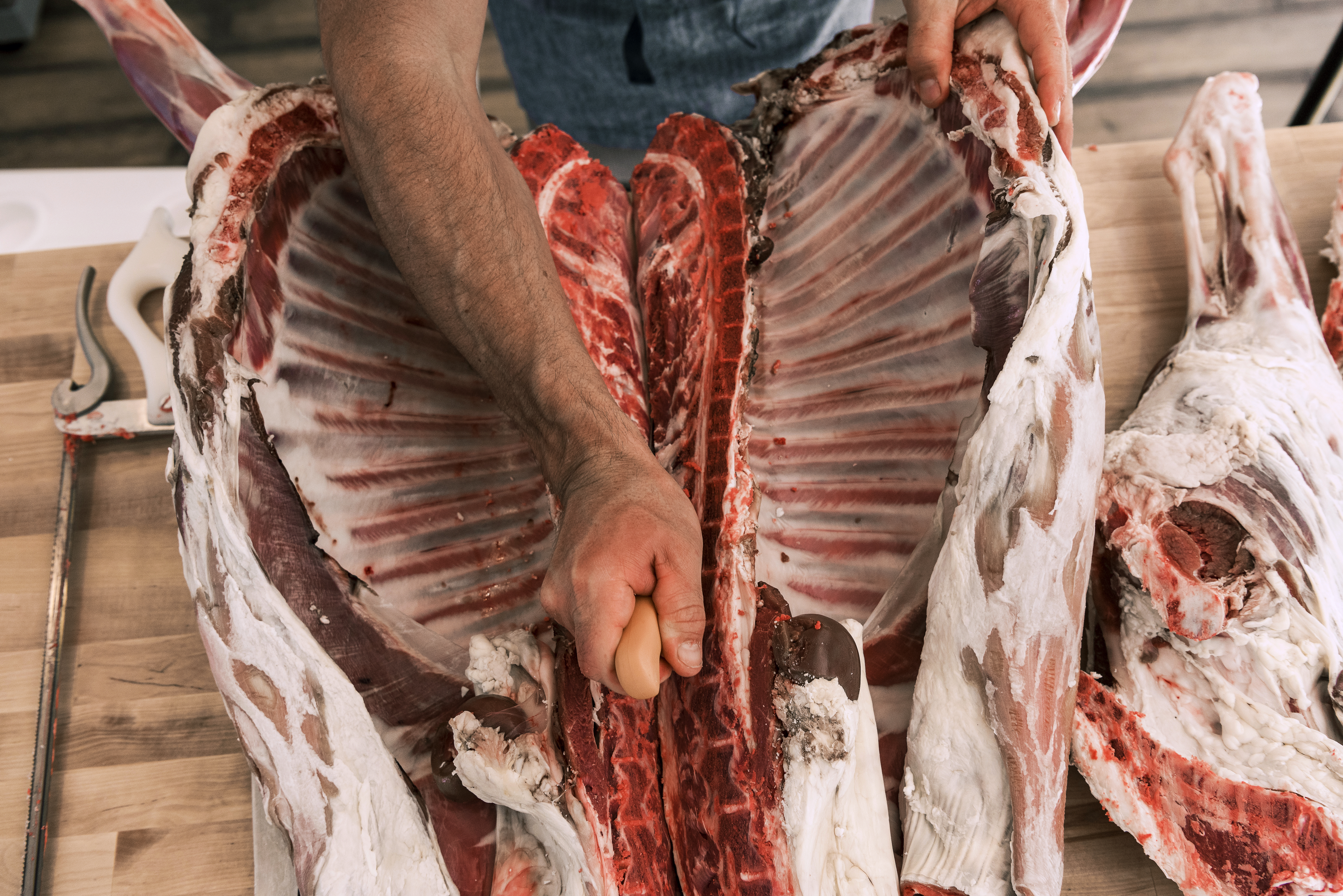 Programmed in partnership with the Good Meat Project (www.goodmeatproject.org)
Featuring instructor Adam Danforth and speakers from Eagle Bridge Custom Meats
Raising livestock in accordance with nature, outside of conventional models, is an undeniably worthy endeavor, but it comes with many challenges, from customer resistance to paying for the true cost of raising your meat, to navigating the anatomy of the animal with your local processor (which can sometime feel like a daunting choose-your-own-adventure), and selling cuts to wary consumers who may or may not know what to do with them in the kitchen. In this collaborative workshop, we'll explore the myriad ways in which various carcass cuts might be utilized in retail, restaurant, and home settings, and how producers can tell the story of each of these cuts to customers using the appealing language of flavor and texture. By way of a whole animal butchery demo and anatomy lesson, followed by a comparative muscle tasting and lively discussion, we'll discover how each cut of meat holds great potential for positive, even transformative, flavor experiences for the eater, a key component to successfully marketing meat. We'll also delve into more practical questions about yield and pricing that are bound to come up as you are settling on a cut sheet with your processor.
In this workshop we'll cover:
-Muscle Structure 101: Conveying the three f's (fiber, fat, and fascia) to customers
-How to make the most informed choices with your processor about which cuts to package and sell to your customers
-What to consider in terms of yield and price when settling cut sheets
-How to encourage your customers to explore new cuts and educate them about the best way to prepare them in the kitchen
-New and old names for cuts, from bavette to London broil, sirloin tip and Sante Fe steaks
Lunch will be provided.
Note: For the morning demonstration, we'll use a whole lamb carcass for demonstration purposes. The size and clear muscle definition of a lamb will give the group an easy jumping off point to explore similar cuts from other proteins like beef and pork. For the afternoon tasting and demonstration, we'll focus on a few popular beef subprimals and retail cuts as examples.
Workshop Partners and Speakers:
Adam Danforth is the James Beard award-winning author of two books, published by Storey Publishing, about slaughtering and butchering livestock. He leads experiential workshops worldwide on butchery and meat science for venues such as Stone Barns Center for Agriculture, the James Beard Foundation Chefs Boot Camp, Google, and the National Bison Association. Adam also consults and provides education to restaurants including Eleven Madison Park, Gramercy Tavern, Bazaar Meat, The Perennial, and Maude. He is the American ambassador for the Butchers Manifesto and a board member of the Chefs Collaborative and the Good Meat Project. Adam lives in Ashland, Oregon, USA.
The Good Meat Project inspires responsible meat production and consumption through experiential education. Led by founder Camas Davis, the Good Meat Project conceives and conducts hands-on, experiential education events and workshops, envisioned for consumers, farmers, butchers, and chefs.
Eagle Bridge Custom Meats is a highly respected slaughterhouse and processor in the Hudson Valley (in Eagle Bridge, NY) owned and managed by Debbie and Steve Farrara.
Picture credit to Nexgrill-Magnetic Creative