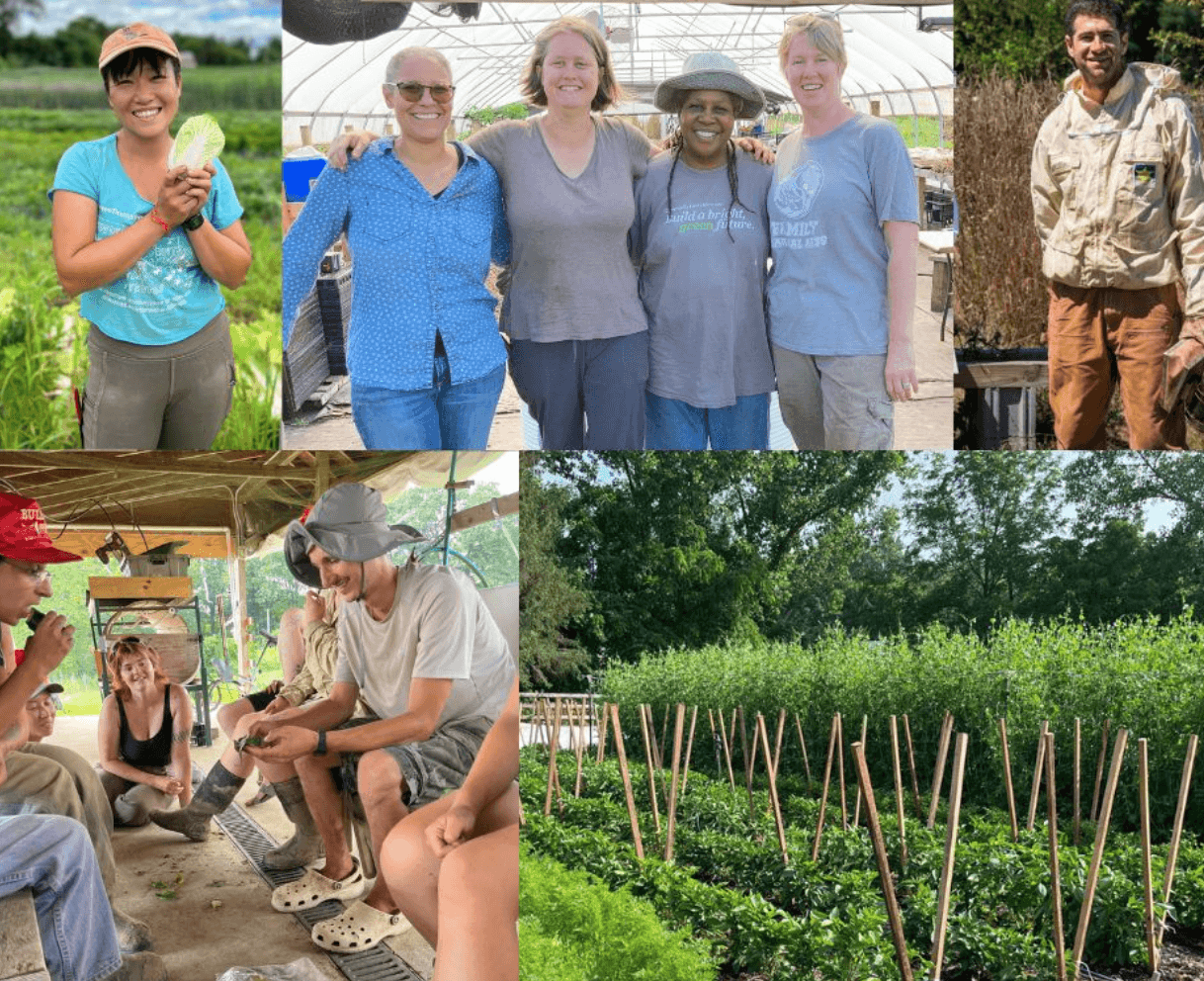 The Hudson Valley Apprenticeship, launched by Glynwood in 2022, is a decentralized apprenticeship program that provides education, training and mentoring to a cohort of aspiring farmers across the Mid-Hudson Valley. Through a dynamic set of hands-on and classroom-based learning opportunities, exercises in goal setting and mentorship from some of the region's most experienced farmers, apprentices learn the foundational agricultural skills needed for success in their future careers as farmers and food system professionals.
The HVA program also supports experienced Hudson Valley farmers who wish to share their knowledge by mentoring aspiring farmers. To qualify as a mentor, these farmers must share Glynwood's core equity values, demonstrating a commitment to equity, diversity and inclusion; they must compensate apprentices fairly; and they must employ sustainable growing practices. All mentors participate in annual mentor training, orientation, and program review sessions, and receive a stipend and a mentor toolkit to support their efforts.
We have loved learning alongside (and from!) our current crop of farm mentors and apprentices these past six months, and are pleased to introduce them to you.
Farmer Christina Chan founded Choy Division in 2019 as an urban farm in Astoria, Queens. The farm relocated upstate in 2020, landing in the Black Dirt region of Orange County and becoming a member of both the Dig Acres Incubator and Glynwood's Farm Business Incubator. In its current home at the Chester Agricultural Center, Choy Division uses regenerative agricultural techniques to grow a half acre of East Asian heritage crops for wholesale and a community CSA. For Christina, this means prioritizing soil biodiversity and ecosystem health, not just productivity and profit.
Rise & Root Farm is a five-acre, QTBIPOC-centered farm, run cooperatively by an intergenerational, multi-racial, and LGBTQ team of four women. The farm is located at the Chester Agricultural Center in the Black Dirt region of Orange County. Rise & Root farmers Jane Hayes-Hodge, Karen Washington, Lorrie Clevenger and Michaela Hayes-Hodge center care in everything they do: for the land, themselves, each other, and their wider communities. Together they are working to uproot underlying systems of oppression in order to create liberation.
Kim Sheu (she/her) splits her apprenticeship hours between Choy Division and Rise & Root, where she is a valued, curious, and enthusiastic member of the team. Previously, Kim managed two GrowNYC farmers markets and operated a small gallery and café for a pair of AAPI coffee roasters in New York City. Kim appreciates the strong sense of community between Choy Division and Rise & Root mentors and teams and the role this mutual support plays in a farmer's success.
August Grice (he/him) worked with Newburgh Urban Food and Farm Initiative at Downing Park Urban Farm in Newburgh for a few years before becoming an apprentice with Rise & Root. In his apprenticeship and beyond, August wants to help communities with environmental concerns take an active role in making a difference in the environment.
Jocelyn Apicello and Jason Angell are co-directors of the Ecological Citizen's Project, a nonprofit working to build a movement of people willing to listen to each other, learn together, and help lead community campaigns to produce a more just, healthy, democratic and regenerative way of life. Their Regenerative Communities (RC) project trains new farmers and places them on land in Hudson Valley communities to establish public food gardens as a launching pad to regenerate communities through increased food security, economic security and wealth on a local level. Regenerators are trained at Longhaul Farm, where they practice sustainable living and agriculture, including running a small-scale Community Supported Agriculture (CSA) program and a diversified, free-range livestock program.
Originally from the Bronx, Amanda Armenteros (she/her) is a dancer and teaching artist who enjoys working with students and being inspired by the creative power of nature. She is also a new farmer. In her apprenticeship at Longhaul Farm (her first!), Amanda is working to become fluent in "farm language" and learning the basics of growing all the foods she loves to consume. Upon completing her time at Longhaul, Amanda will be managing the Peekskill Regeneration Farm.
Samuel Rose is co-founder and director of Four Corners Community Farm in Red Hook, NY: a community initiative that provides tools, resources, and connectionsto help families, groups and volunteers grow food for themselves and for distribution programs at little or no-cost. Four Corners works to strengthen the regional foodshed by providing a center for residents to adopt garden parcels, grow and donate food, learn about food security and self-sufficiency, and gather as a community. Sam is a farmer, community advocate, and educator with degrees in Plant Science and Science Education and nearly twenty years of experience at various nonprofit organizations in the USA and Latin America.
Athena Bason (she/her), originally from the Hudson Valley, is currently a student at Bard College. Through her apprenticeship at Four Corners, Athena is learning more about small scale food production, composting and tractor safety. She enjoys the physicality of farm and garden work, as well as the more intellectual components of the apprenticeship. An avid reader of poetry, Athena recently discovered Wendell Berry–American novelist, poet, environmental activist, and farmer–and has been exploring his writing.
Eli Smith (he/him), from Western Massachusetts, is also studying at Bard and apprenticing at Four Corners Farm. Eli is learning more about cultivating vegetables, carpentry, machinery, and crop cycles. He wants to be able to grow his own food sustainably and be able to teach the same to others. He is also interested in addressing the farmworker housing crisis in the Hudson Valley.
Kyle Nisonger combined his knowledge of growing up on a family farm in Ohio with experience working on several successful farms in the Hudson Valley to launch Maple View Farm in the spring of 2017. Maple View Farm, where Kyle is owner and farmer, is a one-acre, no-till, market garden following organic practices to produce food for farmers markets, local grocery stores, local restaurants, CSA members, and on-farm farmstand. Kyle is also a 2020 graduate of Glynwood's Farm Business Incubator program.
Maris Howell (he/him) joined Maple View Farm in the early months of 2023, kicking off his apprenticeship with winter production and markets before diving into the new growing season. Originally from Cold Spring, Maris started farming out of a desire to help clean up the food system, the environment, and other aspects of society negatively affected by chemical agriculture. Maris is also interested in understanding how astrology and celestial cycles may impact farming.
Located on 65 scenic acres in New Paltz, Phillies Bridge Farm Project is a nonprofit working farm with a mission to promote local sustainable agriculture, share the harvest, and educate people of all ages about the sources of healthy food and the study of nature. Originally from California, Farm Manager Haley Tietz (they/them) farmed at Kingfisher Farm and Common Thread CSA in Central New York before joining PBFP. Haley is co-mentoring their group of three apprentices with Food Justice Coordinator Suzannah Schneider (she/they), who joined Phillies Bridge after completing a Glynwood Vegetable Apprenticeship last year. Both Haley and Suz find farming to be a meaningful way to care for the environment and their community, and to work towards a more just and sustainable food system. Together, they use organic growing practices to produce 6 acres of food for CSA members and donations to the community.
Kate Trapnell (they/them) grew up in CA, went to school in OH, and was living in Chicago before starting their apprenticeship at Phillies Bridge. Kate had a little garden in their front yard one summer, and has been curious about farming ever since. They are excited to expand their knowledge about mutually beneficial relationships between crop plants and the different conditions different crops need to thrive.
Caroline Bursler (she/her) spent four years in Chicago earningher bachelor's degree in Environmental Science before moving to New Paltz to begin her apprenticeship. She got into farming three years ago as part of her college's Urban Agriculture program. Caroline loves learning about beekeeping and strategies for pest management.
In addition to being an apprentice at Phillies Bridge, Rosa Ng (she/her) is a Chinese American textile artist, designer, and educator based in Wallkill, New York. Rosa's artistic practice focuses on using art as a way to challenge dominant societal narratives and create space for alternative stories to emerge. She is interested in exploring how we can be better stewards of nature, ourselves, and our communities.

Read more about Glynwood's Apprenticeship programs here.