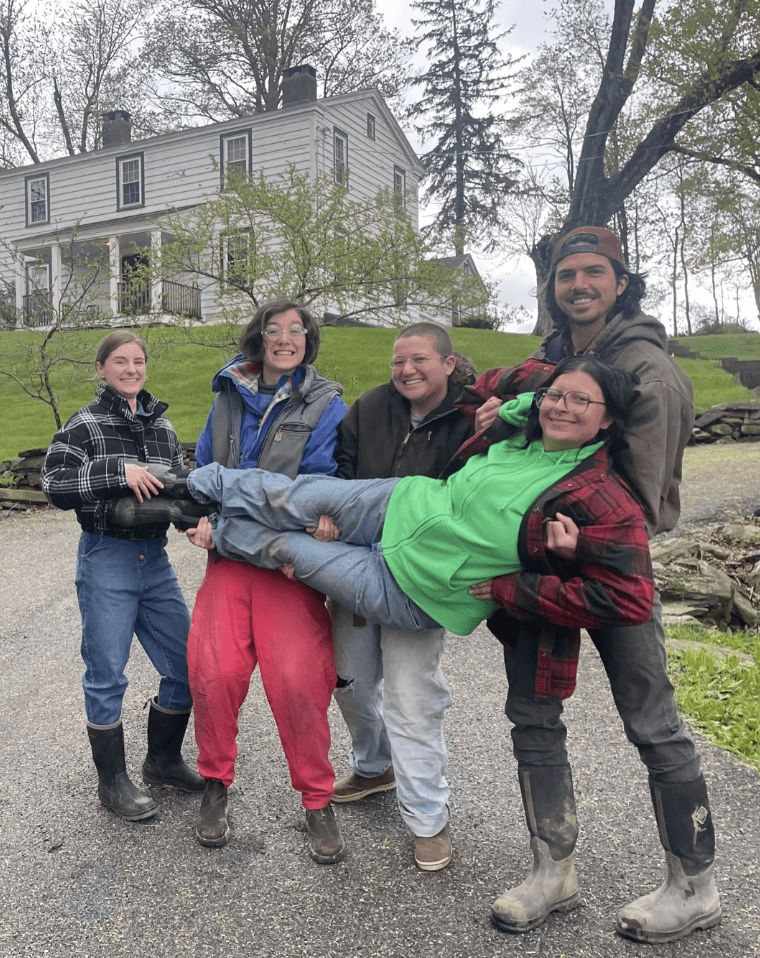 We are excited to introduce our 2023 Apprentices, who have traveled here from near (Putnam County) and far (Colombia). This colorful bunch is already leaning into this next learning adventure, and already teaching us so much. We look forward to guiding each other and growing together over the next 7+ months of the apprenticeship.

Caitlyn Hoyt (she/her)
Livestock Apprentice
"I find the energy of animals very peaceful to be around."
Caitlyn loves working with animals. From the time she was young, she knew she wanted to work with animals, and to find a way to care and advocate for them. This led her to pursue a degree in zoology, and to work in veterinary offices, nature centers, and organizations like Green Chimneys. Caitlyn recently left Memorial Sloan Kettering, where she worked with lab animals, to become a Glynwood livestock apprentice. Of this decision, Caitlyn says "I want to work with large domesticated animals, and I chose Glynwood because of their ecologically sound and humane farming practices".

What are you excited about learning?
I am enthusiastic about diving deeper into genetic selection, developing strategies to protect livestock from predators, and studying common pathogens, as well as a more comprehensive understanding of farming techniques.

What else do you want people to know about you?
I believe that everywhere you go, you get something out of it and give something back to it—and that all of this happens for a reason. This apprenticeship is a step out of my comfort zone, and very different from my previous jobs. I think this experience, and my inquisitive nature, will help me really grow as a person. I'm excited to see what I get, and what I can give.


Jojo Attal (any pronouns)
Livestock Apprentice
"This idea of listening is really present in my mind."
Jojo grew up in Brooklyn, and started farming in 2020—most recently at Rise & Root Farm in Chester, NY. They're interested in learning to raise, breed, and butcher chickens, and are eager to gain basic carpentry skills needed to construct a coop. While not from a farming family (Jojo identifies as a first generation farmer), Jojo's grandparents—who met in Hokkaido when their grandmother, a teacher from the midwest, was living in Japan—grew and raised their own food. This shared experience is a cherished point of connection between them. (During a recent facetime phone call from the hen house, Jojo's grandmother asked "Are those Rhode Island Reds"?) (PS: They were!)
How did you get into farming?
I followed a beloved up to Hawthorne Valley Farm, where I started working in the creamery. The farmers there were so generous and welcoming, and I was touched by the community there. I also discovered how much I enjoy working with animals.

What's a good piece of advice you've received?
"Love the land, be of service, let your kindness be your guide." from my former boss at Rise & Root farm, Karen Washington. I'm forever grateful to my mentors there!


Peach Gallant (they/them)
Vegetable Apprentice
"Nothing can defeat the spirit of the earth!"
Peach comes to Glynwood following a year farming alongside the worker-owners of East Brook Community Farm in the western Catskills. During their visit with East Brook Peach fell in love with having deep connection to land and to their community through farming. They learned that self care, community care and care for the land are all interconnected. They are excited to live through these connections alongside their best friend Belly. Anytime they can be outside and dancing they are happy with life. Their quote above is from a beloved book, "The Faggots & Their Friends Between Revolutions" by Larry Mitchell.

What do you think will be a challenge for you this season?
A challenge for me this season will be staying in touch with my body and my community, and balancing those needs with production. I have never farmed at such a large scale. I am excited to learn the skills to grow a lot of food. I also am excited to learn how to do this work sustainably with Belly and really grow our ability to farm together.

What's the best piece of advice you've received?
"There is no such thing as too much garlic." My bestie Andie gave me this advice during our garlic harvest season. We would roast whole heads of garlic for dinner and add it to our kale, roasted veggies, salad dressings, basically everything! A huge part of farming for me is getting to cook delicious nourishing lesbian grown vegetables for my friends. It's really physically and spiritually nourishing.

Sebastian Jindra-Cotilla (he/him)
Vegetable Apprentice
"A challenge for me this year will be retaining and integrating all of this knowledge. There is so much to learn!"
Like his fellow apprentice Belly, Sebastian was introduced to gardening in his childhood, helping his parents with the family garden at their house on eastern Long Island. Sebastian followed this interest, working at a farm while attending Vassar College and then in Maine. Before traveling to South America to research agroecological practices, he spent some time in the screaming chaos of sixth graders, as a math teacher and garden educator in Harlem.

What is a good piece of advice you've received?
It's uncanny what stays with you. I was on my way to Mexico, and met a man at the airport who was headed to China to walk across Tibet. I asked him for advice, and he said to me, "Don't try". I don't know what he meant by it, but it stuck. I think of it often when I'm assessing where and how I'm putting my energy, and why.

What are you interested in learning?
Perennial crops, agroforestry and silvopasture, restoration agroecology and advanced composting techniques! I'm also interested in scaling up my gardening knowledge to learn about the processes and systems of production-scale farming in the USA. I chose Glynwood because of the combination of field and classroom learning.
Belly Milan (they/them)
Vegetable apprentice
"Not only does farming connect me to the earth it also deepens my connection to my queerness and community."
Belly has connected with the Earth through farming their whole life. After falling in love with gardening in Chicago, they used farming as a way to travel and see the world, spending years volunteering at various hostels, yoga retreats and farms. When they're not working, Belly enjoys roller skating, moving their body in playful ways, meditating, baking vegan treats, and connecting with their community.

What do you think will be a challenge for you this season?
I think the most challenging thing for me this season will be to find a balance in everything. I want to remain gentle and kind with myself as I transition into this new season of my life.

What was the best piece of advice you've been given?
An affirmation I like to tell myself every day is that I am allowed to eb and flow. I love imagining myself as a willow tree. Allowing to flow freely while also being deeply rooted into the ground. Reminding myself of this deep knowing that I am connected to the earth and everyone around me.
Photo: Pictured (L-R): Caitlyn Hoyt, Jojo Attal, Peach Gallant, Sebastian Jindra-Cotilla, and (horizontally) Belly Milan