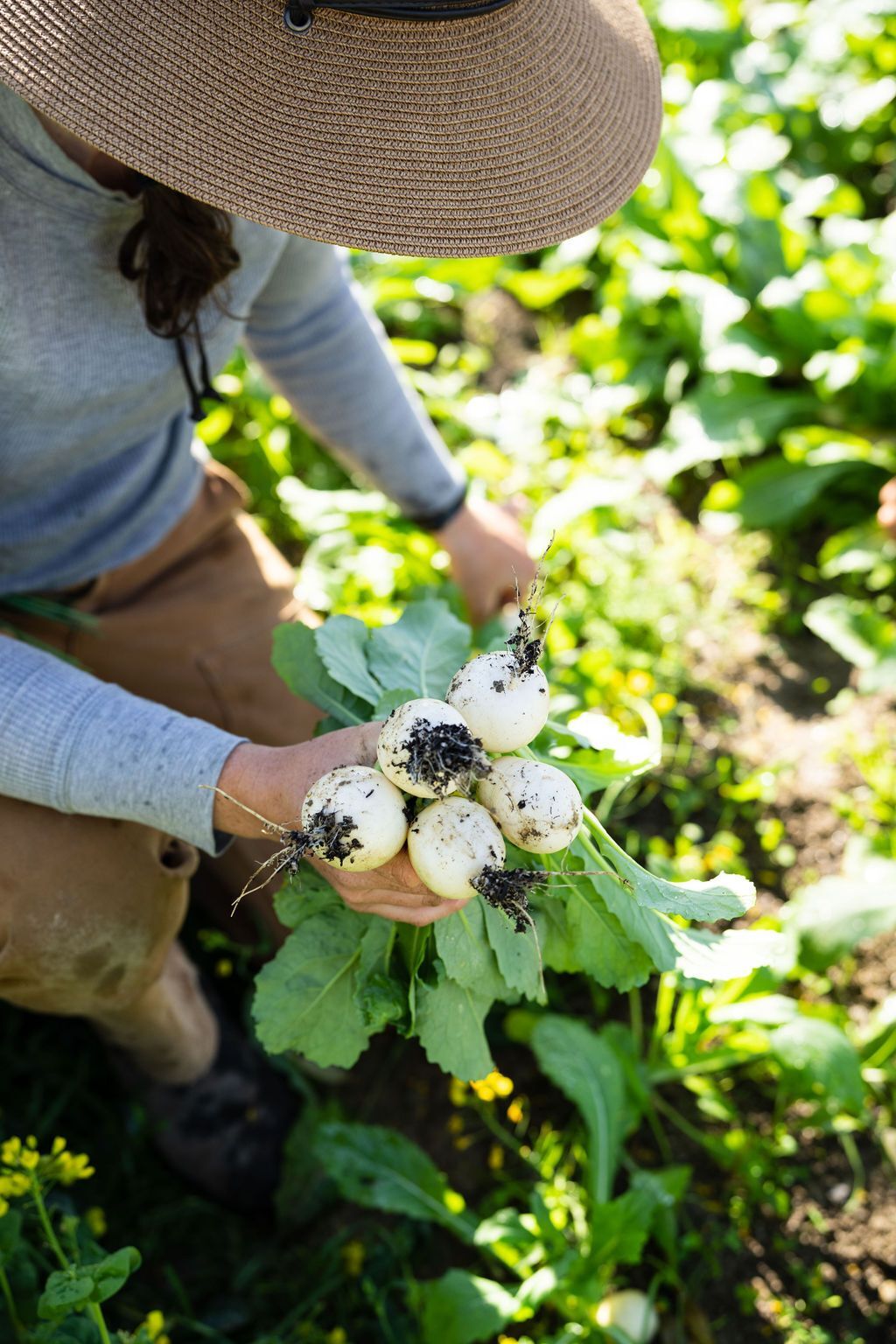 In recent years, Community Supported Agriculture (CSA) has emerged as a broadly transformative model that increases the economic viability of small and mid-sized farms, strengthens relationships between producers and consumers, boosts local economies, and delivers overwhelmingly positive impacts to people's lives. CSA members experience a full growing season with the farm, drawing them closer to the cyclical nature of farming and allowing them to share in the farm's abundance.
But while CSA works beautifully for small-scale vegetable farms and many consumers, its high up-front cost is prohibitive for people facing financial stress or uncertainty. With a growing collective desire to incorporate food justice into their farm operations, farmers across the country have developed many strategies to increase economic access to CSA while maintaining profitability.
Inspired by this movement, Glynwood has worked steadily to expand its own CSA program over the past five seasons. Our first step in 2014 was to offer payment plans, allowing members to pay for their share in several installments over the course of the season instead of in one up-front deposit. Next, in 2020, Glynwood launched its CSA is a SNAP program, offering discounted CSA shares to members paying with SNAP/EBT.
This year our team is taking it one step further, offering sliding scale pricing for all CSA shares.
The ultimate goal of a sliding scale model is economic solidarity, in which individuals with different financial resources pay proportional amounts of their incomes for the food on their tables. We help accomplish this by inviting our CSA members to self-select one of three price levels after assessing their own financial situation, including inherited wealth, home ownership, dependents, and current earning power. When shareholders opt for the highest price point, we are able to offer more subsidized shares at the lower-priced tiers, and to expand CSA is a SNAP to increase access to the food we produce while maintaining our farm's economic viability.
Our 2023 sliding scale Vegetable CSA is sold out, but we still have CSA is a SNAP shares available for customers currently receiving SNAP/EBT. This year, we are also offering sliding scale Meat and Egg CSA shares featuring our Animal Welfare Approved beef, lamb, chicken and pork and our pasture-raised eggs. We hope you'll join us for the 2023 season.
We are grateful to the manyNew York farms who have led the way in implementing food justice pricing models for CSA, including sliding scale: Soul Fire Farm, Rock Steady Farm, Poughkeepsie Farm Project, Brooklyn Grange, The 607 CSA, and Full Plate Farm Collective.
Thanks to all of our CSA members, donors, and granters, and especially to supporters like you, for making these programs possible.