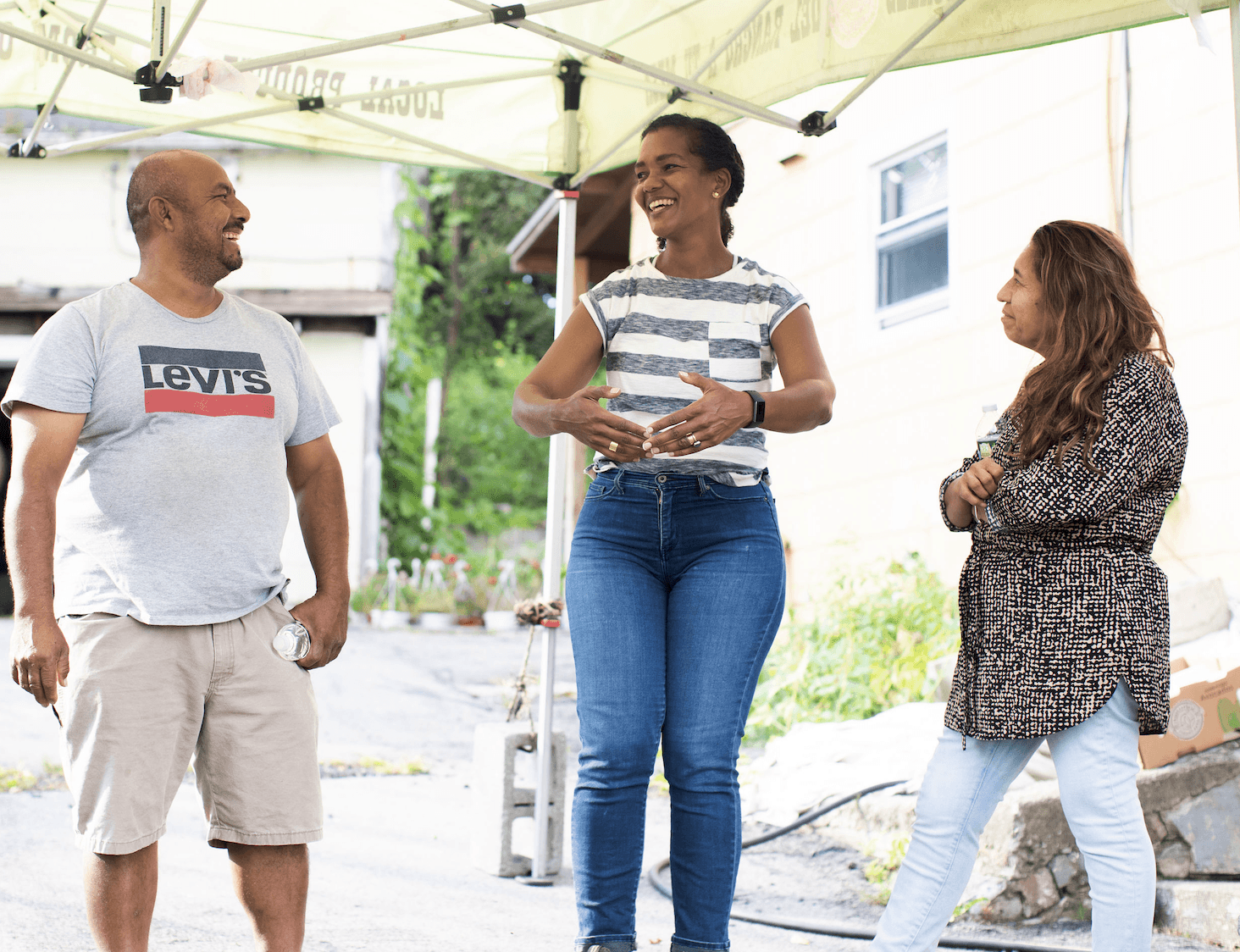 When a pandemic response policy expired at the end of February before the planned official end of the public health emergency, tens of millions of low-income people across the country lost a significant chunk of their monthly Supplemental Nutrition Assistance Program (SNAP) benefits, catching many by surprise. This emergency legislation had allowed every SNAP household to receive the maximum monthly food stamp benefit, regardless of their income. Now, with these emergency allotments coming to an abrupt end, SNAP participants have lost at least $95 in monthly benefits–what could be a week's worth of groceries–and many households have seen much larger cuts of hundreds of dollars a month.
Some say this reduction in SNAP benefits foretells a "hunger cliff", but the reality is that food insecurity in this country doesn't always look like hunger. Food insecurity is more likely to manifest as anxiety and stress about the cost of feeding yourself and your family, fear of running out of food before you have enough money to buy more, and compromising health by relying on the cheapest foods—which are likely to be highly processed, highly caloric, and low in nutrition. The toll on physical and mental health racks up.
These cuts will also go deeper than hunger. When the end of emergency SNAP is compounded with rising inflation and the close of other pandemic-era benefits like the expanded child tax credit and universal school meals, millions of people are now at risk of slipping deeper into poverty. They will be forced to choose between paying the rent, buying medications, or eating nutritious foods.
So, how will low-income families and households afford the healthy foods they need and want? And who will pick up the tab? At inflection points like this, when food dollars from the federal government dwindle, the burden often falls to states, counties and cities, to food pantries and the philanthropic sector, or most harmfully, back onto the low-income households themselves. Right now, states are scrambling to fill in the gap, and food pantries are sounding the alarm that their lines are getting longer at the same moment that their budgets are shrinking.
A Challenge, and an Opportunity
This challenging moment gives us the opportunity to test the resilience of the regional food systems we are building and understand how regional farms and communities can support each other.
When the Hudson Valley CSA Coalition was established in 2017, one of the main goals was for participating farms to offer Community Supported Agriculture more affordably to lower-income people in our communities. Two years later, this led to the launch of the CSA is SNAP program, which stretches SNAP dollars twice as far by providing a dollar-for-dollar match for customers purchasing their CSA shares with SNAP.
The program allows customers to pay weekly with their EBT cards, ensuring that the farms are fully compensated for the value of their shares. As one customer said about the power of the program, "I had always been fortunate enough not to need the support of SNAP and things like that, until two years ago, the whole world kind of fell apart. So being able to use SNAP benefits for a CSA share made it so that my kids and I could still have the food that we wanted, and also know where our food was coming from–which was amazing."
Ambassadors Spread the Word
The CSA is a SNAP program is now ramping up for its fourth season, with the potential to double the number of SNAP shares that it matches up to 100. Six farms are participating in the program this year, as well as a team of Ambassadors—CSA is a SNAP customers who are paid and supported to spread the word about the program to other would-be customers. The Ambassador program was created in 2022 with the awareness that word of mouth is the most effective way to reach new customers, but that these efforts often go unpaid and unsupported.
As oneAmbassador shared, "In 2021 I came to CSA as a customer, and I had such a passion for it that when this opportunity for me to share it with other people came up, I was like, well, hell yeah! I was kind of doing it anyway, you know, telling everybody I knew."
Another Ambassador told us, "I've been so grateful to be able to share CSA with my communities. I feel like it's just opened up a whole new world for me personally around my desire to share information with SNAP users. I think a lot of people are sometimes ashamed of being on SNAP, so it's important that we're destigmatizing that and encouraging folks and helping them understand that there are so many benefits that can come from having SNAP."
Those benefits include the freshest vegetables from local farms at half price, of course, but maybe something more unexpected as well.
"Aside from getting all the vegetables, a bonus for me is taking a little bit of time out of each week to just connect with the earth and stop everything and be on the farm and pick some little tomatoes or whatever. To hang out with my buddies and talk and just be with nature, because I don't have time for that in my daily life. It's my 'something' to look forward to each week."
Imagine the impact if every SNAP customer had this opportunity. Imagine going from constant stress and worry about the next meal for your family to picking tomatoes on your local farm. So, how will low-income families and households be able to afford the healthy foods they need as the federal government takes a step back? Our regional farms and our neighbors should certainly be at the center of the answer, and Glynwood is helping to lead the way.