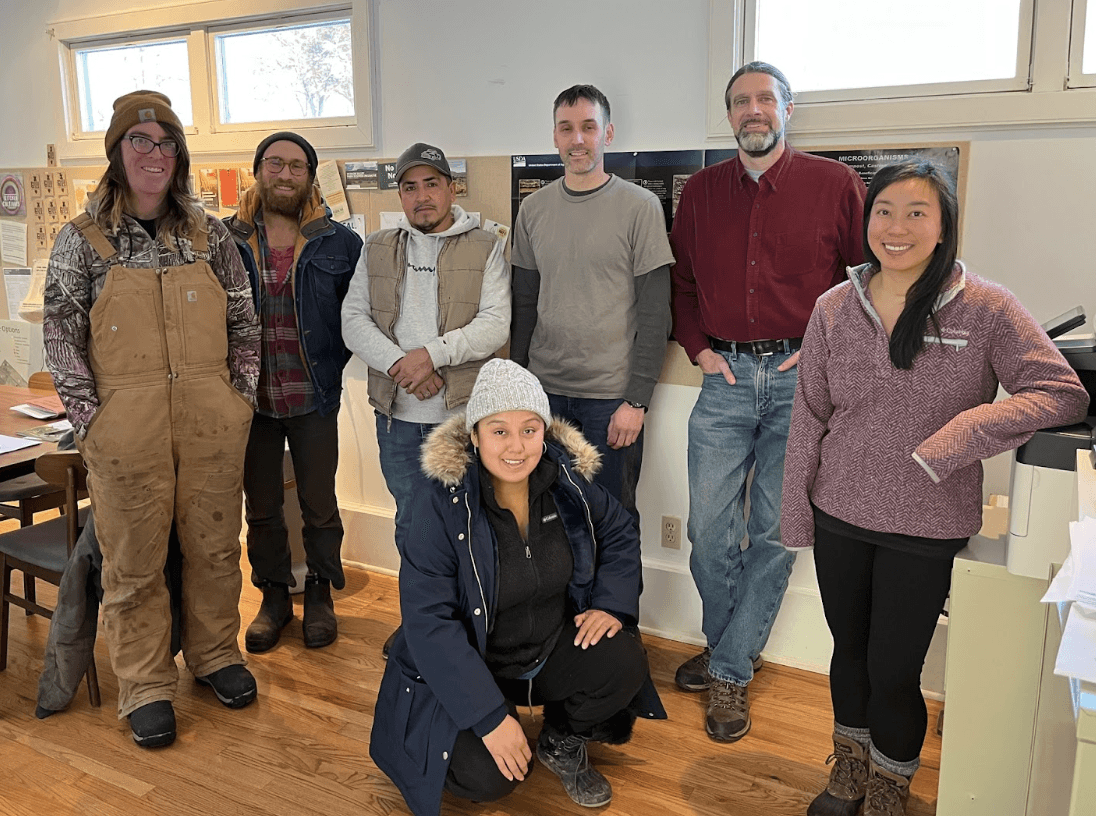 Each winter, Glynwood welcomes a new cohort of farm entrepreneurs to the Hudson Valley Farm Business Incubator (HVFBI) program. Through this program, we have provided customized technical assistance to over twenty new and growth-stage farm entrepreneurs, including farmers like Jose Roberto Rodriguez of Three Sisters Farm.
We are pleased to announce the addition of four new farm businesses whom we will be engaging in their first year of HVFBI participation in 2023.
---
Blake Hill, Husmann Hollow Flower Farm
Blake Hill is in his 3rd year in business with Husmann Hollow Flower Farm (HHFF). HHFF is a specialty cut-flower farm in Northern Dutchess County, growing sustainably on three acres. HHFF grows over 70 varieties of flowers for the NYC wholesale flower market. In his work with the Incubator program, Blake intends to add new ventures, including a CSA and more direct-to-designer outlets, as well as two new high tunnels (a type of in-ground greenhouse) to extend the growing season.
Consuelo "Chelo" Hernandez, Truman Farms
Chelo Hernandez is bringing her experience in urban agriculture up to the Hudson Valley to launch Truman Farms in LaGrangeville, NY. In addition to raising laying hens, Truman Farms will be a market garden, growing vegetables and flowers. The farm has also begun a small flock of laying hens. In future years, the goal is to add an orchard and log-grown mushroom operation. 2023 will be Truman Farms first full season. In her participation in the Incubator program, Chelo will seek operational technical assistance (soil and fertility management, crop planning, equipment operations and maintenance, infrastructure development), marketing and communications support and legal support in selecting a business structure.
Jayne Henson, TransGenerational Farm
TransGenerational Farm is a diversified vegetable farm in Accord, NY that connects LGBTQ folks and others who are traditionally excluded from farming to agriculture. The farm markets produce through a CSA and the Kingston farmer's market, where Jayne realizes her commitment to increasing access to healthy local food for all people by accepting EBT/SNAP benefits and working to create a CSA scholarship program. In her work with the Incubator program, Jayne intends to make use of Glynwood's marketing support and to do some business fine-tuning to further strengthen her business.
Jocelyn Chung and Tyler Drost, Colden Springs Farm
Jocelyn and Tyler grow vegetables and raise chickens (layers and broilers) and pigs on their land in Walden, NY, which they acquired in 2016. Product is marketed via the Pine Bush farmer's market and, more recently, Jocelyn and Tyler have begun selling their meat and eggs at the Rosendale farmer's market. In the coming year, Colden Springs Farm aims to increase pork sales, add new distribution channels and extend the growing season with the addition of two high tunnel greenhouses.
---
Together with Glynwood program staff, these farmers will work to develop a plan for customized support in areas from business planning and financial management to marketing, legal advising and labor management. We look forward to another season of seeding (and tending, and nourishing) the next generation of sustainable farm businesses.
Image Top (L-R): Jayne Heson, Blake Hill, Incubator adjunct Jose Rodriguez, Tyler Drost, Dave Llewellyn, and Jocelyn Chung. Bottom: Chelo Hernandez