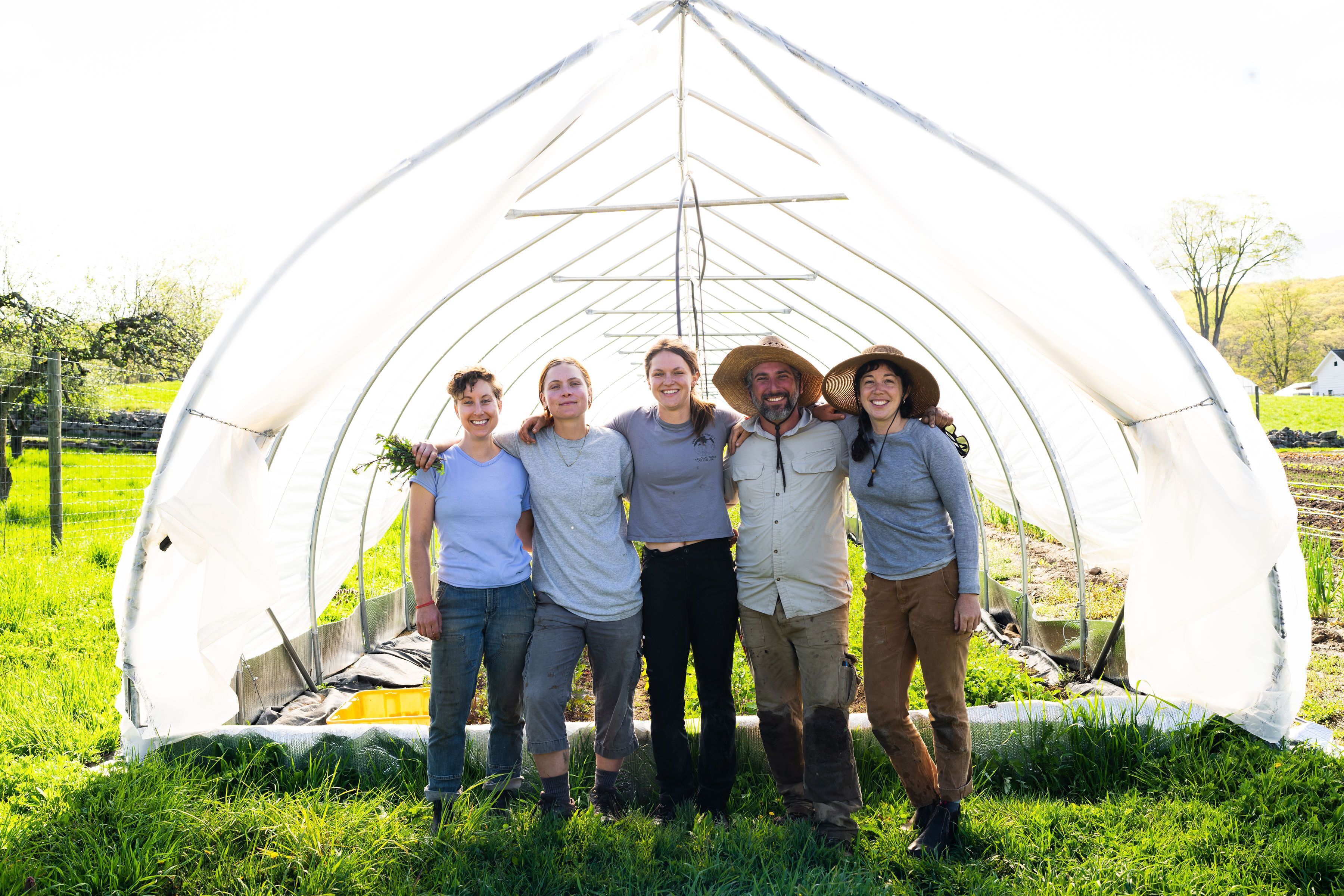 We are thrilled to announce that Glynwood has been awarded a three-year U.S. Department of Agriculture (USDA) Beginning Farmer and Rancher Development Program grant to expand our Hudson Valley Apprenticeship program! The Hudson Valley Apprenticeship (HVA), an initiative launched in 2022, supports apprentices at mentor-partner farms. In this program, apprentices gain a solid foundation in the principles and practices of sustainable vegetable production through a combination of hands-on learning and in-field mentoring with select farm mentors across the region, as well as through classroom-based education facilitated by Glynwood. The USDA grant will help us grow our onsite apprenticeship program and allow the HVA to reach even more new entry farmers. All program elements will be rooted in Inclusion, Diversity, Equity, and Access (IDEA) principles, recognizing Glynwood's role in addressing racism and inequity in our country's food system.
The Hudson Valley Farm Apprenticeship builds on Glynwood's 15-year track record of success in training new farmers. The program serves two primary audiences: (1) diverse, limited-resource, new farmers (in their first through third year of farming), who are trained to successfully manage their own climate-resilient farm operations; and (2) farmer-mentors who are supported with the tools and resources necessary to share their knowledge with the next generation of producers. Glynwood will oversee all coordination of the program, serving as the program "hub," and will also be one of the host farms.
Glynwood plans to engage 57 apprentices over the course of the three-year grant. We are honored to support apprentice learning at the following host farms in 2023: Choy Division Farm (Chester, NY), Dig Acres (Chester, NY), Ecological Citizen's Project (Garrison, NY), Four Corners Community Farm (Red Hook, NY), Maple View Farm (Poughquag, NY), Phillies Bridge Farm (New Paltz, NY), and Rise + Root Farm (Chester, NY). In selecting partner-host farms for subsequent years, Glynwood will prioritize farms with leadership identifying as BIPOC (Black, Indigenous, Person of Color), LGBTQ+, and women. In all three program years, Glynwood will itself host five of the apprentices.
We look forward to sharing the stories of the program and the amazing communities it will serve.
The Hudson Valley Farm Apprenticeship is supported by the Beginning Farmer and Rancher Development Program, award 2022-70017-38176, an initiative of the USDA National Institute of Food and Agriculture.