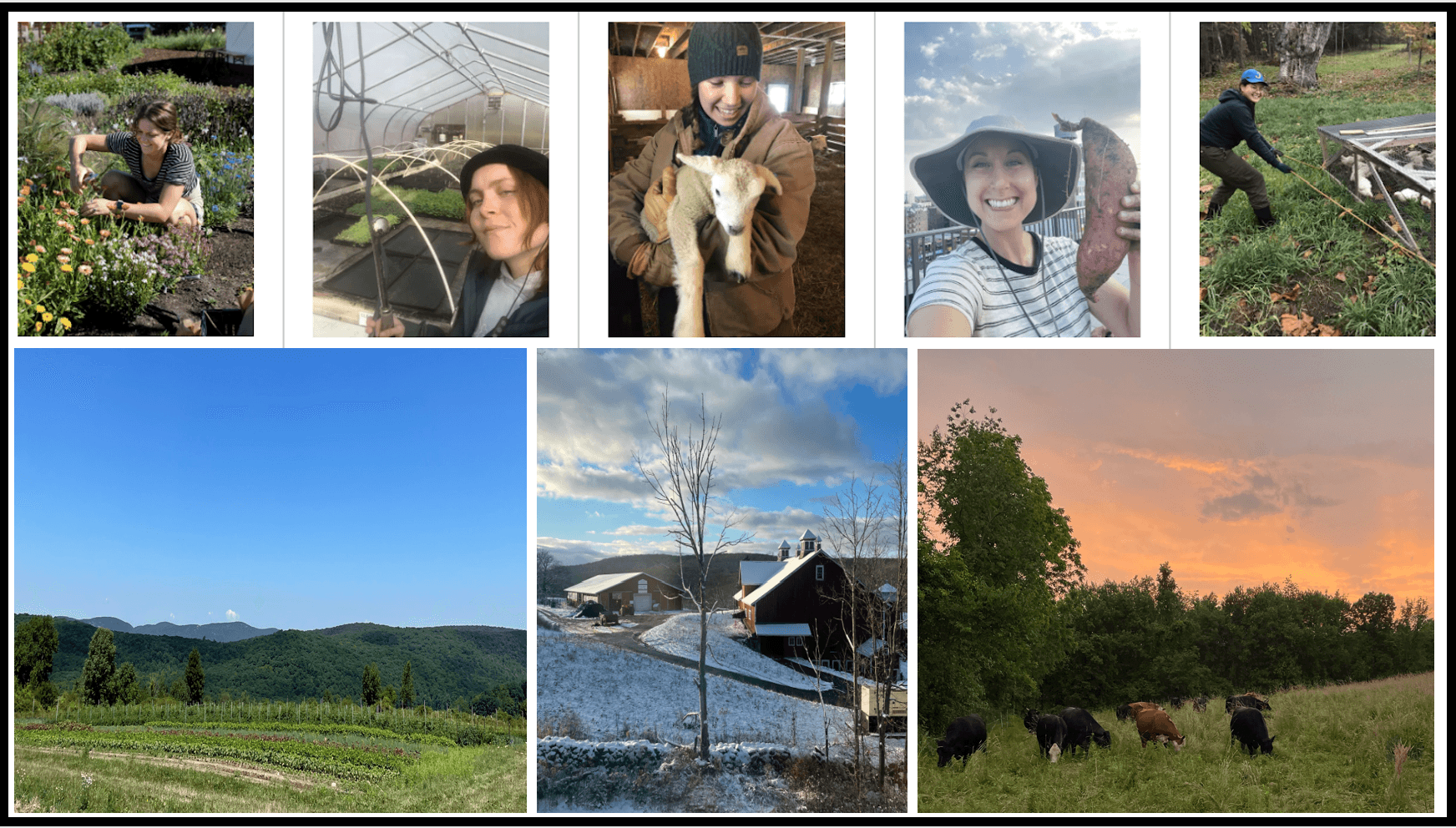 As the days grow shorter and the farm's rhythms begin to slow, our apprentices reach the end of their work with us. This year, we asked them to reflect on a favorite space at Glynwood and what it means to them. Their words invite us all to pause every now and then in our busy lives and give thanks for the power of land, people and community to make each year unique at Glynwood Farm. Farewell, Suz, Hania, Miya, H.e, and Carly. We will miss you!
Suz
Expansion Fields "Upstairs"
The Expansion Fields is where I became a "real farmer." After growing for five seasons in New York City, I longed for acreage, tractors, repetition and the bounty that more space can bring. Here, I learned just how capable I was. Here, I met the fierce power of wind. Here, I hauled so many beautiful vegetables with the team, singing and cackling all the way. And here, I did my best to remember to look up from the task unfurling in my hands to take in the massive sky and gentle mountains, whispering to me daily that I'd made the right choice.
Hania
The View from My Bedroom Window
The first time I took a photo of the view from my bedroom window at Glynwood was on March 13; it was the day before my first day as a Livestock Apprentice. The red barns gleam in the sunlight against a blanket of snow and a clear blue sky. Though not visible to me, the animals are staying warm and dry in the barn. I took many pictures of this view this season. Some are of red and pink sunsets with lush, green growth in the foreground, some of still mornings with a backdrop of fall foliage and a coating of frost on the grass. The most recent photo is from this morning, Dec. 12. The farm is once again covered in snow and the animals are back in the barn, but I look out with new knowledge of and appreciation for this land and this community.
Miya
Indian Brook Pastures
A short drive from Glynwood on Indian Brook Road are two parcels of pasture. This season we brought the cow group to graze there all summer, and on the days it was my turn to check on them, the trip to Indian Brook became a chance to rest and feel spacious. Fill the tank on the truck with water and dial the radio to the station I like. Let myself in at the gate and imagine it from the perspective of a hiker or biker, seeing peaceful, munching cows in this otherwise residential area. At the top of the hill, on a clear day, look south and the New York City skyline might be visible. Be surprised by a newborn calf bedded down in the goldenrod and milkweed. In July, linger between tasks to forage wild grapes and blackberries. Now it's December and the cows and their calves are back in the New Barn waiting, along with the seeds, for the spring.
H.e
Our Front Porch
Now, from the porch, all feels silent, empty. Yet it has been a place full of sound. In early spring, I set up my hammock and spent many nights swinging, listening to this land. On a storming night, I lay, mist coating my skin, and heard the chorus of peepers swell with utter joy at the downpour. In late spring, I'd lay breathless, waiting for the flutter of robin wings returning to their nest on our porch, while coyotes cackled. The porch filled with laughter, with the sounds of us singing early 2000s hits, playing guitar, ukulele and slide whistle. Summer brimmed with crickets (and wedding bands) - a disjointed ensemble ending in one single chirp. I cherish our few thunderous nights, sleeping in my hammock, rocked by the breeze. I cherish how the porch held me. How it was a watchpoint. The porch held a pause, allowing me to take all of this in.
Carly
Plant Nursery Greenhouses
One of our first projects at Glynwood involved building a second greenhouse to complement the first. Over the course of the season, the two structures housed over 96,000 seedlings. I comprehended the term plant nursery: very few adults trying their very best to satisfy the diverse needs of so many babies. In Denmark, where I'll farm next, the term is planteskole – plant school. I don't know if I taught the plants much aside from every word to Kate Bush's "Wuthering Heights", but they certainly educated me. They said: "We're not as delicate as we look. We can sprout in dark places and together lift extremely heavy weights off our backs. A little dehydration and wind chill is actually good for our long-term resiliency. Don't you find the same is true for you?" Their wisdom, and that of all the living beings who loved this land with me, will travel with me.