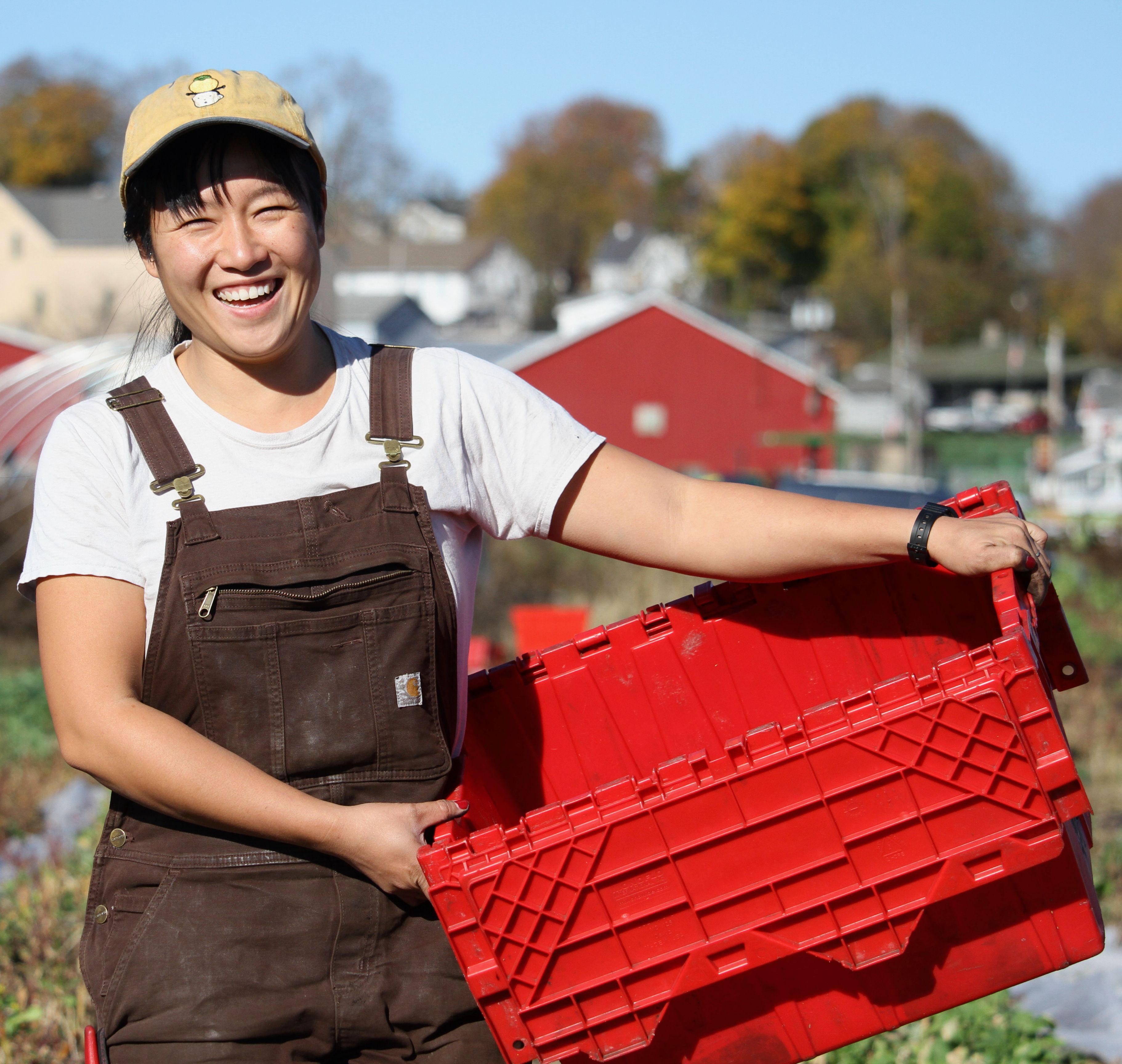 Christina Chan joined the Glynwood team in October 2022 as our Farmer Training Program Coordinator. Originally from Brooklyn, Christina has long considered food and eating a vital connection to her family. It wasn't until obtaining her Masters in conservation science, though, that she became interested in agriculture as a way to not only build connections to people and place but also to protect the earth. 
Christina began volunteering on an urban farm in 2016 and fell in love with the pace of the work. She found a fall apprenticeship in the Hudson Valley, then returned to the city to farm at Randall's Island and take the Farm Beginnings course at GrowNYC. Through the program, Christina was able to spend three weeks farming with Korean vegetable and seed farmer Kristyn Leach at Namu Farm in Winters, CA. That experience illuminated for her the critical role of farmers who looked like her, who were growing the crops sought by Asian diasporic communities, and who were committed to helping heal generational trauma through culturally significant, nourishing food. 
In 2020, Christina joined the farm crew at DIG, an organic vegetable operation located at the Chester Ag Center managed by Larry Tse. Christina began her own business, Choy Division, that same year, distributing 15 Asian vegetable CSA shares to members in the city. Glynwood learned about Christina's work that season and invited her to join both the Hudson Valley CSA Coalition and the Hudson Valley Farm Business Incubator. 
Choy Division now offers a 50-member CSA program, sells wholesale to several restaurants and a regional distributor, and holds a contract with Glynwood's Food Sovereignty Fund to distribute produce to Chinese elders through the Ascension Outreach food pantry in Greenwich Village. Christina additionally co-founded a food justice initiative, Choy Commons, in 2021 alongside Tse, Nicole Yeo, and Anna Pelavin. To date, Choy Commons has held 4 gleaning events for Asian American communities at their farms, and has donated produce to 4 food access partners in the city. 
Christina is excited to help other young farmers in her role at Glynwood by coordinating Glynwood's on-site and decentralized apprenticeship programs. She will host an apprentice herself at Choy Division next growing season.