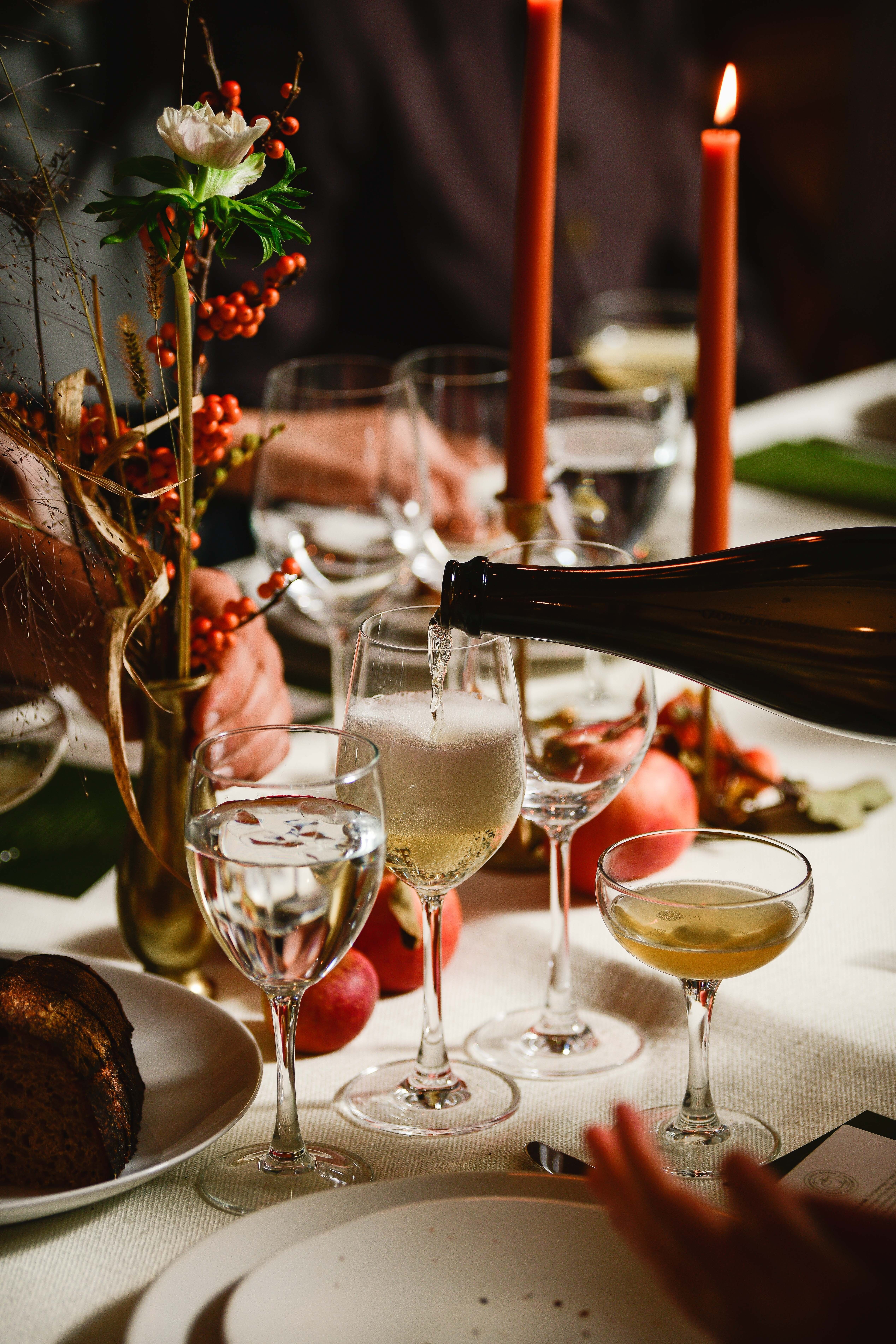 The New York cider industry is on the cusp of becoming a world class beverage business. Cider experts will be in high demand as our place-based beverage achieves the worldwide popularity it deserves. But how do we build cider expertise and appreciation among members of the public? Well, orchards are our very own version of California vineyards and, like the wine connoisseurs of Napa Valley in the 1970s, New York cider enthusiasts are trailblazers. Working with our partners at the New York Cider Association and Angry Orchard, we set out to recruit the next generation of cider ambassadors by hosting a Cider Supper to introduce them—and, through them, their audiences—to the stunning quality and variety of New York cider. 
On a perfect fall evening, leading wine experts, food writers, and photographers lingered in the golden hour sipping on handcrafted cocktails prepared by Joe Gaynor, head cider maker at Angry Orchard, or sampling from a dozen different New York Ciders expertly curated by Dan Pucci, co-author of American Cider. As the sun dipped below the Highlands, they made their way inside for a delicious dinner prepared by Evan Hanczor of Table of Contents. Each dish featured Glynwood-grown products and was paired with a cider made in the Hudson Valley. Over the course of the meal, cider styles ranged  from a welcome toast of sparkling cider to a bright, traditional-method cider made with apples from Glynwood's trees, to an after-dinner pommeau with a heady sweetness that was perfect match for funky local cheeses. 
The next morning guests were given a demonstration of  all the hard work and passion it takes to bring a cider to your table. The crew at Fishkill Farms, makers of Treasury Cider, took us into the orchards to witness the care and skill required by their crew to grow the acres of apples that go into their cider. We tasted tart crab apples with intense floral notes and imagined how they would express themselves after fermentation. Back inside, we were introduced to the 10 year-old press used to juice the apples, and peered into the temperature control room, where metal vats and barrels hold the young cider from this year's harvest.
Throughout the event the guests were asked to consider these key points:
Cider is an iconic New York drink. Every New York cider tells a unique story of craft, community and connection to the land. As well as being ideal for creating pleasure around the table, fermented cider is a drink deep with history and folklore. 
Cider offers possibilities for the future by bridging our past and present. New York grows more apple varieties than any other state, and cider drinkers help to keep older, heirloom varieties in demand. Leading growers and cider makers have brought back apple varieties rich in acidity, tannins and fragrance. In fact, cider makers often blend inedible bitter-sharp and bittersweet apple varieties with crossover apples to create their signature house styles. Some are experimenting with single varietals, using just one type of modern or heirloom apple to create ciders with distinct flavor profiles. 
Cider has terroir, just like wine or craft spirits. Cider flavors are infinitely diverse, and there are as many unique ciders as there are people who craft them. Seeds, soil, and technique all contribute to the personality of a finished bottle, while craft cider makers innovate upon traditional fermentation methods to create new tastes. This range of approaches makes cider a novel, agile companion to a spectrum of food pairings.  
Cider has benefits for rural economies. The New York cider-making industry plays a vital role in our agricultural, manufacturing and tourism economies. In the past decade, the number of cideries in New York has increased from ten to more than 125, saving historic orchards and bringing new vitality to rural economies and communities. Agritourism is a sophisticated way to build drinkers' product expertise, and cider agritourism is a significant source of revenue for our small farms and artisanal businesses. Many cideries boast overnight farmstays and tasting rooms. Most cite marketing and increased consumer awareness as their primary needs. 
You can be a cider ambassador too! As you prepare your holiday tables, consider this most versatile drink and the impact you make when serving a bottle of cider. Not only will you have a story to tell of this special place, but you will be supporting the survival and growth of this quintessentially New York industry.
The Cider Supper was made wonderful by the many makers involved. You can check out their creative genius by following them on Instagram.
Cideries: @angryorchardwalden @metalhousecider @treasurycider @orchardhillny
Event production: @emma_austen
Photographer: @maxflatowphot
Flowers: @ora_lacasadelasflores
Candles: @greentreehomecandle
Design: @staybest
Calligraphy: @lovejennacalligraphy 
Chefs: @evanhanczor @tadeshd
Cider Table Curator: @danpucci