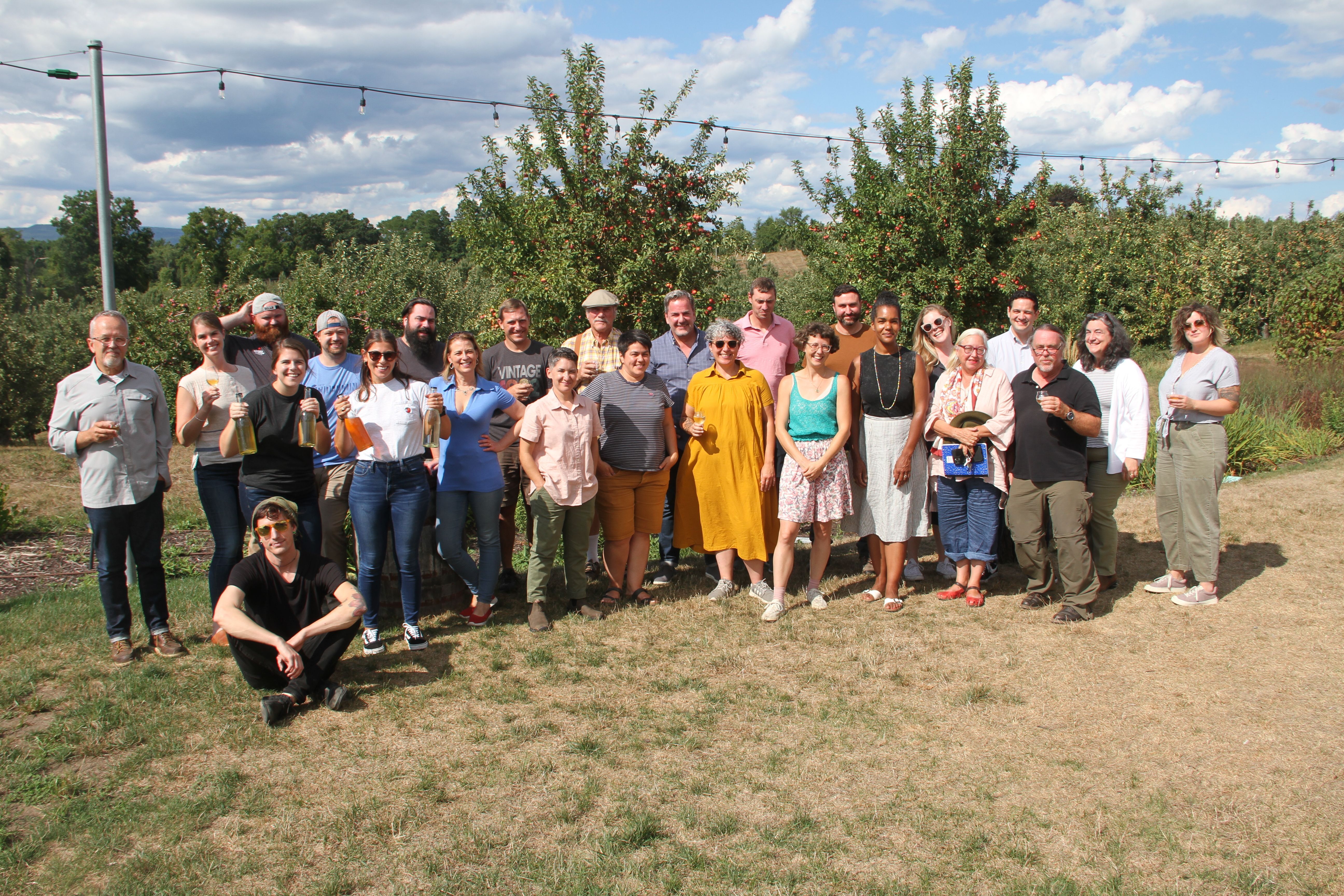 Last month, Glynwood's Cider Project organized its second annual sensory tasting event to analyze the products of cider fermentation trials. Featuring fruit from trees donated and planted by the Cider Project in 2017, these trials are an ongoing effort to identify unique cider flavors, structures, and even terroir by fermenting juice from distinct orchards and apple varieties (separately, but under uniform conditions), then comparing and contrasting the ciders in a controlled tasting environment. 
In 2020, we collected three cider apple varieties—Wickson Crab, Dabinett, and Gold Rush—from seven different orchards in Western New York, the Finger Lakes Region, and the Hudson Valley. (Read more about last year's trials here). In 2021, the fruit purchase included seven apple varieties–now including Kingston Black, Harrison, Porter's Perfection and Newtown Pippin—from six orchards. Both years, Angry Orchard cider maker Joe Gaynor pressed the fruit in single-varietal, single-estate batches in late fall, then added neutral yeast to spur fermentation. Next he tracked quantitative indicators such as Brix (sugar content), tannins, pH, and rate of fermentation until the cider was ready to bottle in early to mid spring. 
Summertime brings the most rewarding and fun step: tasting as a group. This August, we again gathered a group of cider makers, apple growers, bottle shop owners, and other cider stakeholders at Angry Orchard in Walden, NY to take part in a formal tasting facilitated by sensory experts from Boston Beer Company, Angry Orchard's parent company. (Read our 2021 blog for more details on the mechanics of tasting cider with a sensory lens). 
In 2021, the group focused on what this newfound, comprehensive cider data could mean for New York apple growers and cider makers. Specifically, we discussed which varieties are most worth growing in our region, given combined factors including tree growth rates, disease resistance, annual fruit yield and sensory attributes of the end product. 
This summer, discussion instead centered on how this dataset can be used to tell consumers the history, evolution and innovations of New York cider. We discussed everything from label regulations to marketing campaigns to the importance of cider apple varieties that originated in New York State, including the florid Esopus Spitzenburg and the perhaps more familiar Northern Spy. We left Walden with ideas for immediate next steps, topics for further exploration, and long-term goals for this collaborative effort. 
Now with five years of tree growth data, three years of fruit harvest data and two years of fermentation trials under our belts, we are thrilled to begin sharing our project findings with broader audiences. This fall, Senior Director of Regional Food Programs Megan Larmer will speak about New York cider at Terra Madre, Slow Food's biannual international food festival hosted in Turin, Italy. Then, in early 2023, Glynwood will present our findings and analysis alongside Angry Orchard/Boston Beer Company representatives and cider expert Ian Merwin at CiderCon in Chicago. 
We look forward to continuing to support the New York cider industry through this exciting project, and to providing further updates as our work progresses.