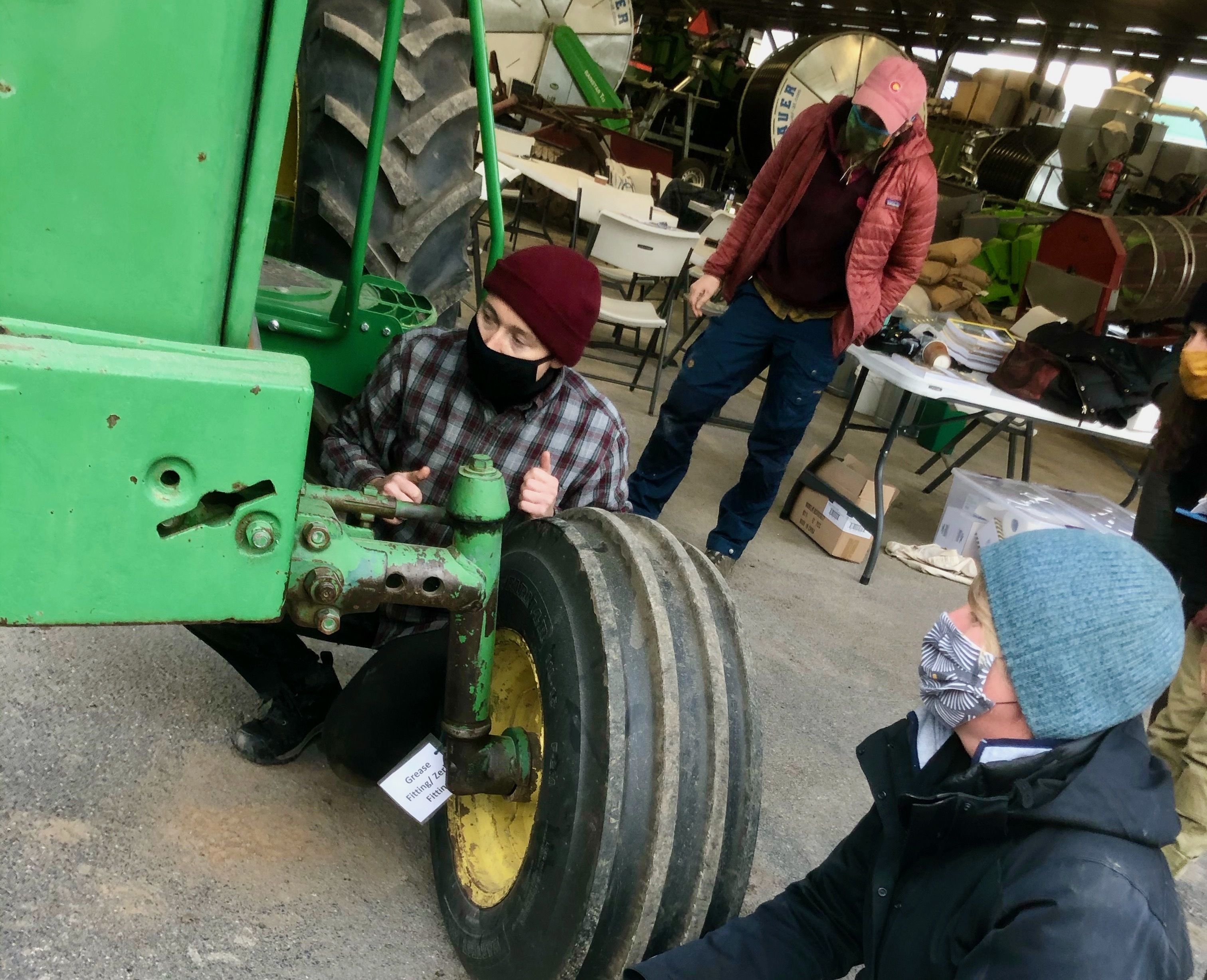 Women are the fastest growing segment of farm operators in the United States, comprising approximately 14% of principal operators and 30% of all operators of the nation's 2.2 million farms. [Source: M. Barbercheck et al.]
Here in New York State, women represent a growing share of farmers, and there is an ever-increasing need for agricultural training specifically for women. Agriculture has a long history of being a dangerous industry, and tractors are a significant source of farm-related workplace accidents. In June 2020 the National Association of County Agricultural Agents reported that women farmers comprise a third of farmers in the United States, and of course workplace injuries happen indiscriminate of gender or other demographics, yet "rarely is agricultural safety education designed primarily for a female audience." 
Our partners at The Hudson Valley Farm Hub decided to step into this gap by offering a tractor workshop specifically for women. The Farm Hub is a nonprofit in Hurley, NY that provides farmer training, supports agricultural research, demonstrates new farm technologies, and serves as an educational resource for advances in food and farming. They knew it was important to make a safe space for women to ask questions and feel comfortable operating machinery. Most of the participants did not come in with much tractor experience, one of the participants had never operated a tractor at all. 
As expected, they didn't have to do much outreach; the offering spread quickly by word of mouth. The Farm Hub spread the word to other local farms that are women-led. Dave Llewellyn, Glynwood's Director of Farmer Training, invited the Glynwood apprentices (all female this year!), and a few other local farmers— soon the workshop (capped at 12 in order to accommodate COVID best practices) was full. 
The Farm Hub partnered with local tractor mechanic Sarah Groat to offer this training. Sarah Groat, who is based in Kingston NY, maintains equipment for several Hudson Valley farms and is available for urgent repairs on an as needed basis. With her combined experience in tractor operation, maintenance, and repair, she was the perfect person to teach a tractor workshop for women. 
The workshop lasted two days, the first day focused on basic safety operation and making sure all the participants knew the various parts of the tractor. Sarah labeled all of the tractor parts with tags, so the participants could get comfortable with them over the course of the day. They also reviewed the parts of the tractor that need to be checked/maintained on a daily basis. On the second day, participants had 1 ½ hours to practice driving and had one-on-one time with a mentor operator. There were three staff members from the Farm Hub present to help with the one-on-one training, which included starting, stopping, backing up, and attaching and detaching implements. The pouring rain on the second day offered another learning opportunity: how to drive tractors safely through giant mud puddles. Often workshops are crammed into 3 hours, and the information is hard to digest and absorb, but this was different. Spreading the workshop out over two days offered the participants a unique opportunity to be comfortable enough to operate the tractors. 
Ellie Brown, a 2020 Glynwood apprentice who attended the workshop shared, "Being among all women at the tractor intensive was an inspiring experience. I really enjoyed getting some formal training in reversing large tractor implements into small spaces." Another participant, a farmworker from Four Winds Farm, wants to gain more experience in agriculture on a larger scale, and found this to be a useful step in that process. Going forward this will hopefully lead to other trainings that are geared to women farmers in the region. 
Across all our programs, Glynwood strives to build networks and programming that serves women and gender-nonconforming farmers and food system changemakers. Our Plant and Harvest series this year was one such effort. For our all-female apprentice cohort this year, we have sought opportunities like this Tractor Training Workshop to connect them with other women farmers in the region. In our efforts to identify coalitions that transform regional food, we are exploring hosting a regular roundtable for women livestock producers in the Hudson Valley.