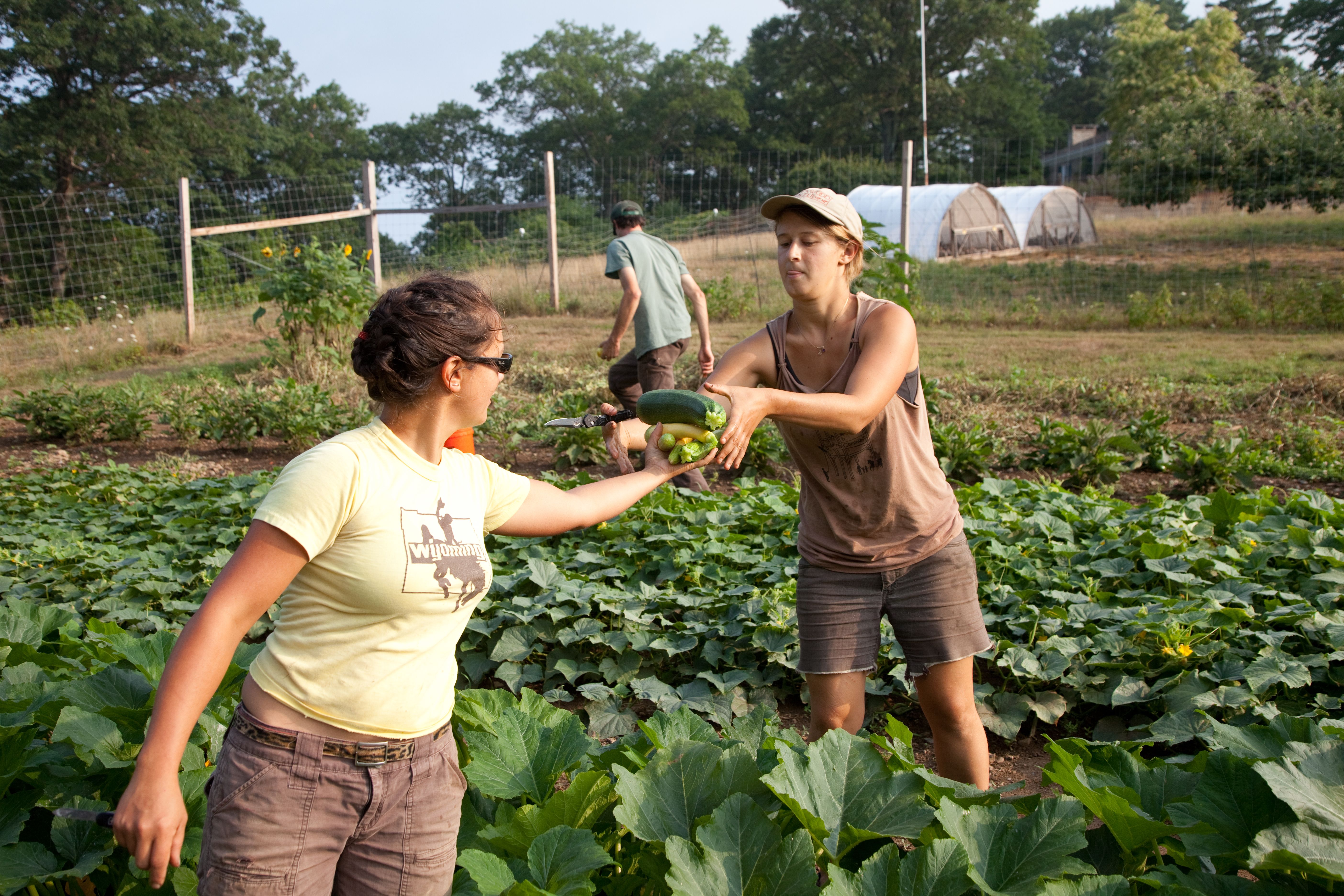 Five leading organizations that train new and beginning farmers announced today the formation of the Hudson Valley Farmer Training Collaborative ("The Collaborative"), according to Putnam County-based nonprofit Glynwood, which is facilitating the project. The one-year pilot is being jointly funded by the Doris Duke Charitable Foundation, The Joyce and Irving Goldman Family Foundation, and the Shachar Foundation.All three grantmakers belong to Community Food Funders, a philanthropic organizing project based in NYC.
The Collaborative is currently a partnership of Glynwood (Cold Spring, NY), GrowNYC (New
York, NY), Hawthorne Valley Farm (Ghent, NY), The Hudson Valley Farm Hub (Hurley, NY),
and Stone Barns Center for Food & Agriculture (Pocantico Hills, NY). The goal of the
Collaborative is to aid regional organizations that train farmers -- there are more than a dozen --
to better leverage their strengths and strategize collaboratively; more effectively understand the
outcomes of current efforts to train new and beginning farmers; and work towards collective
impact. Over the next year, the group will explore projects such as joint recruitment of
apprentices, cooperative workshops, joint alumni tracking and qualitative research that will help
training programs to define and improve outcomes, while also supporting organizational
collaborations.
"This project is groundbreaking for the Hudson Valley in terms of the scope of its collaboration,"
said Kathleen Finlay, president at Glynwood. "We are thrilled to be working formally with our
peers to make sure we are all better coordinated and delivering our desired outcomes for the
talented and dedicated farmers we train."
"This regional collaboration is a chance for growing a foodshed that provides healthy and
affordable food for all while also honoring the health of the land," said Steffen Schneider of
Hawthorne Valley Farm and a partner in the Collaborative. "This is tremendously important in
the context of the global challenges around agriculture and food."
Experts and practitioners within the agricultural community recognize the need to mitigate
greenhouse gas emissions and adapt to climate change in all farming systems and value
chains. The Collaborative partners maintain that it is critical to incorporate future-bearing ethics,
food habits, demographics and lifestyles into the food value chains and to produce food on
limited farmland and fossil resources efficiently and profitably. "Working these considerations
into our training programs from the get-go is critical," says The Hudson Valley Farm Hub's ("The
Farm Hub") Director, Brooke Pickering-Cole. The Farm Hub, along with Stone Barns and Glynwood, has been a proponent of the development of a more formal collaboration among farmer training organizations for nearly two years.
Nationally and regionally, the significant push by multiple stakeholders to train new farmers is a
response to other factors, including the fact that farmers over the age of 65 now outnumber
farmers under 35 by a margin of 6:1. Not only is nearly two-thirds of US farmland currently
managed by someone over 55, over the next five years nearly 100 million acres of farmland will
change ownership and will need a new farmer.
According to GrowNYC's Chris Wayne, Director of the FARMRoots program and Collaborative
partner: "Many new farmers in our area did not grow up on farms and would benefit from
comprehensive and holistic training to be able to master the challenges of this vocation in a
rapidly evolving environment. Or, if they bring farming expertise with them," adds Wayne, "it is
often in a different context that is disadvantaged in the current system, as we see in the
emerging immigrant, indigenous and farmer-of-color movements."
"Stone Barns Center is excited to collaborate with our regional peers," said Shannon Algiere,
Farm Liaison Manager at the non-profit. "We hope to bring a national lens to the question of
how to work together regionally to train more farmers for increased success, all while dealing
with the impacts of climate change."
The partners in the Collaborative are actively working to involve other interested organizations
in 2019 and beyond. To learn more, contact Kevin Irby, Project Coordinator at info@hvftc.org.
ABOUT THE PARTNERS:
Glynwood is an agricultural nonprofit organization based in Cold Spring, New York, working to
ensure that farming thrives in the Hudson Valley. Glynwood accomplishes this by farming,
training farmers, promoting regional food and collaborating to realize its vision. Please visit
www.glynwood.org for more information.
GrowNYC's mission is to improve New York City's quality of life through environmental
programs that transform communities block by block and empower all New Yorkers to secure a
clean and healthy environment for future generations. Through its FARMroots Program,
GrowNYC provides both aspiring and established Greenmarket farmers with business technical
assistance and training designed to ensure the long-term viability of participating farms and
farmland.
Hawthorne Valley is a place to rediscover our connection to nature, to how the food that we eat
every day is produced, and to ourselves as participants in a dynamic social and natural
ecosystem. Through the active production of food, educational programs for children and adults,
ongoing social and scientific research, and the cultivation of a vibrant artistic community, we
pursue a modern way of living embedded deeply in the natural world and emphasizing the social, ecological, and economic importance of agriculture in our daily lives. Visit https://hawthornevalley.org.
The Hudson Valley Farm Hub is a non-profit center for resilient agriculture based on 1,500
acres of prime farmland in Hurley, NY. Founded in 2013, the Farm Hub provides professional
farmer training, hosts and supports agricultural research, and demonstrates equitable and
ecologically regenerative practices. Our vision is for a collaborative regional food system that
meets the economic and social needs of our communities while working in partnership with
natural systems.
Stone Barns Center for Food and Agriculture is a national nonprofit organization that works
to advance regenerative farming and a culture of eating that supports it. For more information,
please visit www.stonebarnscenter.org