Glynwood Grains Program
June Russell, Director of Regional Food Programs
Program Director June Russell shares why grains and staple crops are uniquely poised to diversify crop rotations on regional farms and enrich soils, all while adding nutrient-dense ingredients into our diets. June takes a look back at the progress of regional grains and staples production and looks ahead to how this work will continue here at Glynwood.
My journey in local grains began in 2007 when I was tasked with a simple question: Is there such a thing as local flour? At the time, I had just inherited the remnants of a conversation that had been echoing around GrowNYC's Greenmarket for several years with roots in the Hudson Valley and organic agriculture.  As a farmers market operator with a mission to support regional farms, the question inevitably arose, how do bakers contribute to the mission of supporting regional agriculture? Staple foods such as wheat were not part of the local food conversation, and commercial flour had a curious invisibility; its status as an anonymous, flavorless commodity seemed invincible, even inevitable.  At first, the task of promoting regionally produced grains and staples seemed like a fool's errand. But as I learned more, the reasons to commit were clear. Our mentors in organic agriculture have long known the benefits of longer and more complex crop rotations, the importance of promoting greater biodiversity in farming systems, and the value of nutrient dense foods.  What also became clear as the work progressed was the transformative potential of embracing the staple crops in regional food systems, and what that can do for our long-term resilience. 
Rise and Root Farm, oats along the greenhouse periphery, for erosion control and harvesting for medicinals

Rye at Newton Farm
Over a decade later, what once seemed like a long shot continues to gain momentum. We now have several regional mills producing good, reliable bread flours, which in turn are being used by a new generation of micro-bakeries who are making incredible breads. This is a major achievement, one to be celebrated in our communities and other communities of practice across the country.  Yes, we have local beer and whiskey, and a new generation is re-skilling old trades like milling and malting.  (Can there be a cooler occupational title than maltster?). But we also have a greater diversity of viable crops for our farmers to grow and a corresponding richness of product innovation and discovery as consumers reconnect with staple foods. 
Today, we also see this work as ever more urgent as we recognize the impact that agriculture can have on climate change adaptation, the need to move towards plant-based diets, and to work with and support those growers who are committed to sustainable and regenerative farming practices. Staple crops are uniquely poised to diversify the crop rotations on regional farms and enrich our soils, all while adding nutrient-dense ingredients into our diets. The shockwaves of COVID have only further instilled that strengthening regional food systems is our pathway to resilience. We now know we can do it if we are committed to a reciprocal economy.
There is still so much work to do, and there are ever more opportunities for us to co-create our food systems. I could not be more thrilled to join Kathleen and the team at Glynwood at this time. I have long admired Glynwood for the role they have played in bridging and supporting regional agriculture through food culture development and coalition building, and am excited to continue my role as a value chain coordinator as we widen the scope of Glynwood's work to include staple foods. Traveling around the Hudson Valley these past few months, I am inspired by new energy and enthusiasm around growing, processing, and cooking with a wide variety of grain and staple crops. Our region has the opportunity to transform the most fundamental yet overlooked part of our diet; I look forward to seeing all we achieve and grow in the seasons to come.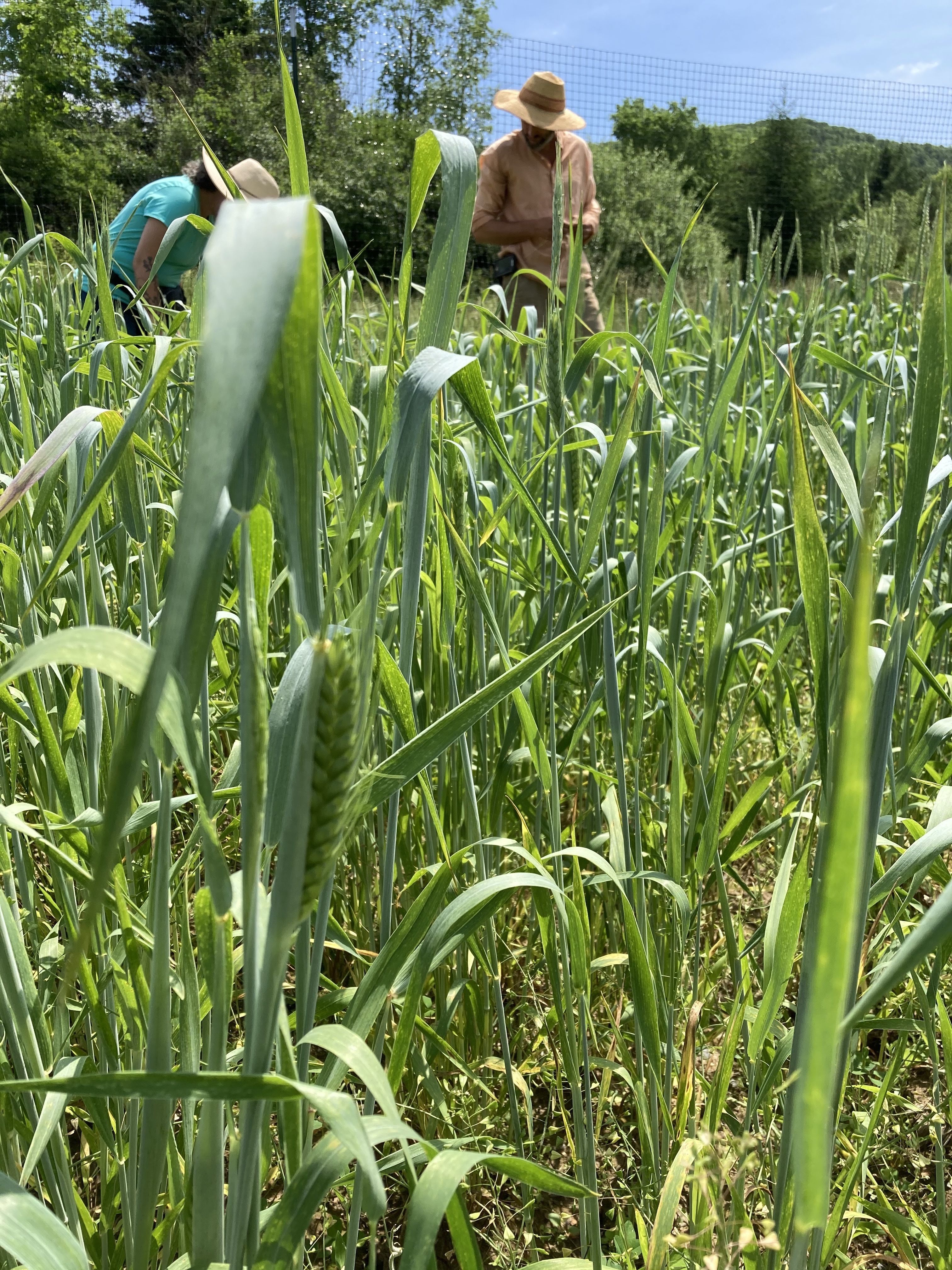 Sweet Freedom Farm, heirloom wheat emerging
Back to News & Notes