Carmela Frattellone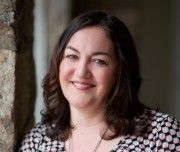 Carmela is the Director of Human Resources and Administration. She plays a central role in the efficiency, transparency and accountability of the organization. Carmela is primarily responsible for managing human resources and overseeing the administration of the organization.
Carmela started her career working in the accounting department of a wholesaler. Shortly after, she was promoted to Human Resources Manager where she managed payroll, benefits and recruiting. She worked in the for profit industry for 20 years working at FactSet Research Systems, Inc. and Regeneron Pharmaceuticals, and began working at Glynwood as a bookkeeper in 2010. 
Although her role at Glynwood is primarily office-based, Carmela's passion for food and farming runs deep. In Italy, Carmela's family still owns a hazelnut farm that has been passed down for generations, and Carmela takes pride in continuing the culinary traditions of her family. 
Carmela holds a Bachelors of Administration in Accounting and Master's of Science in Human Resources.