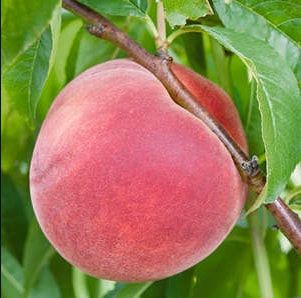 Q: I planted a Bailey Hardy Peach tree last year at this time. It has a lot of fruit starting but I haven't sprayed or fertilized it at all. How do I protect the fruit from pests and disease safely, and when?
A: Fertilizing fruit trees and managing protection of the trees and fruit from pests and disease is a complex subject. 
Here are a couple guides that will help to identify fertilizer needs, timing of spraying and other treatments, and how to identify the stages of growth and pests, which is an important part of knowing if treatment is needed and what treatments to apply.
Observing your tree through the seasons and watching closely for the first signs of pest or disease is the best thing you can do to have a healthy tree that will provide you with an abundance of fruit through the years. Peach trees are self-fertilizing, but they need pollinating insects to ensure a good crop. It sounds like you are getting a  good fruit set, so just keep observing to make sure that pollinators are visiting your trees when they are flowering.