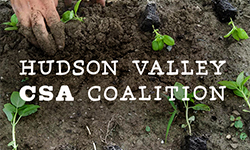 The Hudson Valley CSA Coalition is collaborating with farmer leaders to host a workshop for Coalition farmers that will advance our goal to make CSA a more accessible option for all Hudson Valley residents.
Do you hope to expand access to your farm's CSA program and contribute to greater food justice in your local communities? Despite the benefits of community-supported agriculture for farmers and its powerful potential to make fresh, sustainably grown food more available, many CSA programs remain inaccessible to low income community members, reflecting current and historical inequities in our food system.
This workshop is designed for farmers seeking to strengthen their farm's capacity to serve low income families and individuals by assessing needs, addressing challenges potential members may face, and exploring opportunities for change and meaningful community collaboration.
Whether you're just starting to consider how to align your CSA with food justice goals or intending to delve deep to improve your existing model, join Maggie Cheney and D. Rooney of Rock Steady Farm, Larisa Jacobson of Soul Fire Farm, and fellow farmers as together we:
-identify common barriers to accessing CSA, share perspectives on unintentional bias embedded in multiple components of CSA programs, and examine our own CSA systems and common challenges farmers face with a thoughtful and empathetic lens
-practice applying these insights to form action plans that foster participation by low income CSA members, support both member and farmer needs, and are grounded in our own values and farm and community assets.
Through group learning, presentations, discussion, and hands-on activities, we will share stories of how Rock Steady Farm and Soul Fire Farm have created more inclusive CSA programs and learn strategies for updating our approaches and systems. Participants will leave with inspiration and tools to take action toward making their own CSA programs more equitable, accessible, and inviting to farm share members from a diversity of communities.
Space is limited, so do not wait to register. Thanks to the generous support of our donors and partners, Glynwood and the Hudson Valley CSA Coalition are able to offer this workshop at no cost. However, we do ask that you pay a $5 registration fee to help offset the cost of lunch, which will be provided.