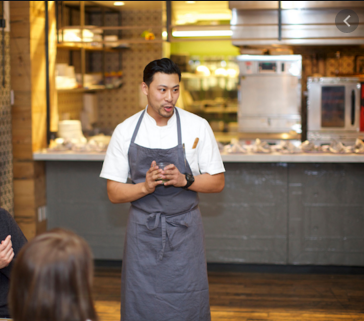 TICKETS FOR THE AUGUST FARM DINNER WILL GO ON SALE JULY 8, 2020.
August marks the peak of our growing season in the Northeast, and this month's dinner is all about that bounty. Join chef Winston Chiu of BonBite and ReThink Food as he shows the versatility of his work as applied to August's harvest at Glynwood.
Shortly after graduating from the Institute of Culinary Education, Chef Chiu sought apprenticeships in top restaurants such as Betony and WD50. Today he continues to follow his passion to cook, learn and teach, all while chasing his next succulent endeavor. As Chief Strategy Officer of the-non profit ReThink Food, Chef Chiu is a leader in the food access and justice community working to recover nutritious excess food "waste" to provide low or no-cost meals to New York City families in need. Come celebrate summer and Chef Chiu's important work and stellar local fare.
As we did last year, all our public programs are pay-what-you-can pricing. UNLESS OTHERWISE NOTED: GLYNWOOD FARM DINNERS ARE BYOB EVENTS.