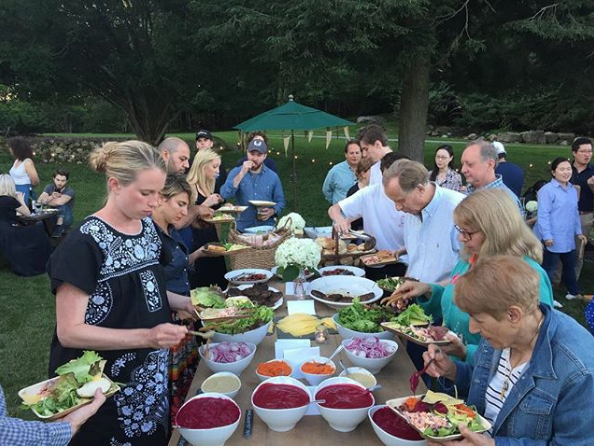 WE'RE SORRY, BUT BURGER NIGHT IS SOLD OUT!
Please join us for our 3rd annual Burger night following this year's Food + Farm Day! Shelley Boris of Fresh Company will prepare a delicious meal with our grass-fed, Animal Welfare Approved, pasture-raised beef as the centerpiece in this al fresco dining experience.
Shelley Boris is Fresh Company's Creative Director and Executive Chef. Inspired by a diversity of regional cooking styles from around the world, Shelley's palate and perspective on food and drink influence every facet of Fresh Company's operations. In the kitchen, Shelley's warm, relaxed sensibility is an extension of her love of a leisurely stay at the table and her belief in the elemental value of eating and drinking well. A board member emerita of Cold Spring's Farmers' Market, Shelley has long worked to support sustainable agriculture in the area.
__
Payment is required when making your reservation. All ticket sales are final as we are unable to offer refunds. In the event that bad weather forces the closing of Glynwood Road and the dinner is cancelled, purchased tickets will be refunded.
Please keep in mind that Glynwood Farm Dinners are BYOB events. Vegetarian meals are always available and we will do our best to accommodate major dietary restrictions. If you have strict food allergies, please let us know. Please keep in mind that these are fixed menu events, not a la carte; Chef may not be able to manage or accommodate overly specific dietary preferences.
Please contact Glynwood's Director of Events & Public Programs, Lauren Dellolio, at ldellolio@glynwood.org with any questions about our Farm Dinners or overnight farm stays.