When in Rome (and Venice and Naples...)
Lessons in regional, lovely, simple cuisine for our own regional food system
By Kathleen Finlay, President
Every winter, Glynwood closes its doors for a short winter break. While the farm and property crew ensure our crops, herds and campus are looked after, most of us enjoy an opportunity to relax, reflect, and in my case this past couple of weeks, explore.
I headed to Italy on a three-stop tour to places I have never been. My guide was my partner, food writer and thinker Mark Bittman, who has long cultivated his relationship with the distinctive regional food of this country. For me, it was a chance to experience an old, embedded dedication to regional food that is at the heart of what we are striving to accomplish here in the Hudson Valley.
Our first stop was Venice. The magic of this city totally captured my heart. It is simply stunning in its unique beauty and we spent hours and hours walking its alleys and bridges. It is also one of, if not the most, tangible examples of climate change. We experienced an aqua alta  - during high tide it was impossible to walk around without hip waders. One cafe owner told me her place has flooded seven times this year alone- compared with flooding three times over the past ten years. The aqua alta didn't stop us from eating very well - Vecio Fritolin - became our go-to, mostly because Mark can't get enough fried fish and it's their specialty.
In Rome, hands down the best meals we had were at the home of our friend Andrea Graziosi. I thought it would be impossible to impress an Italian with the amount of food I can eat, but Andrea eventually learned not to clear the dishes before I had fourths. I've always loved broccoli rabe, but the friarelli that Andrea served was otherworldly. Other dishes over two nights at casa Graziosi included rabbit stuffed with sausage, artichokes, each time prepared differently (my goal for the whole trip was an artichoke a day - they are in season right now), and always 'a little bit of pasta.' Our other meals were mostly at a restaurant down the hill from where we stayed that is Mark's favorite in Rome - Flavio al Velavevodetto. He reviewed it for the Times in 2015 - thankfully, not much has changed. If you are in Rome, go there.
We were also treated to lunch at the American Academy of Rome (AAR), thanks to our friend Alice Waters who, with Hudson Valley local Mona Talbot, started the Rome Sustainable Food Project. The project sources from local farms and boasts a kitchen internship program where American chefs in training experience Roman dishes first-hand. We were hosted by Elizabeth Rodini (AAR's Andrew Heiskell Arts Director), and dreamed about a joint Glynwood-AAR residency program in regional food. Stay tuned...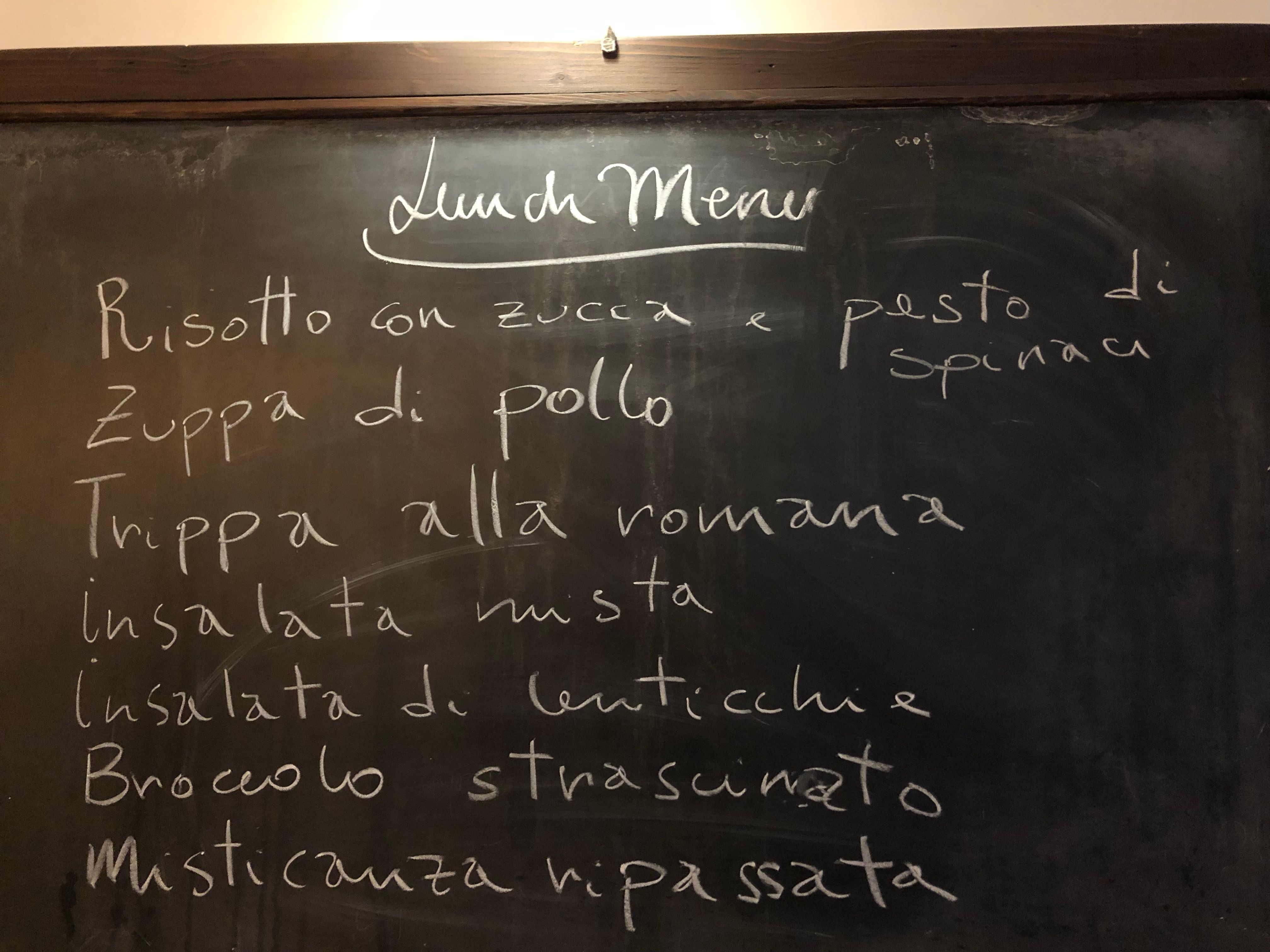 There are a few reasons to go to Naples including the extraordinary Museum of Archeology that houses most of the art collection from Pompeii (even the 'adult' art in the not-too-easy-to-find-'secret'-room - thanks Megan Larmer). But the number one, most important reason to go to Naples is to have lunch at Tavernetta. This family-run joint writes its menu daily, only serves lunch and was, hands down, the best meal I had out. It's the opposite of what we might think of as fine cuisine and the kind of dining-out experience we should all be promoting more - completely local (anything else would be absurd), totally affordable, fresh, insanely delicious and quick. We were in and out of there in maybe 30 minutes and had about eight dishes. They came out when they were ready - no courses or tasting menu - from the kitchen to your table in minutes. It was completely unpretentious and it made me want to open a Tavernetta in every town in the Hudson Valley.
I'm delighted to be back (although I miss the espresso), inspired by my adventures and eager to put them into play as Glynwood strives to strengthen our culinary culture here in the Hudson Valley. Hope to see you around the table soon.