Putting Seeds to the Test
By Megan Larmer, Director of Regional Food Programs
Amaranth may be familiar to some who are reading this as a grain, but it is also cultivated and prepared as a leafy vegetable by farmers and cooks around the globe, from India to Trinidad, Poland to Mexico, and many points in between. This year, Kitchen Cultivars is focused on broadening the community of project partners to learn what we can about different varieties of amaranth and what those varieties may bring to the fields and tables of our region. Kitchen Cultivars' model for learning is different from any other crop trialing effort. Firstly, it is a participatory process that, this season, is engaging 18 farms and 14 professional kitchens to evaluate the amaranth varieties and shape the project itself. Secondly, it is holistic; the evaluation methods consider agricultural, culinary, and cultural qualities.
On July 7th the 2019 participants in Kitchen Cultivars had their first opportunity to gather as a community. Over fifty people took time away from their fields and businesses to tour the replicated trials and observational trials at the "mother site" and to discuss what it means to add a third element for evaluations to the Kitchen Cultivars model, a recognition of the cultural importance of seeds and food, this season. This event is the first of its kind for the project, and was organized by popular demand from the growers and cooks who are at the heart of this work.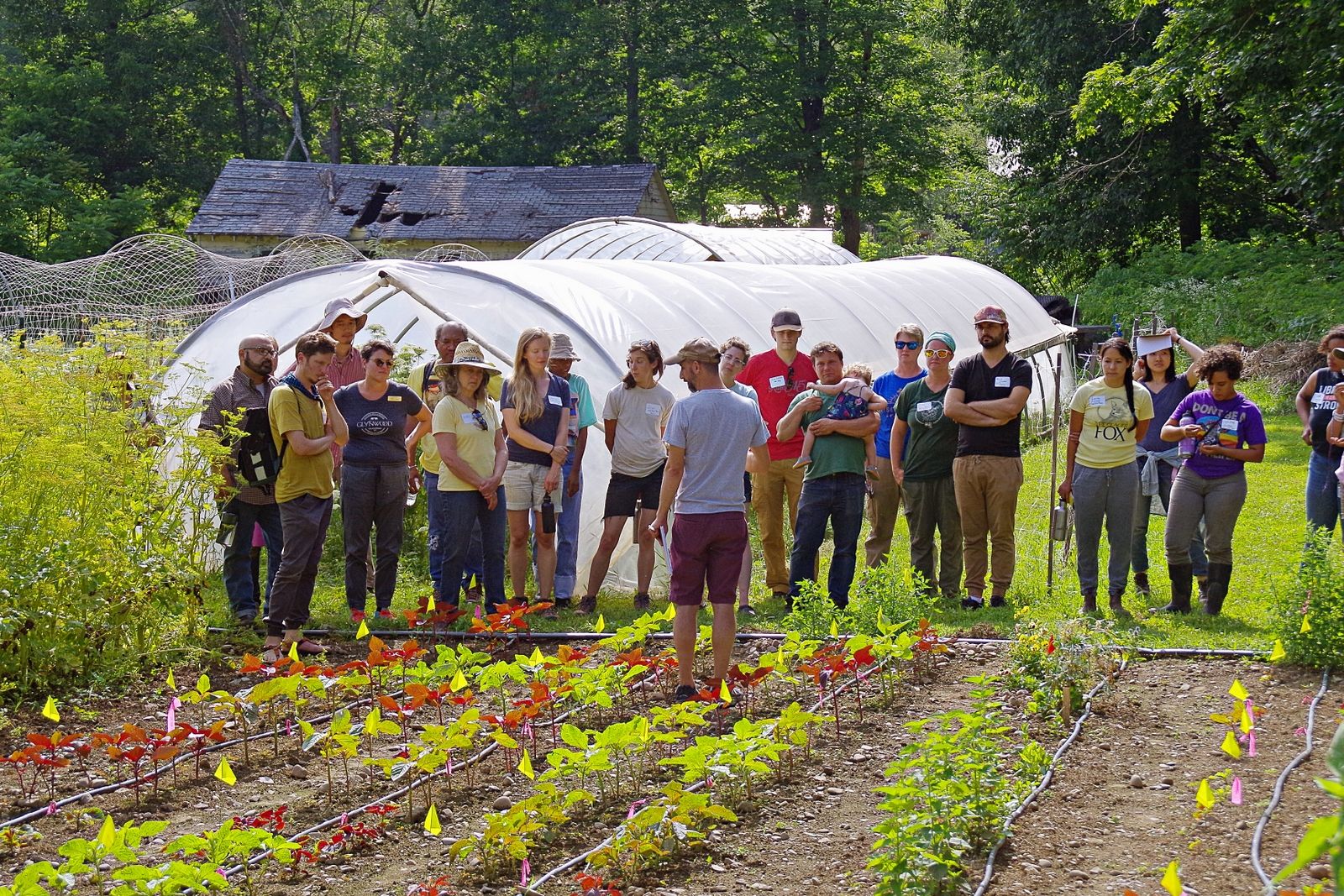 The afternoon began with introductions of all those who had been able to join followed by tours of the newly transplanted amaranth plants. The agricultural trials for Kitchen Cultivars follow a mother/daughter model wherein one farm (managed by Seedshed in Accord) grows replicated trials as the mother site and the other 18 farms grow the same varieties in smaller plantings as the daughter site. Crystal Stewart of Cornell Extension is the technical advisor on this element of the project and explained how she had designed the replicated trial planting pattern - acknowledging that there is very little existing peer reviewed research that has been conducted on amaranth from which to draw. She went on to explain the crucial role of the daughter sites, especially as these farmers are able to experience and capture the observational data farmers can gather when growing these varieties; data that is not captured by simple metrics like height and weight at harvest.
12 varieties were selected for the replicated trials based on their availability from independent seed companies, representation of different geographic origins, and their potential suitability for the region's changing climate. However, over 50 varieties were identified by Ken Green and Katherine Chiu of Seedshed as worth learning more about. These additional varieties are being grown as part of the observational trials at the mother site. Ken asked participants to walk through these trials and identify the plant that most closely matched their what they thought amaranth ought to look like. The range of plants people chose revealed not only the incredible diversity of the plant itself, but the range of expectations different people bring with them to the trial process.
The group reconvened in the shade for discussion, while the children who had come with their parents snuck off to take a closer look at the poppies being grown for seed by the Hudson Valley Seed Company that farms on the same site. Turning to the evaluations that will be conducted in the next few weeks, Crystal laid out what farmers ought to expect in terms of time commitment and data recording. Another first for Kitchen Cultivars this year, cooks will be conducting in-kitchen trials as well. These are being designed by the projects' culinary advisors Anya Peters of Kit an' Kin and Chinchakriya Un of Kreung Cambodia. Both women produce pop-up dinners that celebrate intergenerational culinary knowledge gathered from their families. In addition to bringing their knowledge of working kitchens to creating the in-kitchen evaluation process, they are conducting research and interviews with elders to add to our collective knowledge of amaranth as a vegetable.
At that point, Megan Larmer of Glynwood and Ken Greene of Seedshed took a few minutes to frame this season within the evolution of the Kitchen Cultivars project and the opportunities and challenges the project faces as it aims to become more holistic and serve a broader community. When working with seeds and food we would be remiss to ignore the racism in our society that is also prevalent in our food system. Moreover, to engage with the cultural resonance of a crop as meaningful to black and brown communities as amaranth requires consideration of the tensions between cultural appreciation and cultural appropriation. 
The two organizations who have designed and facilitated project activities and the participants in Kitchen Cultivars have been predominantly white, and that has limited what the project can do and whom it can benefit. Farm and kitchen partners that are already leaders in anti-racist food system work have joined Kitchen Cultivars for the first time this season, generously in giving their time and trust to this project and the community it seeks to foster. It was important to take the rare opportunity of our time together to begin making space within this community for the challenging conversations necessary to building a just food system. The discussion ranged from questions about the potential perils of growing an indigenous crop on stolen indigenous land to the dual challenge of generating an appreciation of this crop that would result in a good value for the farmer while remaining accessible to those with fewer monetary resources to how Kitchen Cultivars might join existing efforts to make the region's community of farmers as diverse as our community of eaters. One clear goal is to ensure that the outcomes of this work are of benefit to people who are already in relationship with amaranth. This sometimes difficult and absolutely essential conversation will be continued at the next Kitchen Cultivars gathering in August, when participants will gather to taste and evaluate the varieties prepared in the style of Jamaican callaloo.