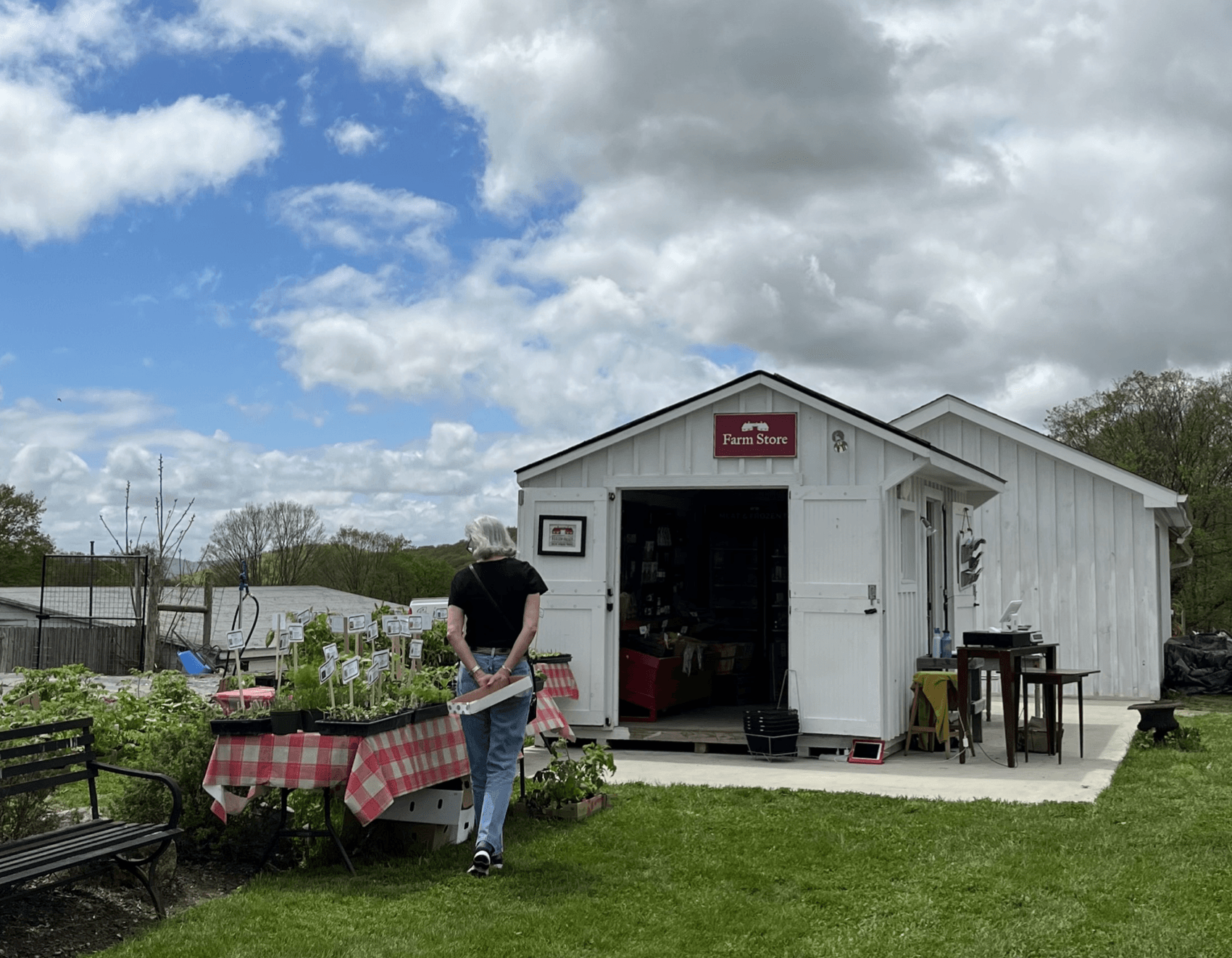 Set at the head of our CSA-dedicated field, Glynwood's humble Farm Store channels the energy of the surrounding farmland and welcomes all who come by to join in. 
When the wooden doors of the shed swing open, they unlock a cornerstone of what food means to us—this is how a storefront looks and feels when it is aimed at tipping the needle towards a more sustainable and equitable food system. 
When you step inside, it is a revelation to realize that the vegetables—the heads of bok choy perked up on the butcher block like puppets with strings suspending them from the ceiling, for example, or the picturesque radishes—were harvested just hours before. They feel alive and magnetic. Cuts of flank, filet, and hanger steak sit enticingly in our freezer; these steaks, frozen at peak quality, will surpass all your expectations for pastured, animal-welfare approved meats. In addition to Glynwood-grown vegetables and Glynwood-grazed meats, inside the Farm Store you'll also find a Hudson Valley specialty store with products from regionally-based farms and small artisan producers within a 100-mile radius that are joining us in reviving our local foodways. 
Recently, Glynwood's Farm Store has launched an exciting new endeavor, our online meat marketplace. Here, you can view a full list of the cuts of meat we have available; you'll find whatever you may need, whether you're hosting a backyard kickback by the grill or an elegant holiday dinner. Ordering through the marketplace allows you to shop exclusive sales and to place a preorder for your meat, which you can pick up at the Farm Store each Friday. 
At the Farm Store, we are gearing up for a busy summer of serving seasonal travelers, beloved regulars, and energized newcomers. Starting at the end of May, we will host our dedicated CSA shareholders at the farm for weekly vegetable distributions. If you would like to come by, you can find us on Tuesdays and Fridays from 2 PM - 6 PM and on Saturdays from 10 AM - 2 PM. We look forward to seeing you there!
If you are interested in hearing more exciting updates about our growing shop, consider subscribing to our newsletter, Fresh from Glynwood. It is not to be missed!