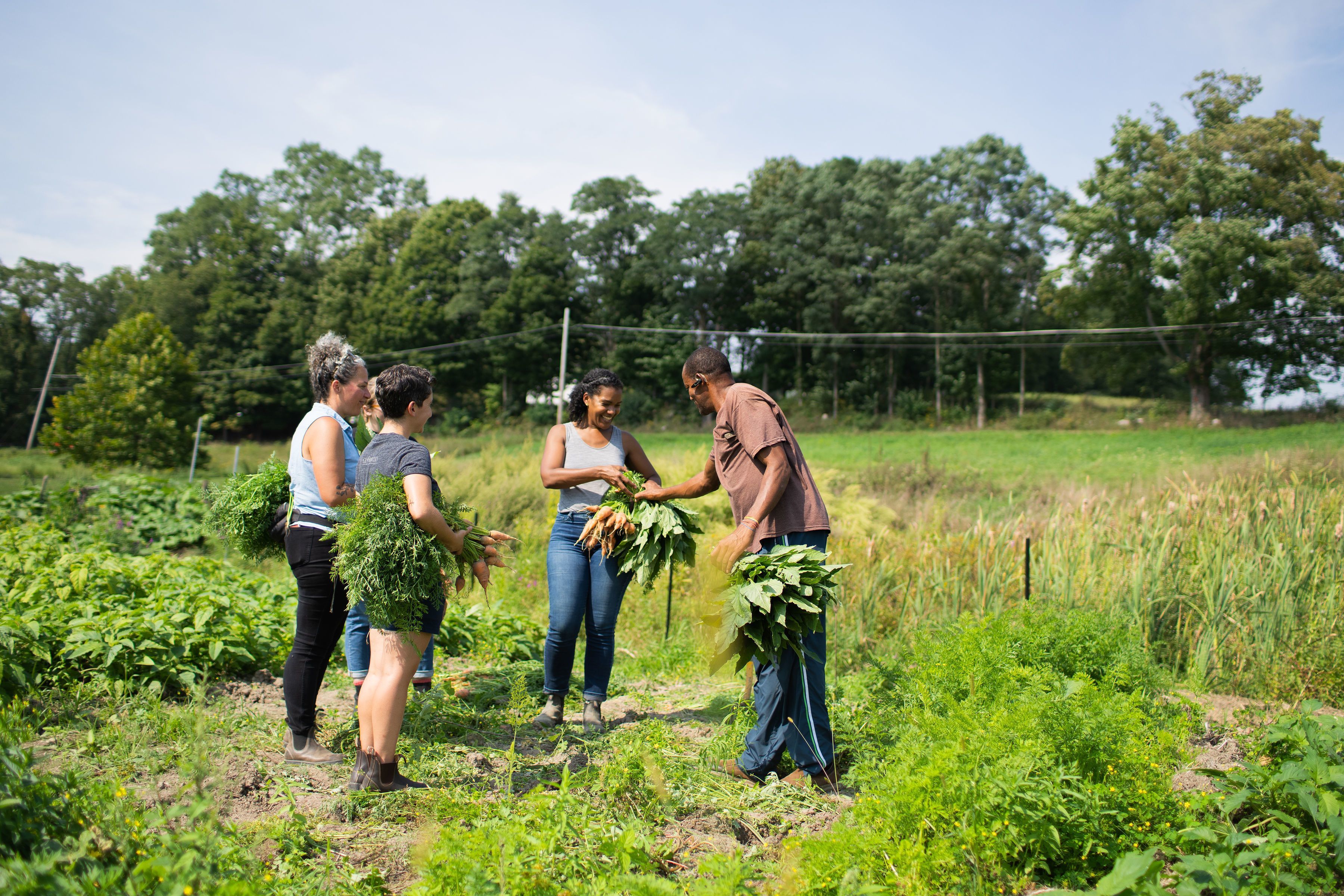 On Friday, April 1, the Food Sovereignty Fund celebrated a first—gathering over 50 farmers, food access partners, and Accountability Council members with the goal of strengthening connections between regional farms and hunger relief efforts. This bilingual English-Spanish event was made possible by the Hudson Valley Language Justice Collective, and began to build the community we need to truly create food sovereignty in our region. We all shared a meal (a small but important step back towards communal activities!) and dove into some meaty questions—what are we doing to build food sovereignty now? And what still stands in the way?  
When the Food Sovereignty Fund launched in the spring of 2020 in the wake of the COVID-19 pandemic, we never imagined that in just two years the demand for and interest in this program would grow to the level that it has. While food supply chains have somewhat stabilized since spring 2020, food insecurity has not. The pandemic continues to increase food insecurity, particularly among families with children and communities of color—which already faced higher rates of hunger because of systemic racism. And low-income people in the Hudson Valley remain particularly vulnerable because rural communities face hunger at higher rates than people in urban areas. The farmers who see and understand this crisis continue to come forward to feed their communities.
In 2020, the Food Sovereignty Fund began as a small pilot that purchased $17,000 worth of first-quality vegetables and meat from ten Hudson Valley farms. This year, the fund is poised to distribute approximately $275,000 worth of local food in partnership with 18 farms and 19 food access partners, an estimated 90,000 pounds. And as it did at the start, the fund will continue to prioritize buying food from farms that use regenerative practices and that are led by BIPOC, women, and LQGTQ+ farmers. (See the full list of farmers and their food access partners below.) These farmers have the capacity to meet our communities' needs, and are often deeply engaged in the lives of these communities themselves, but struggle to participate in government-led hunger relief initiatives aimed at supporting local farms because of scale, logistics, or low pricing. By contracting these farms, the fund is investing in Black, Indigenous, and people of color, in women, and in the LGBTQ+ community. For people and communities who have experienced centuries of divestment, this has real impact, and brings us all a little closer to community control of the food system—a key principle of food sovereignty.
Listening in on small group discussions about the challenges to food sovereignty during the  gathering, we heard participants talk about the many barriers that stand in the way. But we also got a glimpse of a collective vision—one that includes equitable access to land, valuing farmers as public servants, government investments in small-scale farms using regenerative practices, and the need to reclaim and rebuild culture. While these big issues will take a lot of creativity, hard work, time, and strategic investments to solve, it all begins with coming together in diverse groups to understand our neighbors' experiences, challenges and perspectives. We are grateful that the pandemic has eased to the point where generative, in-person gatherings are again possible, albeit with caution. We look forward to continuing to build with this muti-disciplinary group of food system workers and to work towards a sovereign food future together.
---
Food Sovereignty Fund Participants 2022
Farms
Angel Family Farm
Chaseholm Farm
Choy Division
Farm Fresh Caribbean Growers
Fresh Radish Farm
Good Chi Farm
Hemlock Hill Farm
Huerta Family Farm
Katherine Chiu
Letterbox Farm
Mimomex Farm
Phillies Bridge
R&R Produce
Rise & Root Farm
Rock Steady Farm
Sweet Freedom Farm
The Grandpa Farm
The Three Sisters Farm
Food Access Partners
Ascension Outreach
Center for Family Life
Dutchess Outreach
Food of Life/Comida de Vida
Fred's Pantry/Caring for the Hungry and Homeless of Peekskill (CHHOP)
Guild of St. Margaret's Soup Kitchen
Healthy Living and Sustainability
Holyrood Food Fest
Hudson Youth Center
Kingston Emergency Food Collaborative
Meals on Main
Mixteca
Mount Kisco Interfaith Food Pantry
North East Community Center
Our Core
St. Ann's Food Pantry and Soup Kitchen
St. George's Food Pantry
The Mary Mitchell Family and Youth Center
Ulster Immigrant Defense Network
Accountability Council
Maggie Cheney, Rock Steady Farm
Iyeshima Harris-Ouedraogo, Project Director for East NY Farms!, and Co-Director, Youth Empowerment Pipeline for Green Guerillas
Christine Hutchinson, Our Core
Stiles Najac, Cornell Cooperative Extension of Orange County
Sarah Salem, City of Poughkeepsie Common Council and Hudson Valley Food Systems Coalition
Jordan Schmidt, Food Program Director, North East Community Center
Kaycee Wimbish, Kingston YMCA