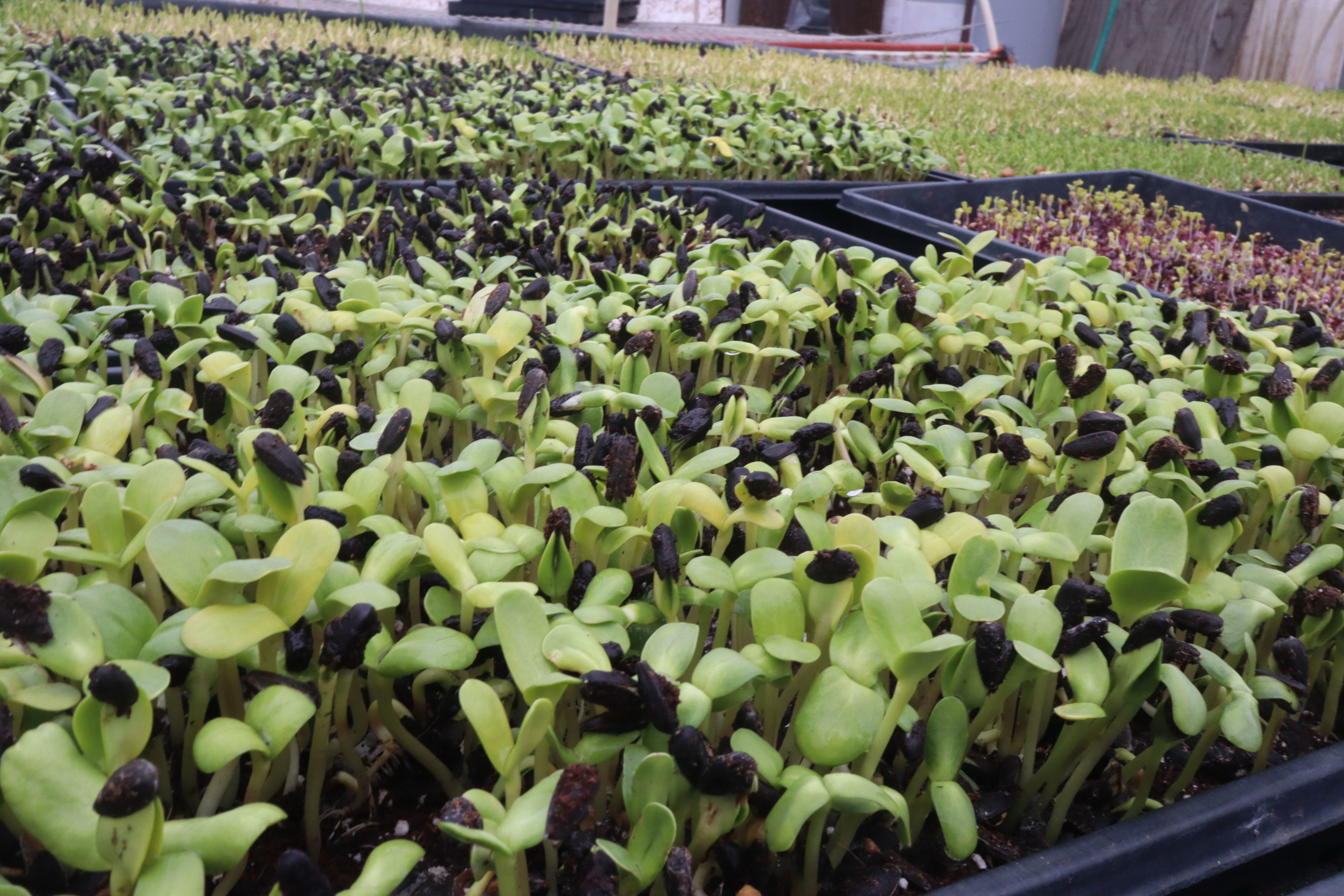 During the summer, our propagation greenhouse at Glynwood is filled to the brim with plant seedlings growing and waiting their turn to be transplanted into our fields. In the winter, it has traditionally sat empty for a couple of months, but this winter it started calling to us: "Yoo hoo, opportunity! Microgreens and shoots!" Our ears perked up at the mention of these tasty treats and we have been busy researching, trialing and developing this new venture, with the hopeful result of microgreens and shoots topping many of our hearty meals this winter.
As with growing any new crop, there has been much to learn and consider: what soil medium is best, which seed varieties are most reliable and most desirable, which seeding rate is just right, how much water is needed before it is too much.  Figuring out the timing to nail down the harvest date in conjunction with CSA pickup or farm store hours has perhaps been the most challenging of all. Winter growing, whether in the ground or in the greenhouse, poses its own set of specific challenges related to limited sunlight and cold temperatures—figuring out how to keep the plants warm but ventilated enough to prevent the spread of disease is perhaps the hardest task.
But have no fear: my desire for leafy greens in the winter is strong, and figuring all of this out is part of the fun in it. I wouldn't be a farmer if I didn't love puzzles, problem-solving, never giving up and asking for help. The lovely farmers at Lovin' Mama Farm and Maple View Farm—two Glynwood Incubator alums who have microgreen and shoot operations already in full swing—were willing to consult and share the bounty of their knowledge, which has given us a great foundation. Along with some good old trial and error ourselves, we are figuring it out and the plants are happening!
While our microgreens (a mix of broccoli, kale, radish, cabbage and mustard varieties) are harvested after only about 2 weeks of growth, with only their first true leaves poking out, they pack a ton of flavor and a nutritional punch, often containing higher nutrient levels than more mature vegetable greens. Pea shoots take a little longer to grow, but the end results are tender, sweet, and beautiful tendrils, a perfect addition to any salad. The sunflower shoots are having a harder time in the winter, but if we can figure out how to manage their needs, you'll quickly find they are a delightful, nutty snack, not to be forgotten.
This winter, you can find our very own microgreens, pea shoots, and (hopefully) sunflower shoots in our farm store and in the Winter CSA shares. I hope you too will find their leafy freshness an antidote to the winter blues.