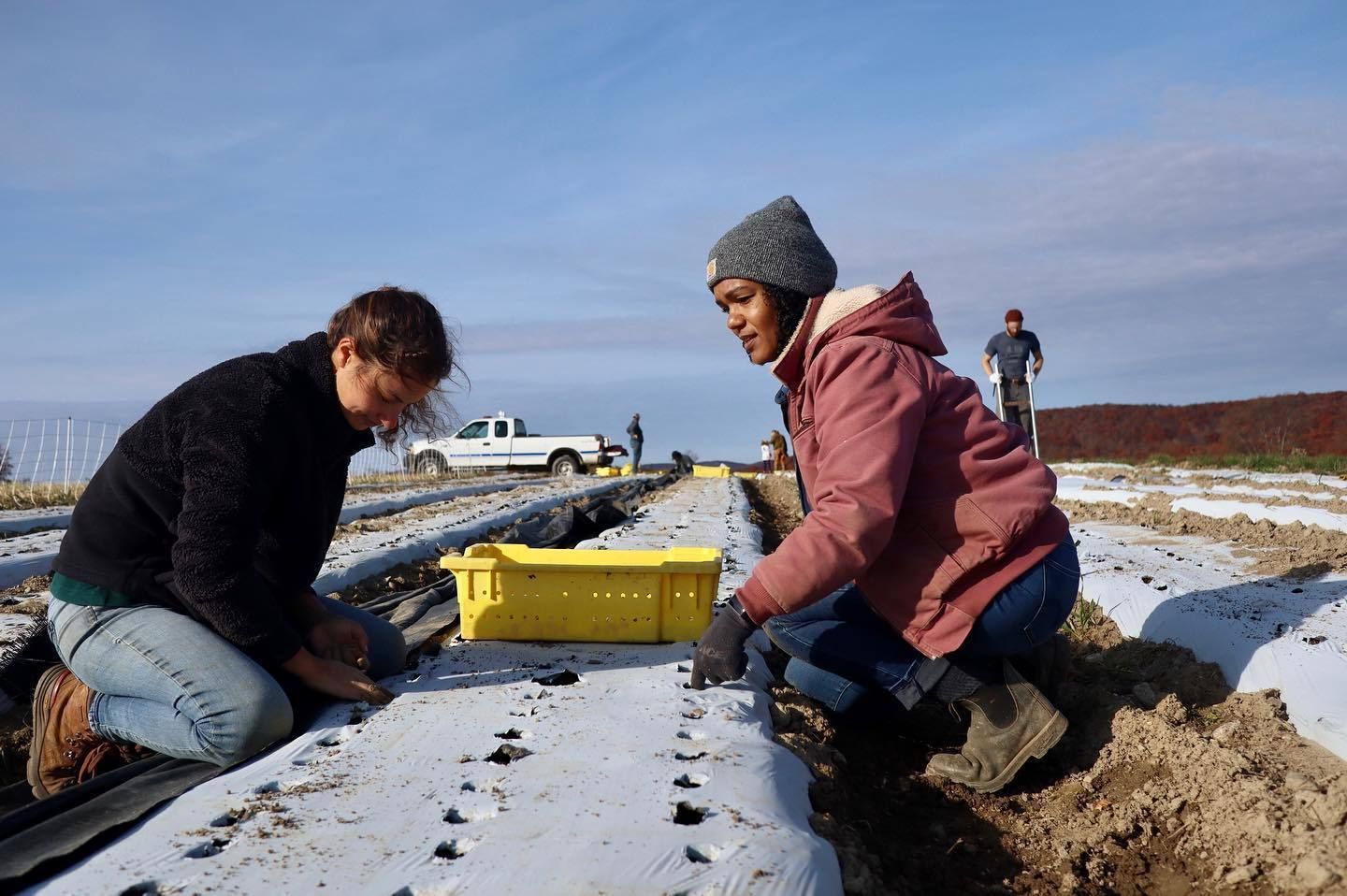 Winter at Glynwood brings brisk mornings, starlit evenings, and a sense of relative calm across the landscape. Overwintering cattle and sheep sleepily chew hay in the barn as the ever-curious pigs root around in the snow; save a few winter high tunnels, the vegetable fields lay fallow, the tractors tucked into the garage for safekeeping. But despite its tranquil appearance, winter is far from a season of dormancy. Soil continues to support surrounding life – microorganisms remain largely active in winter, the organic matter they process insulating vulnerable plant tissue against freezing temperatures. Although Glynwood has its lowest animal counts in the winter, our ewes are stocking up on feed and essential minerals in preparation of lambing season come March. However brief compared to the growing season, winter is an essential period of rest, regeneration, anticipation. 
Farmers heed this seasonal flux in their own work. As outdoor responsibilities lessen, they pull out laptops and clipboards to reflect upon the past season and build their crop plans and pasture rotations for the coming year. Farmers also take advantage of the spaciousness of winter to explore new concepts and build upon their existing foundations of expertise – regeneration, so to speak. 
There are myriad farming conferences offered throughout the colder months, catering to anyone from small organic growers to ranchers to berry producers. Online farming courses and market gardening intensives abound as well, allowing farmers to process the material in their own time. Glynwood supplements these broader learning opportunities with a series of virtual and in-person Winter Intensives. Geared towards the specific needs and interests of Hudson Valley farmers, the series ties knowledge sharing with community building, allowing young farmers to build trust and understanding simultaneously. 
Our 2021-22 lineup of intensives introduces critical concepts farmers may not seek out independently, from Holistic Management to Whole Farm Revenue Insurance, Farm Law to Resilience & Marketing. Throughout the winter, Glynwood Incubator participants and affiliates will be able to share their successes, challenges and aspirations among peers and experts alike. This collaborative troubleshooting continues into the growing season, with site visits to each Incubator farm and an end-of-season gathering hosted at Glynwood. It is a treat to witness participants evolve from listeners one winter to lead presenters twelve months later. 
Given how quickly farming can become a draining, largely solitary slog in the summer months, it is critical that farmers take time in winter to slow down: to heal their bodies, reconnect with their interests and retap into the community of producers of which we are all proudly a part. Glynwood provides space for this collective learning process, yet it is our robust network of Hudson Valley farms that identifies needs and generates solutions. We look forward to learning alongside our farming peers and colleagues in the months to come.