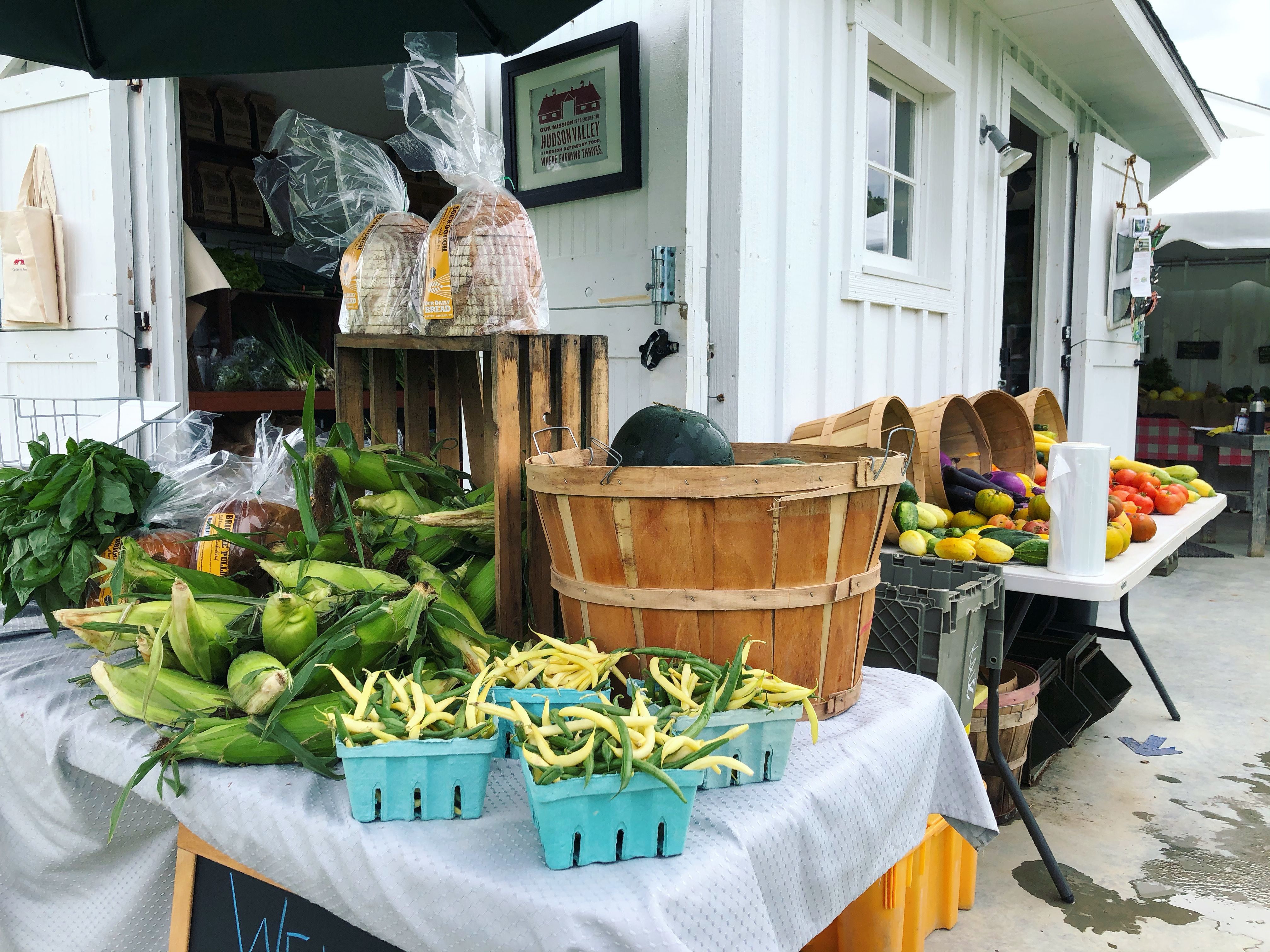 Though fall is here, the growing season is far from over! With the last tomatoes and the first of the winter storage crops coming in, this is the time of year when it's easy to make every meal from fresh, local produce and it's been great to see our community coming out to shop at the Glynwood Farm Store to pick up our produce, meat and other local goods to help them do exactly that. If you have not yet come to the Farm Store this season, please do stop by in the coming weeks as the last tomatoes, eggplant, peppers, winter squash, potatoes, onions, garlic and vibrant greens come in from the fields. 
Additionally, we've expanded our offerings this year and are happy to be featuring locally-sourced goods such as flour, eggs, maple syrup, honey, kombucha, milk, yogurt, hot sauce, mushrooms, fruit and so much more! We're proud to say that all the locally-sourced goods in the store (everything that's not from Glynwood) come from within a 150 mile range, and most of it actually comes from within a smaller, 75 mile range! That sort of local sourcing can be difficult to manage, but we are so fortunate to live in an area where the local food and farm economy is supported, valued and accessible. While we happily operate as part of the larger Glynwood organization, we serve a unique role at Glynwood and to our community and have our own mission statement: "The Glynwood Farm Store strives to embody a microcosm of a vibrant Hudson Valley, where all are welcome and encouraged to delve into their local food system. Products are sourced locally and regionally as much as possible, and serve to both support our local food system and to educate consumers on the benefits and options of a regionalized food system." When you shop at the Glynwood Farm Store for Glynwood Grown and Grazed products, as well as these local goods, you support not only Glynwood and our overall mission, but several other local farms and producers who are grateful for the support and the interest in their product. 

If you haven't yet made it out to the farm this season, there's still time! We are open Tuesdays 2 - 6PM, Fridays 2 - 6PM, and Saturdays 9AM - 1PM through mid-November, at which point we transition to winter hours and are open 2-6PM on Fridays. You can also follow us on Instagram @glynwoodfarmstore, and if you sign up for our weekly Fresh from Glynwood newsletter you'll receive weekly updates on Monday about farm happenings, Farm Store availability, and more.