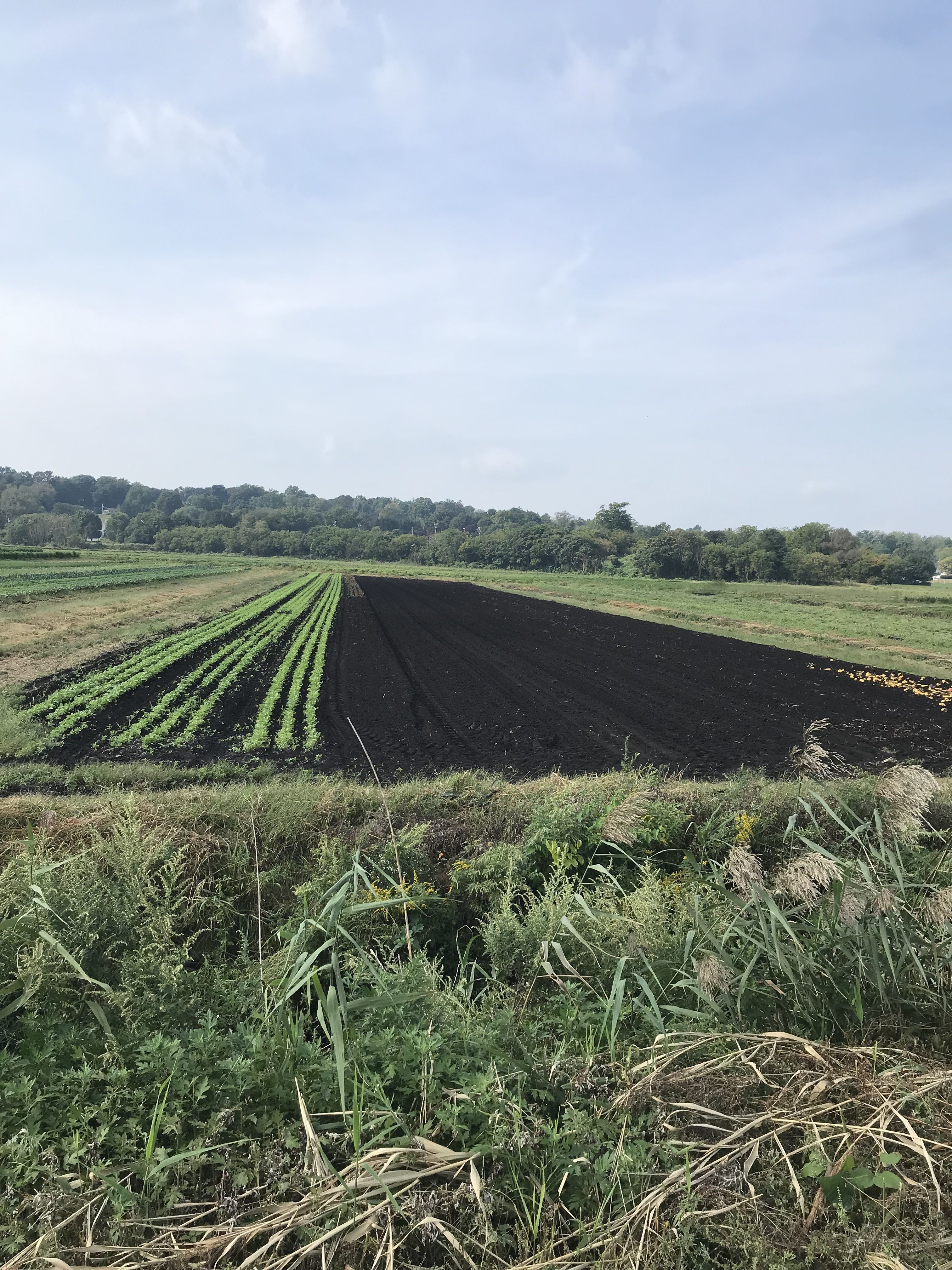 This summer, we were lucky enough to exchange farm visits and apprentice learning opportunities with DIG Acres, a farm operation managed by fast casual restaurant chain DIG Inn and located at the Chester Ag Center. DIG Acres has long been a farmer training partner of ours; several of Glynwood's Farm Business Incubator participants have simultaneously participated in DIG's Incubator program (which includes farmland and shared equipment), and farm manager Larry Tse has been a Mid Hudson CRAFT organizer for several years. However, this was the first year in which we have coordinated a complementary apprentice exchange. We were delighted with the results. 
DIG's 2021 farm team visited Glynwood in mid-June. They began the day with a farm tour, worked in the fields after lunch, and ended the afternoon with a primer on food access and food sovereignty taught by Senior Director of Regional Food Programs Megan Larmer. Earlier this month, DIG returned the favor. After arriving at the Chester Ag Center, the Glynwood apprentices and I walked the fields with Larry, shared a delicious lunch with the whole team, then headed back out with bins in tow to harvest blue and red potatoes. During the final hour of our visit, Larry gave a presentation to all of us on growing vegetables for wholesale markets, covering topics including scale of production, market competition, pack size, and food safety. 
It was a day full of learning. While less than an hour away, the Black Dirt Region of Orange County—at which the Chester Ag Center and DIG Acres are located—is an entirely different landscape than what we have at Glynwood. Our fields are rocky, sloping, and in need of supplemental fertility; our water is pumped from irrigation ponds. In stark contrast, DIG's loose, flat soils have sky-high levels of organic matter (upwards of 50%) and are bordered by irrigation ditches (originally wetland habitat, the region was ultimately drained by agrarian settlers). We dug for potatoes with our bare hands, a strategy that would utterly fail in Glynwood's compacted beds. We also observed the intense weed pressure that comes with growing in such fertile soils with high organic content, and stood before several fields that were completely compromised due to flooding from Hurricanes Ida and Henri. As with any farming landscape, the Black Dirt Region has inherent benefits and vulnerabilities, which we were lucky enough to experience first-hand.  
DIG's economic model is likewise very different from that at Glynwood. The vast majority of our produce is sold via direct-to-consumer retail, whether through our CSA or at the Farm Store, or donated to community food pantries. DIG sells its produce to DIG Inn, a restaurant chain with over 30 locations in New York City, and several other NYC-based restaurants. Given the scale at which these businesses are buying produce--DIG Inn purchases six million pounds of produce per year, about two-thirds of which is sourced regionally--DIG Acres is competing with other growers not only on matters of price, quality or uniqueness of the product, but also on overall convenience to the wholesaler. After six months of learning the inner workings of Glynwood's growing and marketing systems, our apprentices were amazed to see just how different farming in the Hudson Valley can look. 
We are filled with gratitude for Larry and the entire team at DIG for making this learning exchange possible and look forward to more apprentice exchanges in future seasons.