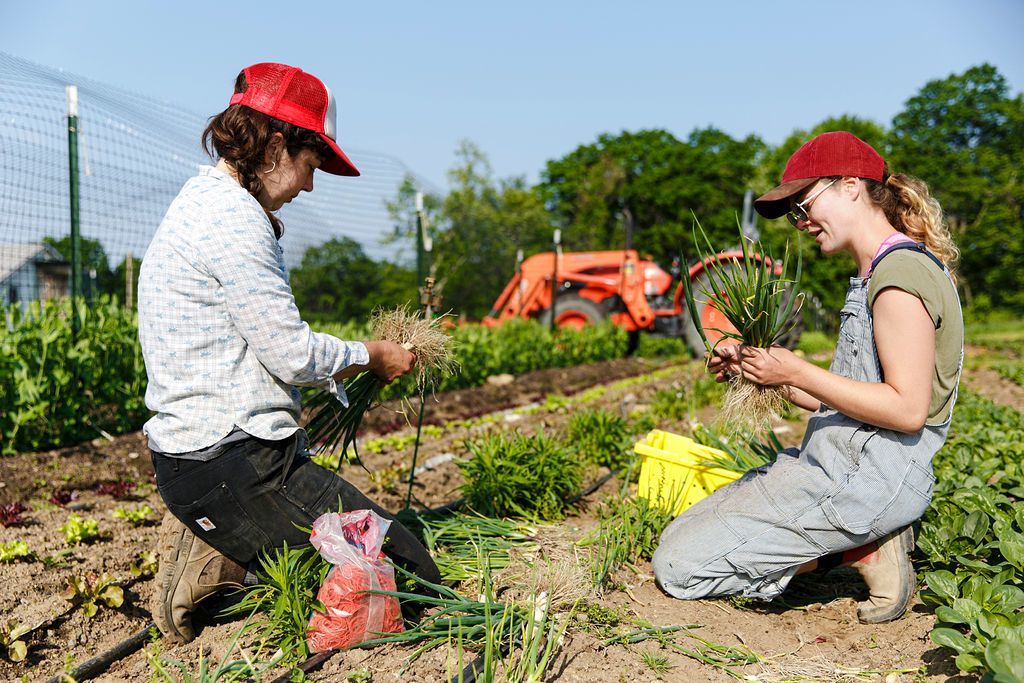 As you might assume, summer is a busy time on the farm. Long days of hard work, hot weather...and wonderful bounty. This growing season has been tough; we started out hot and dry, needing to irrigate as early as May, and then it seemingly never stopped raining in July, emboldening the weeds to grow like...well, like weeds. Fortunately August has gifted us with some cooler temperatures, more stable weather patterns, and a bounty of amazing produce for the CSA, the Farm Store, and our food donations to local food relief agencies. 
While our hard-working farm crew has been able to battle the weeds back, keep the produce coming in, and think ahead to fall and winter crops, we are also still happily welcoming a crew of volunteers to the farm every Thursday morning for Glean Team. This crew has recently been harvesting kale and basil for donation, as well as helping out the farm team by assisting in trimming garlic. After a few weeks "curing" in a high tunnel, the garlic has dried down and it's time to clip off the top of the plant, give the roots a little haircut, and tuck (most) of it away to enjoy later this fall and winter when the bounty coming out of the fields begins to slow down. If you'd like to join in on the Glean Team fun, it's not too late! We meet every Thursday morning at 8:30AM at the Farm Store parking lot—come by any week you'd like. 
Over in the pasture, we recently welcomed several new cows to our herd from another local farm. These Hereford cows will help grow our herd, further the regenerative work that our grazing practices promote, and eventually will be processed for delicious Animal Welfare Approved beef that will be available for purchase in the farm store. 
With the recent finalization of some permanent fencing through a grant, we are able to better contain our lambs and ewes, who have a penchant for wanting to explore Glynwood's gorgeous property. Unfortunately, their sense of adventure is a downside for the farm team, as it can take quite a while to track down adventurous sheep and convince them that the grass in their current paddock is plenty green. You know how the expression goes...the grass is always greener! 
We are also very excited to welcome another new addition to our team: livestock guardian dogs. We will have a pair of guard dogs joining us in the coming weeks to help better protect our lambs, as well as our poultry later in the season. Livestock guardian dogs are dutiful animals who play an absolutely vital role on many farms. As they primarily live in the field with the livestock, they bond with the animals and become trusted companions as well as guardians, while helping to reduce pressure from predators such as foxes, wolves, and coyotes. We are excited to welcome them to the team and see how they affect the grazing operation.