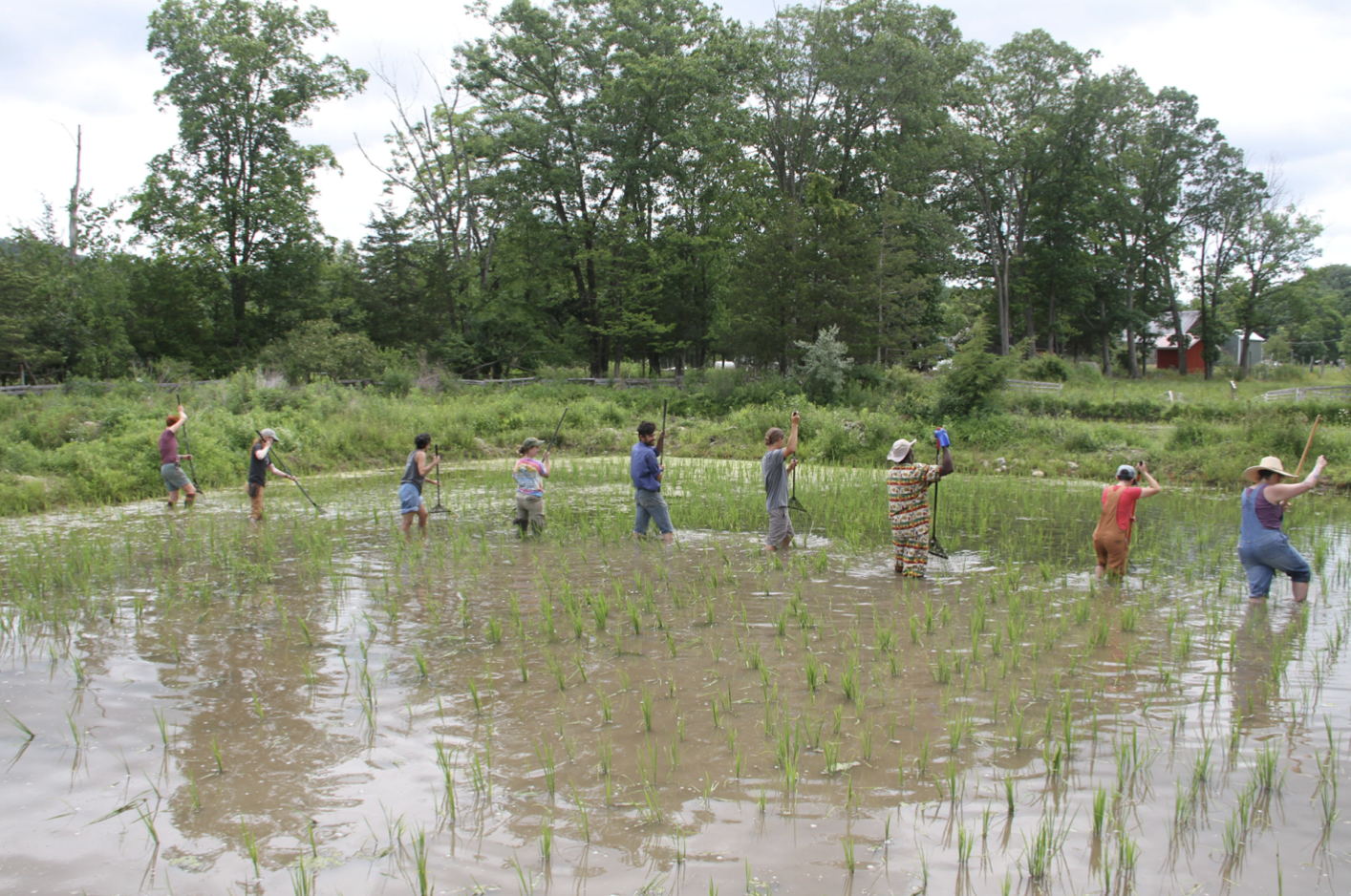 At the end of June, Mid Hudson Collaborative Regional Alliance for Farmer Training (CRAFT) participants met at Ever-Growing Family Farm in Ulster Park for a community work day. For most CRAFT participants, this was their first time laying eyes on a rice paddy anywhere—let alone in the Hudson Valley. They were struck by the beauty of the paddies speckling the landscape and impressed by the productive land use in what would otherwise be unsuitable for agricultural purposes.
Ever-Growing Family Farm is owned and operated by Nfamara Badjie, his wife Dawn, cousin Moustapha Diedhiou and son Malick. They grow rice varieties from around the world, using organic practices informed by traditional African rice-farming traditions. Glynwood is privileged to provide support to Ever-Growing Family Farm via the Hudson Valley Farm Business Incubator.
Farmers Nfamara, Malick, and Moustapha demonstrated their new paddy weeding technique, which involves gently brushing the paddy soil with a metal rake. The rake is swept right over the maturing rice plant, leaving it undisturbed, while uprooting the establishing weeds at the soil level. The method is akin to "blind cultivation," a common weed control technique for field crop production done with a flex tine harrow.
The CRAFT participants were encouraged to step right into the paddies and get to work. They enjoyed the feeling of the muddy paddy soil on their feet. The weather was beautiful, the work meditative. The group moved through the work quickly, admiring and learning about the multiple varieties of rice in production from all corners of the globe. Some of the larger paddies hosted varieties produced for sale, while smaller paddies contained newly acquired varieties that are being grown out for seed banking purposes.
By mid-morning, Moustapha and friend Abibou began performing music—energizing poly-rhythmic drumming and singing that brought up the group's energy and pace. Nfamara taught the group some traditional songs of the Jola people in his native Gambia.  
The Ever-Growing Family Farm Team was thrilled  to discover that a task that used to take several weekends was accomplished in just one day, thanks to many hands and an efficient new weeding method. The CRAFT volunteers celebrated by tasting a deliciously enlivened sake, brewed by Ever-Growing Family Farm partner Yo Imaeda. It was Yo's first-ever brew from NY-produced rice. The group then enjoyed a delicious community meal of West African-inspired cuisine prepared by farm co-owner Dawn Hoyte. 
The work day was a true circle of gratitude: Ever-Growing Family Farm expressed deep appreciation for the help, and the guests were thankful for the rich learning experience. We are honored to work with and learn from Nfamara, Malick, Moustapha, Dawn, and the rest of the farm team, and look forward to helping with the rice harvest come fall.