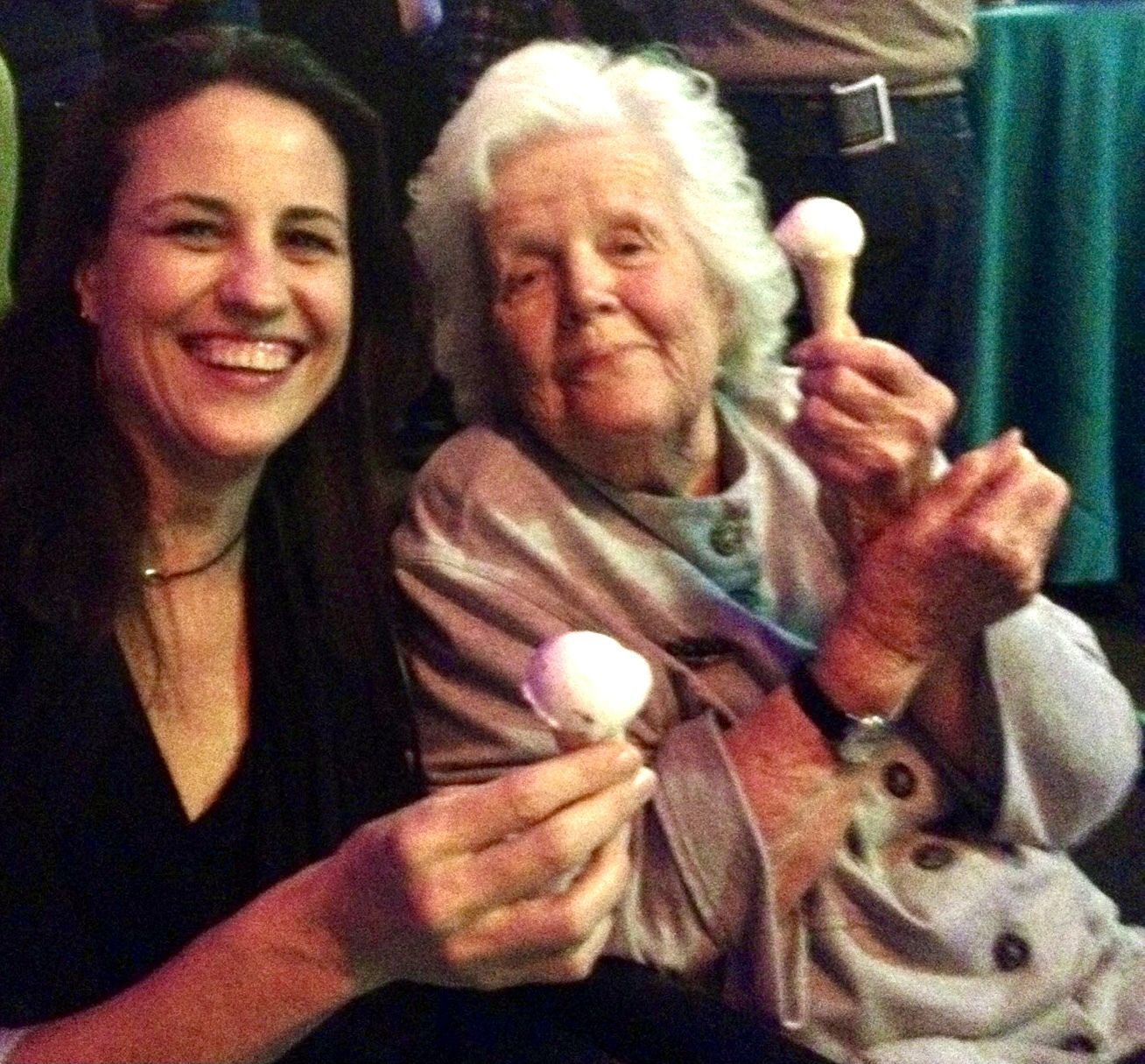 Last week, we lost one of our dearest and most important champions: Penny Perkins Wilson. Penny spent a good deal of her childhood at Glynwood when it was her family's home, and remained an active and incredibly thoughtful Board member since the family transitioned the property to become home to Glynwood, the non-profit organization. 
Below is a cherished memory from my time spent with her.
••••••••
Shortly after I began my post as Glynwood's President, Penny Wilson invited me and my daughter, Hannah, to visit her in Pennsylvania. "There's some fancy schmancy food thing in the city (meaning Philly), doesn't that sound like fun?"
It did.
We picked Penny up at her home in Malvern and drove the 40 miles to Philadelphia, listening to Penny's stories that seemed to consistently feature horses or mischief, often both. 
As we followed the GPS instructions deeper and deeper into the industrial parts of Philly, I began to wonder what kind of event we were in for. At every turn, the streets became darker and more absent of human life. Penny kept chirping from the passenger seat things like "Oh isn't this interesting"  and "I've never been here before…"
We finally maneuvered to a massive parking lot/loading dock situation near some vacant warehouses, and discovered, much to my relief, one building that had some life to it. As I sat in the car contemplating the potential scene, I thought about saying something that would give my octogenarian companion an 'out.' She was clearly having none of it. "Ooooh - how NEAT," she said giddily, "This'll be different." 
So, Hannah and I helped her into her 'chariot' and wheeled her toward the entrance. "Hello there," she called to a group of teenagers smoking cloves near the entrance. I wasn't sure they could hear her over the loud, thumping music coming from the stacks of huge speakers. Of course, Penny - who was hard of hearing - didn't seem to mind at all. 
The scene was what one might call ultra hip: food stations with photo-ready chefs handing out samples, a cornucopia of craft beverages, artisan everything, and lots of tattoos. I felt a bit old and straight for this crowd, but Penny wasn't phased. "Let's do a round and see what's what before we start eating," she instructed like a pro. 
The three of us discovered the ice cream first - it looked scrumptious."Let's save that for last, as our special treat," Penny suggested.
Thanks to Penny's gusto, we had a blast. Everyone seemed to know her (how?), coming up to greet her in droves and offering her delicious fare. We went to every station, tasted every treat, chatted with farmers and brewers and makers. The evening featured regional farming - the heart of Glywnood's work and a cause Penny cared about deeply - so we learned a thing or two about food production in Pennsylvania along the way.
At the end of the evening, when we were enjoying our ice cream cones, I beheld this wonderful woman and thought, simply, wow. Her zest for all things good and her amazing generosity - manifest in her extraordinary lifelong philanthropy -  will continue to inspire me on a very personal level.  More importantly, Penny's incredible spirit will forever be woven into Glywnood's land and the work she and her family have made possible. What a gift.