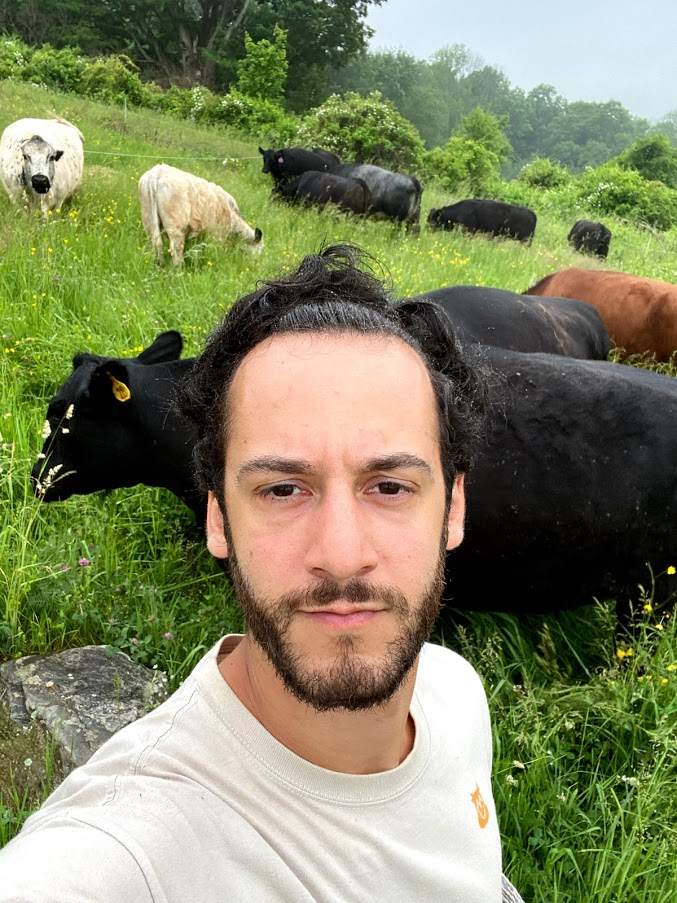 "My whole life trajectory would have been very different if I hadn't apprenticed at Glynwood. It sent me down the path I am on now." Jesse Voremberg was a Glynwood apprentice in 2017 and since then has delved deeper into many facets of food and farming systems, from whole-animal butchery to farmland access and academia. 
After Jesse's 10-month apprenticeship at Glynwood he started another apprenticeship as a butcher at Hudson & Charles in the West Village. Even though at Glynwood he had learned the entire process of raising an animal until slaughter, he didn't know what happened between dropping an animal off at the processor and picking up the meat a couple of weeks later. During his butchery apprenticeship, he was able to work with animals from farms similar to Glynwood, and gained a deeper appreciation for the entire process of meat production. 
After learning butchery, Jesse wanted to continue to work with meat marketing and sales, but also hoped to explore another aspect of the food system—farm financing and farmland access. Dave Llewellyn, Glynwood Director of Farmer Training, connected Jesse to Local Farms Fund where he began working part-time. Local Farms Fund is a community impact farmland investment fund that helps early-stage farmers buy land. The Fund purchases the farm and farmers sign a lease-to-own agreement with the option to buy the farm after 5 years. Jesse also started working with Happy Valley Meat Co., a farm-to-table meat wholesaler. They source whole animals from small farms in central Pennsylvania, work with small scale processors, and sell the meat to restaurants and institutions in NYC, Philadelphia, and around the northeast. Jesse helped them transition to a direct-to-consumer model when COVID shutdowns closed restaurants and worked there until June 2020. 
This year Jesse decided to go back to school to study for a master's of science in environmental policy and management. He is now at UC Davis, focusing on policies and practices that incentivize sustainable agriculture. In his upcoming internship, he will be working with the University of California Cooperative Extension office in their Climate Smart Agriculture Program to create cost-benefit analysis case studies to show conventional farmers that transitioning to climate-friendly practices is economically feasible, given grants available to California farmers.
Though Jesse is now in California, he still considers Glynwood a second home. This summer before heading out west he actually spent a couple of months at Glynwood helping out on the livestock crew. The teamwork and camaraderie that Jesse remembers from his apprenticeship in 2017 have stuck with him, "I have fond memories of waking up at 4am on chicken slaughter days. The whole team—5 farmers plus volunteers—would get together and harvest the chickens. There was a feeling of being all in it together." He was glad to be able to give back to the farm this year when extra help was needed and thinks of Glynwood as a place that supported him and that he wants to keep supporting in whatever ways he can.