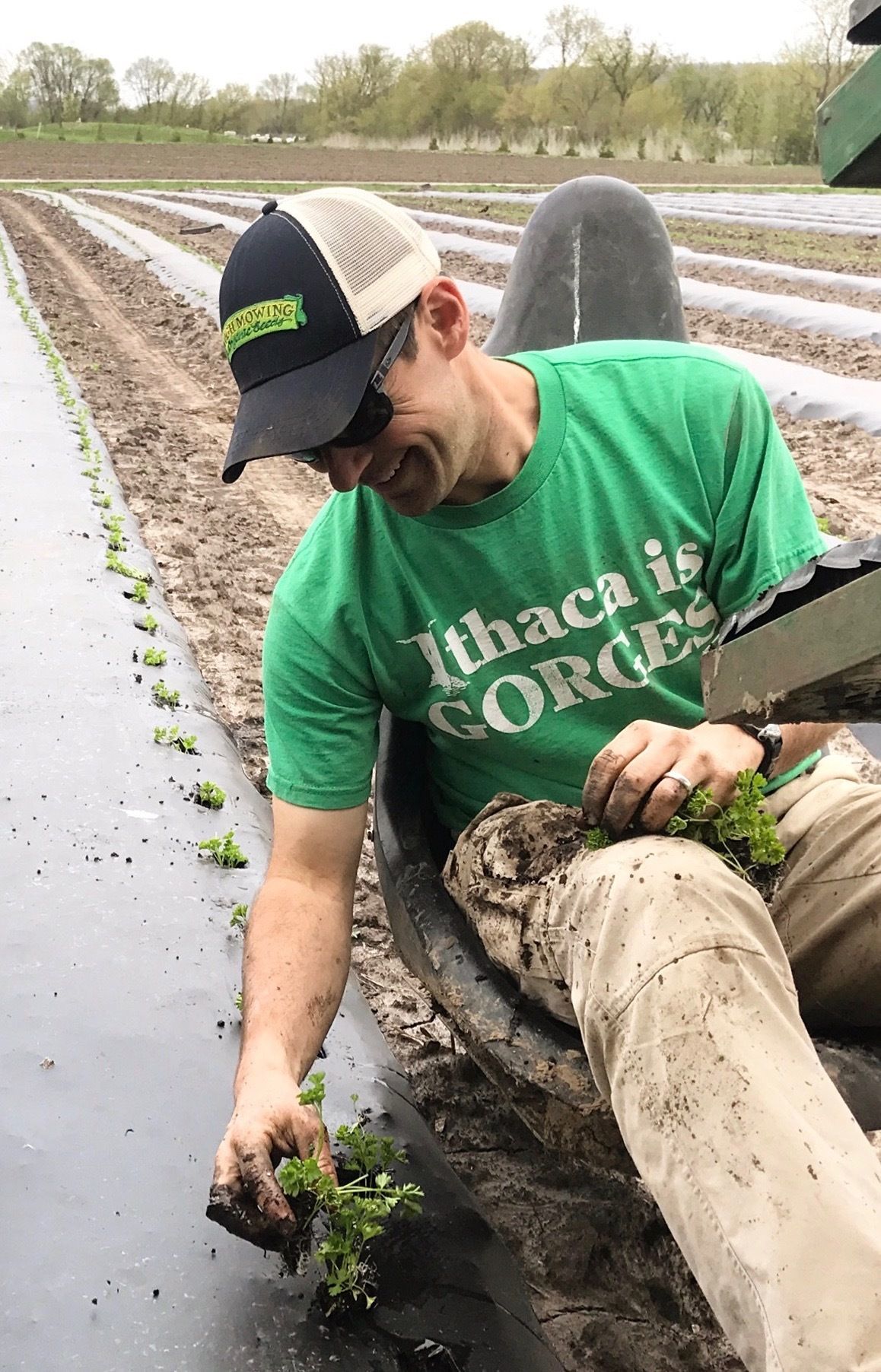 Dan Fillius was the very first Glynwood apprentice. He came to work and learn on this property in 2008 because he, like so many of us, had been "bit by the gardening bug". He had previously been a teacher, teaching outdoor education at Yosemite National Park, where he led school groups on week-long trips and built a curriculum aligned with state science standards that also focused on building teamwork and confidence. 
At that time, the apprenticeship program combined the vegetable and livestock operations, so Dan was able to delve deeply into both enterprises during his season at the farm. In addition, Dan was able to bring some of his teaching and curriculum background to help Dave Llewellyn—then farm manager and now Director of Farmer Training—to codify the apprenticeship structure. Dan describes his time at Glynwood as "so well rounded. I was trusted to operate equipment, including the tractor and skid steer, and learned to drive the draft horse. After that year I was ready to take on a management role". 
Dan was able to find that management role in Wisconsin, where he and his wife moved to be closer to family in Iowa. He farmed there for a season and then took a position managing the Michigan State University Student Organic Farm, where they produced food for the University dining halls and the broader community for 48 weeks out of the year. At the MSU farm, in addition to managing the daily operations of the farm, Dan was one of the teachers for a certificate program to train students in organic farming methods. After five years at Michigan State, Dan made another move to be closer to family, and he took a position at a large for-profit organic farm, Featherstone Farm in Southeastern Minnesota. There he managed 140 acres of organic vegetables between 2015 and 2018. That large-scale production was different from anything Dan had done before, but also proved to be a tremendous opportunity and prepared him for what came next. 
When Dan's wife accepted a public school teaching position in Des Moines, Iowa, they relocated again, and Dan accepted a position with Iowa State Extension teaching about food safety. Extension was looking for a farmer who could learn the food safety information in the Food Safety Modernization Act (FSMA), and then could be a credible source who could build rapport quickly with farmers. This role combines Dan's decade+ of farming experience with his love of teaching. Dan is still in that position and also manager of an urban farm, Middlebrook Farm, in an "agri-hood" outside of Des Moines. An agri-hood is a housing development built around a small farm—the farm was started first, and soon they will be building the houses. There are about 100 agri-hoods around the country; this one is a four-acre farm and has a farmstand on site.  On the four acres they devote ¼ to mixed vegetables, ¼ to sweet corn, ¼ to pumpkins, and ¼ is fallow each year. 
"In Iowa," says Dan, " sweet corn is the way to get people to buy vegetables in the summer and pumpkins are the way to get people to buy veggies in the fall." The farm has one other part-time employee; Dan is grateful that he is able to keep farming while also serving in his role with Extension providing technical assistance to Iowa farmers. 
During Dan's FSMA training with Iowa State Extension, a photo appeared in the curriculum that caught his eye. It pictured a familiar landscape, a recognizable horse, his first farm mentor, and himself. He took a screenshot of the image and sent it to Dave Llewellyn and asked "is that us?!?", just to be sure. It was. Though he was now in Iowa and not New York, and it was a decade after the photo was taken, an image of Dan and Dave working a draft horse had made it into the FSMA curriculum. Dan was tickled by this and now every time he teaches that course he is reminded of his time at Glynwood, where he first learned to farm.