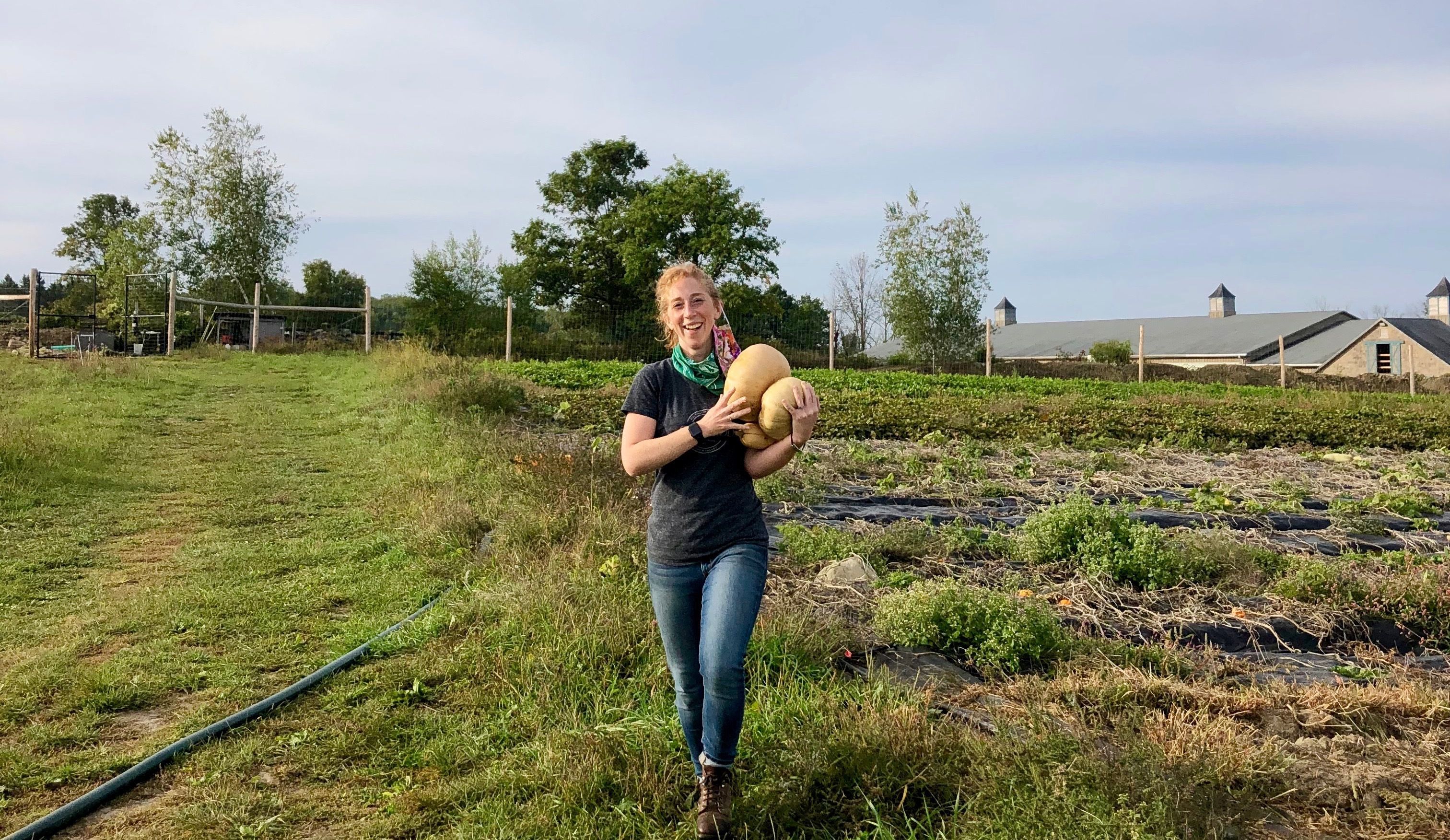 As food insecurity rose across our region this spring, we knew that Glynwood needed to increase its food access efforts, but that our farm team couldn't do it alone. Yes, our farmers could set aside leftover CSA shares for donation to a food pantry. Yes, they could give less-than-perfect produce to Second Chance Foods (a local food rescue organization) to prepare into delicious, nutritious meals. But what about the thousands of pounds of leftover crops in the fields that the farm team doesn't have time to harvest? Once every bunch of kale or pound of beans has been picked for the farm store and CSA, the farm team must move to the next task at hand. So what becomes of the remaining kale leaves that are still good to eat? The elusive bounty of beans still hiding underneath their canopy of vines and leaves? 
Often, this produce ends up on the compost pile, adding essential nutrients back into the soil. While this isn't a bad fate—it feeds microorganisms and nourishes plants in future seasons—it doesn't address immediate need, feeding families who are hungry today. We therefore decided to found a new base of volunteers, the Glynwood Glean Team, to help divert this fresh, delicious food out of the compost and into refrigerators, food pantry packages, and dinner plates. 
As defined by the USDA, the practice of gleaning is simply "the act of collecting excess fresh foods from farms, gardens, farmers markets, grocers, restaurants, state/county fairs, or any other sources in order to provide it to those in need." Gleaning from farms and gardens has been in practice for at least two thousand years. The act of leaving food in the field as a form of social welfare was written into the Bible; at least two countries (England and France)  have historically protected the rights of families in need to glean produce from nearby farms. Although it is not as common a practice as it once was, gleaning remains an important component of food reclamation and donation efforts. Particularly in this time of unprecedented need and uncertainty, Glynwood was wholeheartedly committed to increasing gleaning efforts in the Hudson Valley. 
The Glynwood Glean Team consisted of both Glynwood staff and community volunteers. From mid-summer thru November, this team showed up to glean vegetables in the mud, hail, and heat. Volunteers arrived at Glynwood in the early morning and in the late afternoon, lugging heavy bins of squash and bags of bok choy to the cooler. 
A brief glimpse of what the Glean Team accomplished:
From September 1 thru the end of the season alone, the Glean Team harvested and donated 1,909 pounds of produce. About 774 of those pounds (40% of the total) were lightweight greens such as spinach, lettuce, mustard greens, kale, basil, and bok choy. Translation: that is a LOT of food. 
[For those of you who like numbers: the Glean Team harvested nearly 150 pounds of spinach, as well as over 400 heads of lettuce. Half a pound of spinach or 1 head of lettuce will make enough salad for a family of four, meaning that those two crops alone likely fed 700 Hudson Valley families!] 
This food was valued at over $4,500, even after halving the price of less-than-perfect produce. Thanks to generous support from donors, we were able to give it to local food pantries and emergency feeding programs for free. 
Second Chance Foods, one of our partners, increased the value of that food further by creating delicious, nourishing meals using our produce. For instance, 320 pounds of Glynwood sweet potatoes and 320 pounds of winter squash went into several batches of soups, stews, curries, and even gratin, feeding hundreds of people. 
And let me reemphasize: the Glean Team was only documented starting September 1, but gleaning efforts at Glynwood began much earlier in the season. These numbers therefore show a fraction of the impact the Glean Team was able to make. 
Next season, the Glean Team will continue to have its hands full: our farm team is allocating more space than ever to grow crops for donation, meaning we will have bountiful produce to harvest. We can't wait to get back in the fields with our amazing volunteer crew. If you wish to join the Glean Team, sign up for our volunteer email list! We'll let you know of any opportunities that pop up this winter or spring. Until then, we are wishing you and your families good health, good food, and many moments of joy and gratitude.