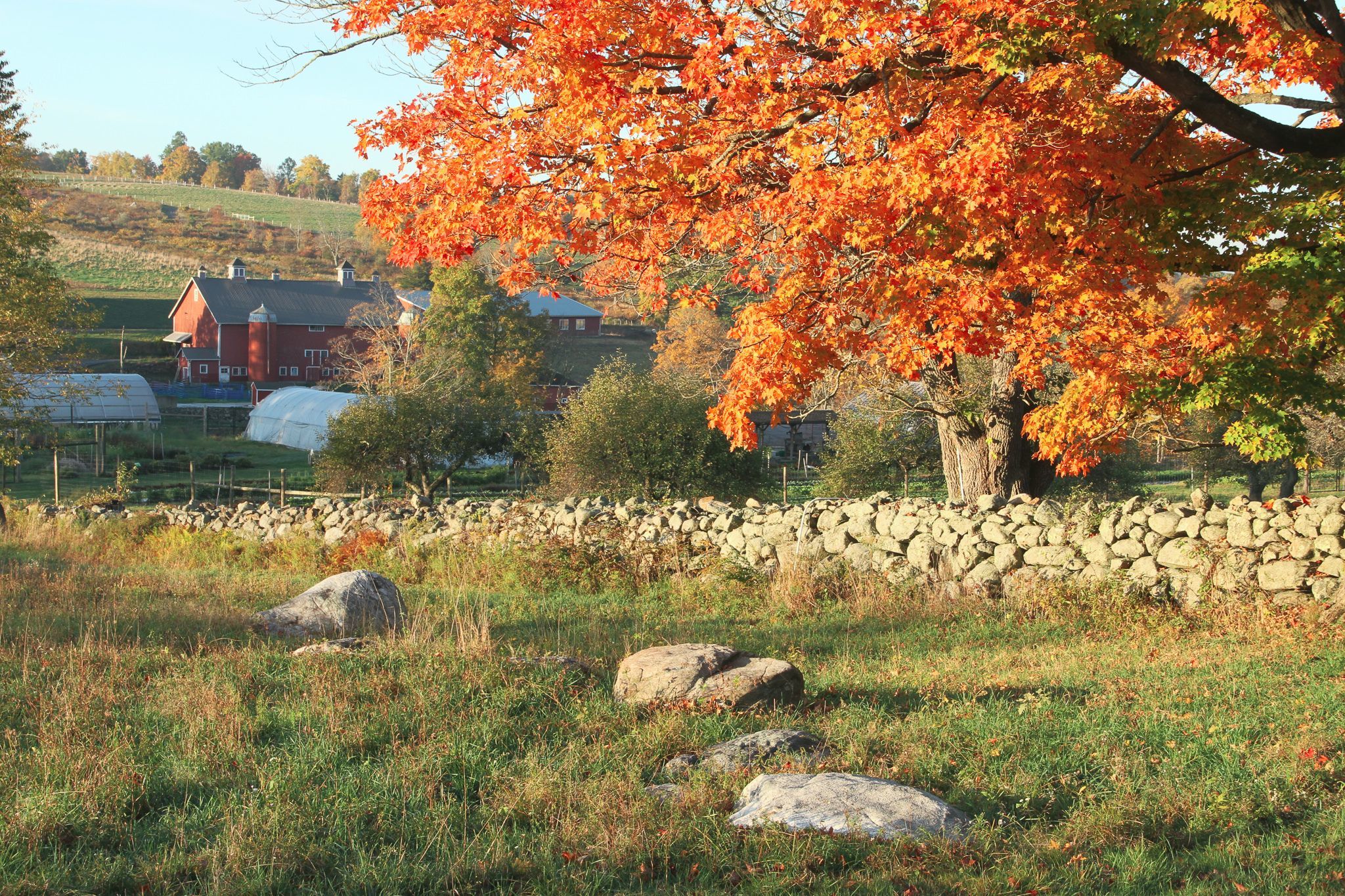 Character of the Landscape
It is not hard to appreciate the beauty and open space of the Hudson River Valley. There are bustling small towns, farmstands along the road, large swaths of forested land, and of course, the wide and winding river that runs through it all—providing space for recreation, habitat, and the reminder of the original economic engine of the region. The character of the Hudson Valley is so unique precisely because of this diverse landscape that brings together forests, small cities and towns with proximity to a large urban center, with agriculture that ranges from mixed vegetable production to orchards and livestock. 
The value of agriculture in this region cannot be overstated. Agriculture connects our communities, both residents and passerby, to the land in a way that few other industries do—farm stands with summer corn so sweet that you can eat it raw comes to mind. Farms often provide gathering places, supply our region's iconic farmers markets and restaurants, and provide an essential source of nutrition that accompanies only food that is local and fresh. Beyond the food and economic activity, many farms provide ecosystem services that can be hidden from public view. A 100-acre farm likely includes 30-60 acres of production but will often include woods, streams, wetlands, and habitats for small animals and pollinators. If the farm is employing regenerative agriculture practices, it may be drawing carbon out of the atmosphere and putting it into the soil, which acts as a carbon sink. Supporting agriculture protects and promotes vibrant rural communities and helps maintain a regional identity for the Hudson Valley.
Threatened Land
The Hudson Valley is home to over 5,000 farms, comprising over 730,000 acres. Sheep used to blanket the landscape, which we can still see in the stone walls that weave throughout the woods and fields connecting private property to state parks and small farms. At the end of the nineteenth century, trees would have been hard to come by in this landscape, not as a result of development, but because agriculture reigned supreme, and the unregulated logging industry led to near-total clear-cutting. The prevalence of sheep made way for a predominance of dairy and apples over the twentieth century. Dairy is still the largest agricultural sector in New York, followed by apples, grapes, onions, corn, tomatoes, and maple syrup. Population density has grown dramatically, and with this changing landscape have come significant concerns about the loss of farmland to development. 
The Scenic Hudson Foodshed Conversation Plan reports that, "...New York State has been losing farmland at an alarming rate—the equivalent of one farm every 3 ½ days. Over the last 25 years, the state has lost almost half a million acres of farmland to subdivisions, strip malls, and scattered development, threatening food security and local economies."  Only 11% of the farms in the 11-county Hudson Valley region are conserved, according to the Foodshed Conversation Plan.
It is near-impossible to imagine a Hudson Valley losing that remaining 89%, or even 25% of the farms, but the pressures on farms remain as high as ever. One of the most significant risks to agriculture is that the average producer in NY state is 55.8 years old, and a third of them are over 65 years old with only 8% of those farmers working with another farmer under 45. When there is a lack of transition planning, retiring farmers are more likely to sell their land for development because the value of real estate is so high in the region. This worrisome trajectory has indeed been playing out; between 2007 and 2017, the number of farms in New York State decreased from 36,352 to 33,438 representing a loss in acreage from 7.2 million acres to 6.9 million acres. 
Twenty years ago, there were large-scale, cookie-cutter developments coming into the region eating up farmland. Steve Rosenberg, Executive Director of the Scenic Hudson Land Trust, describes the shifting pressures on farmland as currently "death by a thousand cuts," referring to the small-scale subdivisions, private estates, and other development that now picks off one farm here and other there. COVID has also brought on a tremendous out-migration from the city, and the pressure on land is as great with fragmented development and rising real estate taxes. There is a strong estate-market in the Hudson Valley, with buyers who can make all-cash offers on land that farmers can rarely compete with. Marissa Codey, Director of Agricultural Programs at the Columbia Land Conservancy says that "Once a farm is sold at estate value it is unlikely that it will ever go back to farm value." 
Preserving Open Space and Farm Viability 
Land Trusts around the region are working hard to protect farmland. Organizations such as Scenic Hudson, Columbia Land Conservancy, the Open Space Institute, the Hudson Highlands Land Trust, and others, work in public-private partnerships to purchase the development rights for land and put conversation easements on both farmland and non-farmed land. Dave Llewellyn, Glynwood's Director of Farmer Training, works with farmers in the region to support them in accessing appropriate land for their operation. You can read more about some innovative approaches to farmland access in an earlier Glynwood blog. Glynwood is committed to supporting farmers' access to land through the Incubator Program, and as a network partner in the Hudson Valley Farmlink Network and regional navigator in AFT's Farmland for a New Generation program. 
Farmers need more than space, they need to be viable. Marissa Codey, with the Columbia Land Conservancy describes the effort to protect farms as multi-tiered, in that "we are not only preserving the open space, but making sure that farms are economically viable." She explained that the Columbia Land Conservancy has been protecting land by implementing conservation easements, but "...we were only protecting a little piece of the puzzle. If we protected land but didn't make it affordable, and didn't give farmers a suite of ways to access land, then we weren't doing that much to protect agriculture in the region." Now the Columbia Land Conservancy works with farmers at all stages of their careers: they help new farmers find and secure land leases, they have an advisors program to connect new farmers with mentors, when farmers want to purchase they assist with conservation easements with affordability provisions, and when farmers want to sell they try to connect them with new farmers. They have moved far beyond just farmland protection with this holistic approach. 
Katrina Shindledecker, Director of Conservation at the Hudson Highlands Land Trust voiced similar concerns to Codey. "Over time, it became clear that there is a big difference between protecting open space for the scenic value versus protecting agriculture. You can craft a document that protects open space but doesn't afford the flexibility to assure that agriculture can continue to adjust to new conditions and be sustained on the land. Understanding the business of farming is integral to ensuring that you are helping to facilitate both—open space, and a vital community asset so that the foodshed can stay fairly local." 
The Hudson Highlands Land Trust worked with Scenic Hudson, the Orange County Land Trust, and NYS Agricultural and Farmland Protection Program funding to acquire a conservation easement on the 88-acre Jones Farm in Cornwall, NY. This protection exemplified the need to consider true agricultural viability in conjunction with land protection. As part of the easement they permitted a farmstead area that allows a farm store, designated space for parking, allows the family to continue to do agriculturally-related commercial activity, etc. There is also a large portion of the property that can be used for agricultural-related structures, such as the construction of barns. Shindledecker explains that a traditional scenic easement may indicate that built structures can't be visible from the road, or that structures must have a certain aesthetic, such as visually recessive paint color or other facade requirements. "If you're a farmer, your priority is likely on the structure's utility - be it storage, processing or shelter of animals, not its aesthetic" Shindledecker reminds us. "The two aren't mutually exclusive and it is often possible, such as with Jones Farm, to work closely with the farmer to protect both the business of farming along the scenic character, or 'sense of place" cherished by the community." These are important considerations when preserving land if agriculture is to remain, and ideally become increasingly viable.
Support Structures
A conversation about preserving agriculture would not be complete without acknowledging that farming is an industry like any other in that it requires infrastructure and support systems in the form of suppliers, processors, and buyers. The buyers in this region abound. From the farmer's markets in nearly every town, to CSAs that sell out months in advance, people are eager for a piece of the pie. However, suppliers and processors are in high demand and limited throughout the region. For livestock processing, Glynwood transports animals 2 ½ hours to a USDA Animal Welfare Approved slaughterhouse that often fills their schedule months in advance. When large animal vets, agricultural supply stores, and tractor/equipment repair shops are in short supply, it becomes much less relevant whether farmland is protected because they will struggle to thrive. Farms with more infrastructure, such as milking equipment on a dairy, require additional regional expertise, suppliers, and outside maintenance. Many farms who breed livestock seek the services of professionals who perform artificial insemination, but those people can realistically only travel so far. These kinds of support structures cannot be overlooked when considering how to best support agriculture in the Hudson River Valley and beyond.
Scenic Hudson, in their Foodshed Conservation Plan, took a thoughtful approach to this issue of farm support structures. They identified areas that have the greatest density of priority farmland in the region and designated clusters. The nine clusters together contain 614 farms, totaling 163,673 acres. If farms are preserved in clusters, they will be better positioned to utilize support systems such as supply stores and veterinary practices. 
Glynwood's work touches on all aspects of farm viability. Our mission is to ensure that the Hudson Valley is a region defined by food, where farming thrives. Farmland protection is a critical part of actualizing that mission, along with training farmers, incubating farm businesses, creating coalitions such as the CSA coalition, and bringing nutritious local food to people whether they are CSA customers or make use of food pantries, through the Local Food for Every Table program. The multi-faceted nature of this work requires partners and collaborations at every level. You can find out more about some of our local land conservation organizations below.