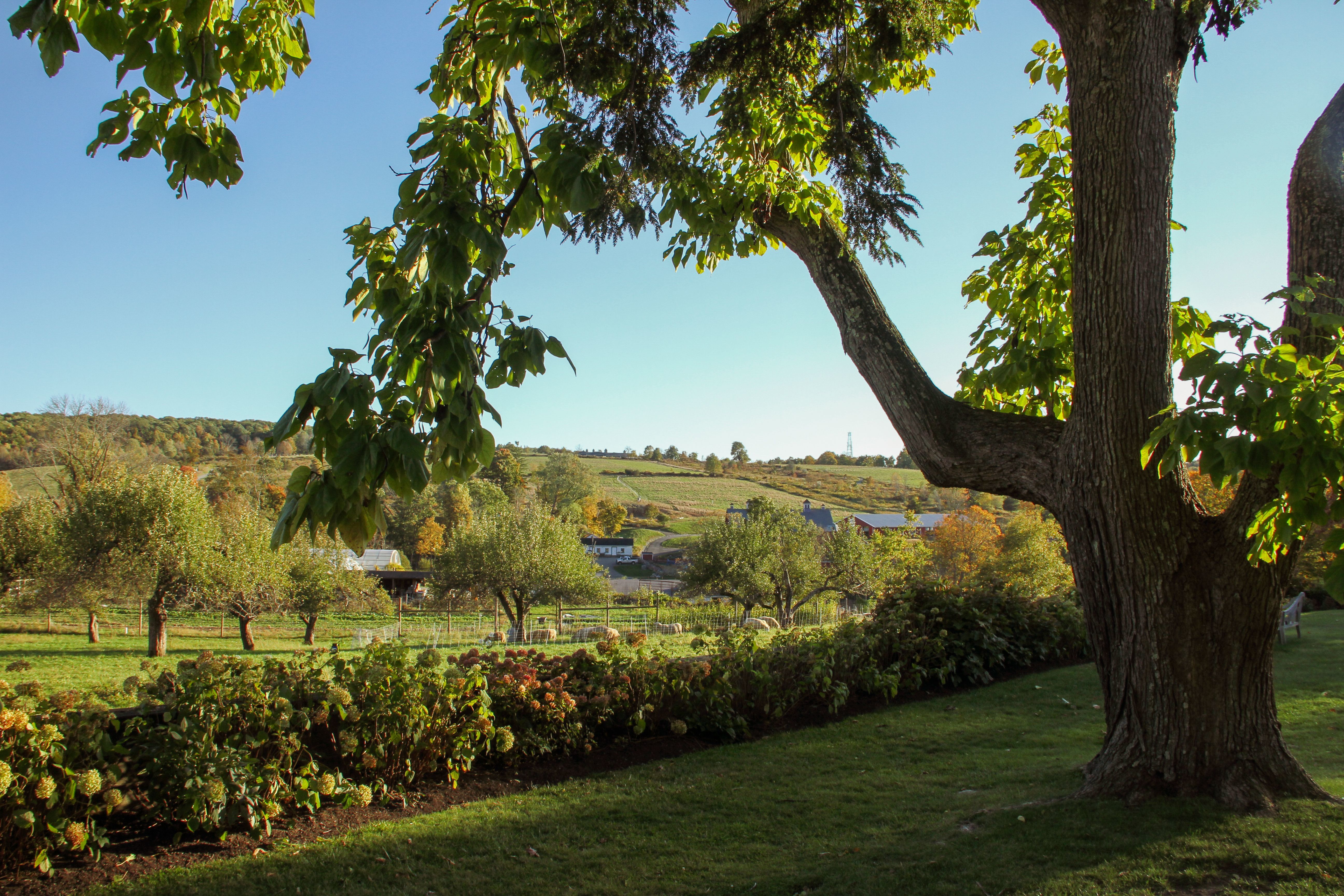 Farmland access is one of the most significant barriers to starting a farm operation, particularly in the Northeast, where land prices are incredibly high. Dave Llewellyn, Glynwood's Director of Farmer Training, works with new and seasoned farmers as a Farmlink Navigator to support them in accessing appropriate land for their operation. One of his biggest takeaways from years in this work is, there is no one-size-fits-all approach to land access. There are so many creative projects that connect farmers to land. Here are three stories that share different aspects of this work that Dave leads at Glynwood. 
Featherbed Lane Farm
Tim Biello, a participant in our Farm Business Incubator, began looking for the right farm in 2010. Five years in, he found Featherbed Lane Farm, but he couldn't afford the land. Tim and his family then embarked on a four-year process with the Local Farms Fund (LFF)—Dave is proud to serve on LFF's board—to purchase the farm and protect it from development in perpetuity. LFF is a community impact farmland investment fund that uses lease-to-own arrangements. LFF purchased the farm in 2015 and started the lease-to-own arrangement with Tim Biello, who had the option to buy the farm in 2020. Biello and LFF worked to find a way to create an affordable land sale for Biello and his family. 
In 2019, the farm was permanently protected with a conservation easement. Ultimately this was a collaborative process between many entities. LFF, Saratoga PLAN (a local land trust) and Equity Trust created the conservation easement. Funding came from the New York State Hudson Valley agricultural Enhancement Program, Saratoga County's Open Space and Farmland Protection Fund, and Equity Trust's Hudson Valley Farm Affordability Program. 
Featherbed Lane Farm shares that "the easement held by PLAN, protects the farm from any development that would impair its agricultural potential. It also includes a resale restriction that protects affordability, specifically for farming, all of which makes it more likely that other farmers in the future will be able to access and afford this amazing farm after our time here has passed. On September 1, 2020, we closed on the farm! We have a 15-year mortgage with the USDA Farm Service Agency. We're already looking forward to a big celebration in the year 2035! In many ways, our relationship to this place was already one of deep commitment and our tenure arrangement with LFF was such that it has felt like it was "ours" from day one. But there is a subtle shift in how it feels to be here now." 
Hidden Acre Farm 
Melissa Phillips and Jack Whettam were farmers without land, looking for a place to grow organic vegetables and flowers. Eugene Kwak and Claire Ko, food system advocates and supporters of regional agriculture, had 16 acres and a living space that they purchased to help address issues of land access while also providing themselves a getaway from the city. Kwak, an architect, had a vision of building a home to share with farmers at an affordable rate in the Hudson Valley. He volunteered here at Glynwood and other farms while learning the basics of running a farm operation. Kwak and Ko then purchased the 16-acre property and designed and built the two-family home, that they call Togather. The two families connected through the Hudson Valley Farmland Finder, a project of The Hudson Valley Farmlink Network of which Glynwood is a core partner, and now Phillips and Whettam have a home for Hidden Acre Farm. The model of a landowner leasing space to a farmer isn't the unique part of this story; it is that Kwak and Ko care deeply about regenerative agriculture and that the two families live in the same home on the land that they care for together. Read more about this partnership and example for creative land management in this NY Times story. 
Farmlink Network Partner Grant
In September 2020, the Northeast Farmers of Color Land Trust (NEFOC) and Glynwood Center for Regional Food and Farming were awarded a partner grant from American Farmland Trust to work together to make land access more equitable and safe for farmers of color. This partnership came out of the recognition that not only is it hard to find and acquire farmland in the Hudson Valley for any farmer, but the barriers are exceptionally high for Black, Indigenous, and People of Color (BIPOC) farmers. A result of the forceable theft of Indigenous land and the slave labor of millions of people taken from Africa is generations of land-based trauma, land dispossession, and a denied right to wealth, health, sense of place, and sovereignty. There are many impacts of this history, including: 
Black farmers make up 1.4% of farmland owners in 2020, down from 14.3% in 1920, due to systemic discrimination, including government-initiated expropriation, denial of access to loans, and the rising cost of land. [source: Mother Jones]
Latinx farmers comprise about 83% of field labor in the U.S. but only own about 3% of farms. [source: Civil Eats]
Indigenous farmers have insufficient access to land and markets. While two-thirds of Indigenous farmers specialize in livestock, 78% have annual sales of less than $10,000. [source: USDA]
Glynwood and NEFOC will design an inquiry process for a focus group composed of regional farmers of color to identify land access needs and barriers. This work will also gather the resources and insights to train landowners, the vast majority of whom are white, in topics of land justice and food sovereignty. Only when both landowners and farmland seekers have the resources they need will land access become equitable and safe for BIPOC farmers. 
Featherbed Lane Farm's land purchase, Hidden Acre Farm's land use arrangement, and the collaboration between NEFOC and Glynwood all represent distinct approaches to land access and address different kinds of barriers. Glynwood is committed to supporting farmers' access to land through the Incubator Program, and as a network partner in the Hudson Valley Farmlink Network and regional navigator in AFT's Farmland for a New Generation program. We'll share more stories of land access in the region as more creative collaborations bear fruit and more land is stewarded by those committed to using regenerative agriculture to produce nourishing food.