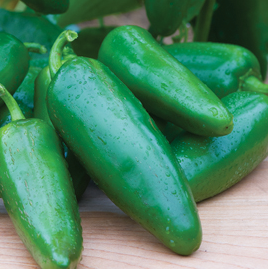 Think like a Jalapeno
When Chef Cupps gave me her recipes for the June dinner box, I immediately began my search for as many local ingredients as possible to supply her recipe. June is just on the cusp of still being "early" in the growing season, so it can be a bit of a waiting game to see what will become available in time for delivery day. I gauge availability utilizing a variety of factors: I talk with Glynwood's farmers, check with other local farmers, assess availability within local distribution services.  It's a bit research, a bit weather watching, and a dash of reading my own home garden. And I have, more than once, had to pivot to an alternative ingredient when something the chef had written into their dinner box recipe was not available.  Even given that, for the June box I was optimistic about availability: the weather had turned warm early in the month leading to a growth spurt for strawberries and squash. Timing for most products was looking good. 
But as we got closer to pickup day, the one wild card was Chef Cupps' request for jalapenos. As much as I dug around, I couldn't find them anywhere. One thing gave me hope they would appear in time for delivery: my home garden had a single bright, shiny, and fully grown jalapeno on my single jalapeno plant.
I continued to strike out in the jalapeno hunt. Desperate, I asked Gynwood's Vegetable Manager, Jarret Nelson how his jalapeno crop was doing. He told me definitively it would be several weeks before they were ready.  No way would they be available for the dinner box. Undeterred -- and feeling a tad smug about my "superior" farming skills -- I announced that he must be doing something wrong, because I had jalapenos already! The following conversation ensued:
Jarret: Really? (I was a little offended at his incredulity) You have a crop of jalapenos?
Me: Well, no, but I have one big one.
Jarret: Oh, well that's because you tried to kill the plant.
Me: … did not.
Jarret: Lauren, when you're seeing a single fruit like that, I think it's best to think like the Jalapeno. Like, why would there only be one Jalapeno on your plant so early in the season?
Me: I don't know…what does the Jalapeno think…?
Jarret: The Jalapeno thinks -- knows -- you tried to kill it. Either you planted it too early or didn't water it enough, but whatever it was, it had a rough start. So a biological imperative to preserve itself through reproduction kicked in. It put all of its energy into producing one single fruit in order to save its lineage and reproduce. All of its effort is going to that single jalapeno, it's only hope, that's why there's only one. You actually likely won't get any more unless you pick that single one.
Me: (crestfallen) I'm not a good farmer. I tried to kill the jalapeno.
Jarret: Best to think like the jalapeno to sort through that next time.
"Think like a jalapeno." That mantra has been evident everywhere over the last few weeks as I've increased my visits to a variety of Hudson Valley farms and each farmer explains to me the whys and hows behind what they are growing. As they assess soil, weather, terrain, the veg in the next row, invasives and predators, the lesson every time is that they are thinking like a potato, a tomato, some lettuce, or string beans, or any number of other crops in order to understand what that plant needs for optimal production. This home grower was delighted to learn most farmers analyze not just the growing process, but the thought process of their crops, (whether they call it by name or not). 
I'm finding the thought process of a vegetable translates nicely to the kitchen as well, as we assess how best to store those crops, and sometimes how we cook those crops. I'm feeling suddenly closer to my jalapeno plant now and a bit sorry it feels I was so unkind towards it. But I'm looking forward to integrating its lessons and thoughts into my sourcing efforts moving forward. Here's hoping my other home garden veggies haven't found me quite as hostile towards them: I'm really looking forward to some salad.