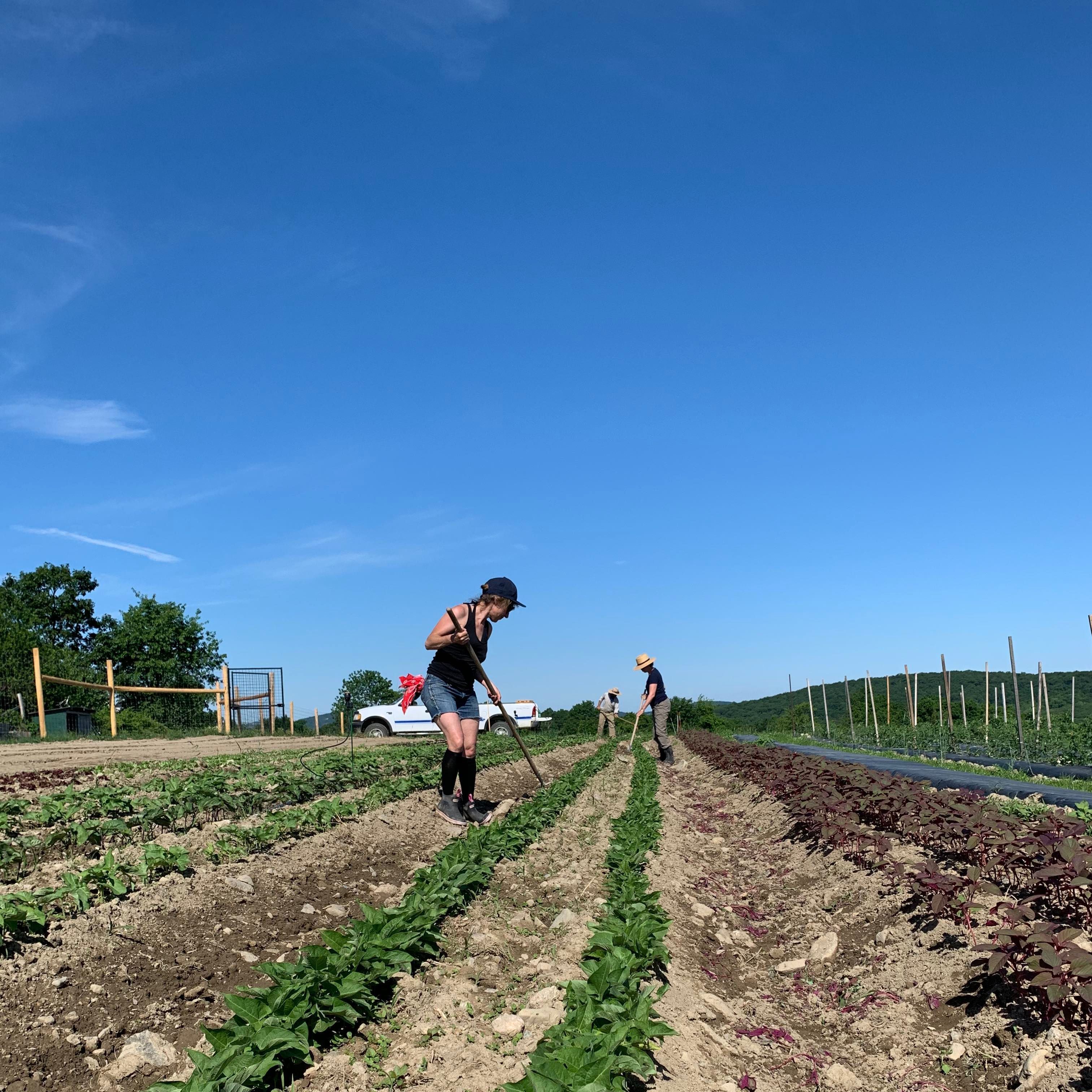 Each year, spring awakens our farm back into action. While every season brings some challenges, this year was different and more extreme. Winter seemed reluctant to leave and spring to arrive and the only thing predictable about the weather was that it would change practically daily. COVID hit just as our Apprentices were getting ready to arrive for the season on March 15th and they endured 14 days of solitary quarantine while the Farm Team were moving ahead with the season's production activities short handed. When the Apprentices emerged from quarantine, our farming spirits were lifted, so with boots on the ground and masks on our faces we joined together and adapted to our circumstances with skill, care, and resourcefulness.
With the economic impact of COVID, we made an exceptional effort to adapt our marketing and distribution. In the last two months, we've supplied almost $11,000 in vegetable and meat donations for food access and adapted our Vegetable and Meat CSA's and retail sales to meet the sudden surge in demand for local produce and meat. While it's exciting to have this demand for our farm products, our challenge is scaling up to be able to sustain our production to meet demand. Our new Marketing Coordinator, Emily Lupico, keeps our marketing initiatives running smoothly and our numbers adding up.
We're adding two caterpillar tunnels this season to be able to have fall greens available for Thanksgiving food donations and start a Spring CSA in 2021. A deer fence is going up this summer to protect our crops from deer. We have a new wholesale account for our goat meat and increased the number of chickens and turkeys we raise. This season, our chickens and turkeys will go to a local AWA processor rather than processing on site to increase our production efficiency. A new livestock perimeter fence will help us to refine our grazing efficiency. Our new Livestock Manager, Nicole Scott, is rising to the call of leading the Livestock team through all these changes.
In the midst of our efforts to become a resilient farm we're responding to the call for racial justice. This is perhaps our greatest challenge, but like all the challenges we are dealing with, it is part of the change that Glynwood Farm aspires to be part of.