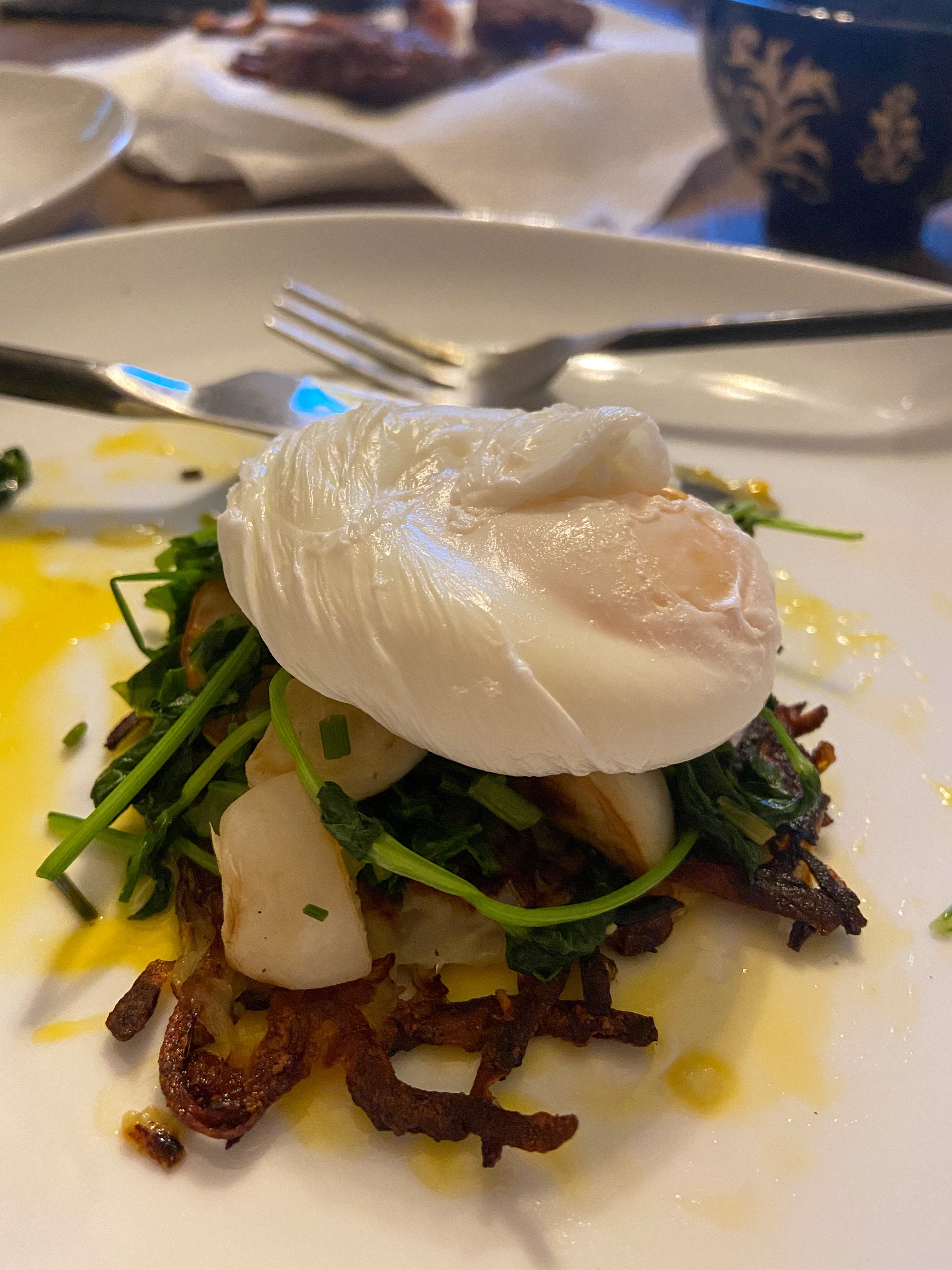 So: turns out that red potatoes can be a little tricky for making crisp hash browns. I prepared the May dinner alongside my fellow Farm-to-Dinner box cohort, and though I produced an amazingly tasty hash brown mix try as I might--there was no crisping or "taco-ing" happening. Nevertheless, I was thrilled with the meal and I have every intention of making it again on my own time.  Wanting to learn how to improve my crisping technique,I discussed my kitchen "failure" with Chef Evan Hanczor.  He had a few revelations and possible solutions to share.
Consider embracing more oil and butter. Frying is your friend in this scenario as long as you're using healthy fats like olive oil, or local, grass-fed butter.
If using red potatoes, try wringing any liquid out of your shredded potatoes before adding onion; liquid foils crisping.
But most importantly, chef's preference was that we use a high starch, low-moisture potato:--ideally a Russet--which facilitates binding and crisping . 
Chef Evan had initially requested Russet potatoes for this recipe, but Evan is a pro at working with the seasonality and availability or local foods, so, when we couldn't source Russets locally, he was game to switch to red. Little did we know this pivot would be a beautiful lesson in local/regional food and the current rapid shift in our food system.
Potatoes are a fall/winter storage crop. If you're eating locally and seasonally, the potatoes you eat this time of year are typically over-wintered from last year's harvest, Typically, this time of year if I want Russet potatoes, it might be mildly challenging to find them, but with some digging (pun intended) a farm usually comes through with a decent amount of inventory. However at the moment, given the current impact on our food system by the COVID-19 crisis, much has changed when it comes to sourcing from local farms.  First, there has been a tremendous uptick in the demand for local food.  The small-to-midscale farms Glynwood typically works with have seen record retail sales through Community Supported Agriculture (CSA) and farmers markets, this is a welcome boon for them and for our work expanding and strengthening a sustainable regional food system.  At the same time, emergency feeding efforts like food pantries and soup kitchens are similarly experiencing a radical increase in demand. Farms all over our region have responded to the call by donating as much product as possible to food banks and non-profits providing meals for people hit hard by the economic crisis. Wintered storage crops such as potatoes (onions, garlic, and some squash) were amongst the first products to be donated to help our neighbors, particularly because  the growing season is not yet in full swing and we've had such a cold spring.  
These factors combined meant that when I went in search of Russets per Chef Evan's request, potatoes were absolutely nowhere to be found: a first for me. I reached out directly to Poughkeepsie Farm Project, a nonprofit farm who -- like Glynwood -- has been working to increase the amount of food they are donating to food access partners because of COVID.  They had no Russets (having donated them all), but they went out of their way to sell me with the only root vegetable they had that I could substitute for the boxes: the last tasty bits of their red potato stock. 
As our food system evolves and our farms adapt to provide for all of our collective needs it is gratifying and nourishing to follow the journey and evolution of our meals. Learning that my uncrispy red potato taco-fail is directly connected to those starchy Russets having been donated to feed my neighbors during a time of need is the garnish on my spring hash. And I'll take my hash however I can get it.