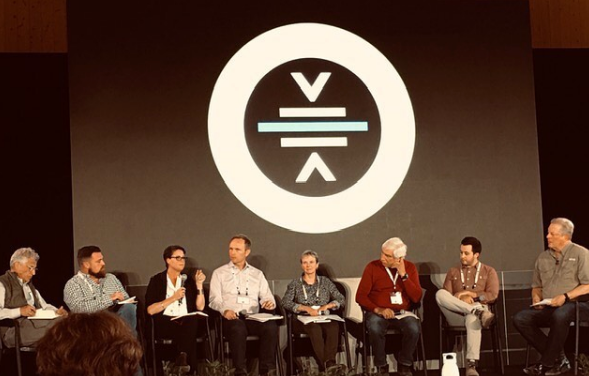 It is difficult to describe a family dinner with one of the greatest living inspirations of the
sustainable agriculture movement. Having heard Wendell Berry quoted at nearly each and
every agricultural conference I have attended over the past decades, to actually experience
him sharing stories across his daughter Mary's kitchen table in rural Kentucky was a surreal
experience, to say the least.
Naturally, he told stories. Between requests to pass 'grandma's cabbage (it was out of this
world delicious)' and helpings of some of the most excellent veal I have ever tasted, Wendell
painted a picture of rural Kentucky communities that "took care of each other" and a desire
for that care to be revived, in order to foster a healthy region. He recalled a man who was
seeking a loan from the local bank without any assets or credit history. "'Let me look at your
hands,' the bank manager finally asked;' and seeing they were calloused and worn, he gave
the man the loan." Berry described an approach to farmer training that not only embraced
mentorship, but depended on it: "When a boy handed a farmer a tool the wrong way, the
farmer handed it back to him the right way. 'Now you hand it back to me,' and this would go
on until the boy knew how to hand over the tool. 'You'll hand it to me that way every time
from now on. And the boy did.'' These descriptions painted for me a nostalgic past; one
deeply set in the region and supported by a close-knit community.
Today, Mary Berry, through the work of The Berry Center, is striving to activate these
values for the future. The Center is doing the important work of archiving Berry's prolific
writing and building an agricultural lending library to serve the region. Importantly, it is
also the heart of a new educational partnership with Stirling College that is fostering new
entry farmers in the region. Through The Wendell Berry Farming Program, 12
undergraduates are spending their junior and senior year studying regenerative agriculture
full-time through coursework and field work. Generous philanthropic funding is allowing
these students to earn their degree tuition-free.
Leaving our visit with the Berrys behind, my partner, Mark Bittman and I headed south to
Carthage, TN. Our destination was another family institution: the family farm of former Vice
President Al Gore, Caney Fork Farms. I had been invited by Vice President Gore and the
team organizing The Climate Underground -- along with about 300 extraordinary leaders in the
food and farming world -- to share insights about the role agriculture could play in
addressing the climate crisis. With a rock star attendee list and the meals curated by Alice
Waters, the gathering was a chance to network and scheme with leaders tackling
regenerative agriculture from a variety of approaches, scales and geographies. Mr. Gore's
new 90-minute slide presentation cataloguing the dizzying number of threats posed by
climate change provided a sobering start to the gathering, and set the tone for the
complexity of the issue we all face. One hopeful effort that deserves attention was a
presentation on the advancements in measuring soil health and soil carbon sequestration
on farms across the country, including the work being done on Caney Fork Farms (currently
managed by former Glynwood staffer, Zach Wolf).
But, by far, the most energizing time of my two days there was during the break-out
sessions on Community Health that I had the honor of facilitating. It was there I learned
about numerous inspiring efforts across the country where food and farming are catalyzing
not only improved community health outcomes, but increased social cohesion leading to a
range of benefits. Farm dinners on one long table down main streets in agricultural towns,
efforts to energize residents of senior centers to grow, cook and share local food, microloans
for women-led food businesses, uses of the sharing economy to foster local enterprises --
the list goes on and on. I gleefully took those ideas to the stage for report-out, along with
examples of our own work at Glynwood, and in my conversation with Mr. Gore, urged the
audience to find ways to bring resources to on-the-ground, regional efforts across the
country.
As always, connecting with other leaders and learning about their efforts -- and, yes,
hanging out with a few of my heroes -- has given me renewed resolve to work on
Glynwood's strategy of advancing regional food and farming by training farmers, creating
networks of professionals, and inspiring changemakers from a variety of backgrounds, so
that we can create a resilient regional food system - one that benefits our environment,
economy, health and culture.