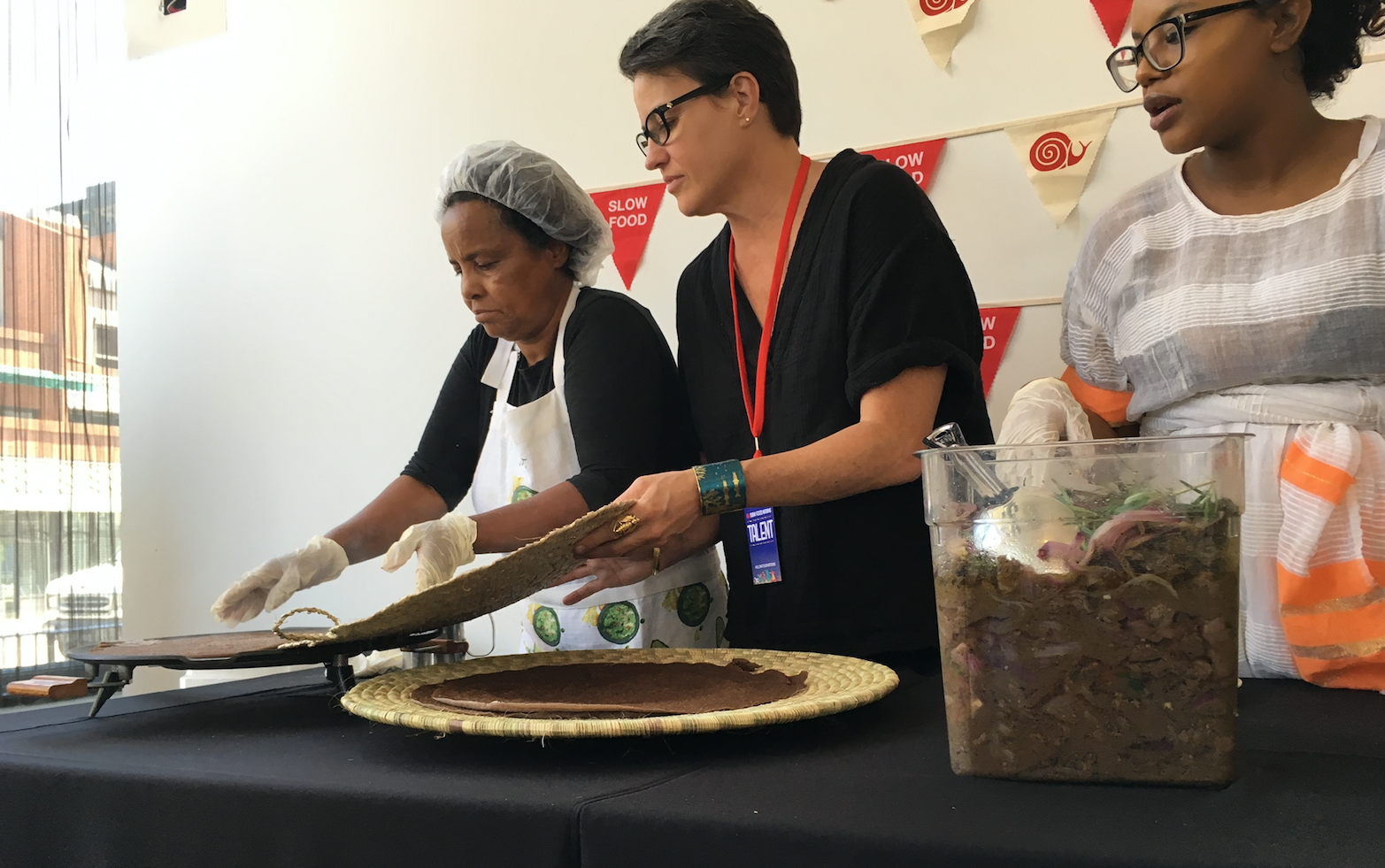 I had the good fortune to travel with our new(ish) Senior Director of Glynwood's Farm, Lynda Prim, to Colorado and New Mexico recently — here are a few highlights from our trip.
Our first stop was Slow Food Nations 2019 in Denver, a good food festival that has been happening for 11 years here in the States. Slow Food USA is an outgrowth of the international organization started by Carlo Petrini and a group of activists in 1986 at the site of a proposed McDonald's in Rome. 
I hosted a panel of hard cider makers - mostly from Colorado - who ranged from very small orchard-based cideries to much larger scale operations that use concentrated juice. The conversation amongst the producers was similar to the myriad talks with cider producers we have hosted here at Glynwood.  Key themes transcend our regional foodsheds, namely: cider makers need to work together to help the sector succeed, there is a need for more public education around the varieties and unique attributes of hard cider, and apple growers and cider makers benefit from more opportunity to interact and strategize together. 
Lynda was on a panel called the Innovative Farmer with Jack Algiere of Stone Barns; Bob Quinn, an organic farmer from Montana; Woody Tasch, a pioneer in mission-related investment who is an author and founder of Slow Money; and moderated by Meriwether Hardie, Chief of Staff at Bio-logical Capital. The panel underscored that while innovation is a critical and necessary part of farming, it is more important than ever to recognize that working with natural systems is paramount for the future of food. Lynda talked about the significance of the intersection between traditional agricultural knowledge and innovation for creating farm resilience and of emphasizing the "culture" in agriculture. 
While at the event, Lynda and I had a chance to catch up with colleagues from all over the country including farmers like Paul Willis who co-founded Niman Ranch; chefs such as Steve Satterfield from Atlanta who is known for his efforts in reducing food waste; Emigdio Ballon, a Quechua descendent of the Inca people from Bolivia who is an expert in high altitude crops, including quinoa, amaranth, and potatoes and the Agricultural Director of the Pueblo of Tesuque. We attended a reception for indigenous farmers and food system activists where we met sheepherders from the Dine people in Arizona and Hispanic farm labor organizers. We met many other influencers, reporters, and non-profit leaders but there are too many to  list as this was a well-attended event by representatives from across the spectrum of food and farming. 
A personal highlight of the event was learning to prepare injera (pictured) - that spongy, tangy bread made from teff flour instrumental to Ethiopian cuisine. We were taught by Genet Gabeye and her daughters, an Ethiopian family opening a restaurant in Denver. Their story from immigration to entrepreneurship while preserving the dignity of their culture was inspiring and touching. I'm pretty sure I can now make injera at home and will think of Genet and her daughters every time I do.
We spent the next couple of days in New Mexico visiting farmers and food leaders - relationships that Lynda had built while farming and working with various local food efforts in the Southwest for many years. Meetings included lunch with the cookbook author Deborah Madison, who is now working on a local grain effort, a visit to the Santa Fe Farmers Market where Lynda was a vendor and board member for 20 years (I'm loaded up with plenty of posole) and a visit to the Santa Clara pueblo to meet the artist and farmer Roxanne Swentzell.
We arrived at Roxanne's permaculture homestead on the Pueblo that's surrounded by trees dripping with apricots and her turkeys grazing beneath. As she invited us into her home, the first thing I noticed at the center of her kitchen was a grain mill powered by a modified bicycle fastened to a wooden island. "We eat a lot of ground corn," she explained. Four years ago, Roxanne began an experiment in her Native American community to measure the health outcomes of adopting a pre-colonial, regional diet,  called The Pueblo Food Experience (also a cookbook, "The Pueblo Food Experience Cookbook: Whole Food of Our Ancestors"). For three months, a dozen volunteers from several Pueblos agreed to eat foods that would have made up the typical diet before European contact - foods like rabbit, buffalo, amaranth, purslane, pinon nuts, corn, squash, and beans - and monitored basic health metrics such as weight, cholesterol, blood glucose, and blood pressure. Across the board, the individuals showed significant health improvements, including weight loss and reversal of diabetes symptoms, as well as the less easily measured benefit of reconnecting with their traditional food ways. The day before we arrived, Roxanne had kicked off another cohort with a pot luck dinner of native foods and she is speaking around the country to encourage other Native American communities to follow suit. 
As we were leaving, Roxanne had one request for us -- that we stay in touch and encourage each other to keep doing the work to move toward a healthy and just food system. "It's so inspiring to learn about work happening all over," she said. "We need to help each other to keep it going." 
As we left her home, arms loaded with apricots, and then again later, flying back East above the arid landscape of the Southwest, buoyed by all that we had learned and experienced, I couldn't agree with Roxanne more.