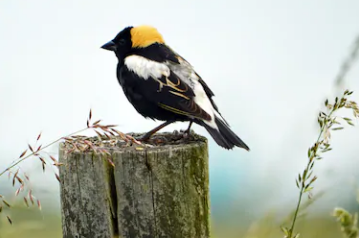 Glynwood's new pasture mowing practices have led to the spotting of at least six bobolink birds, a species previously unexpected to return to our property. In recent years, the springtime pasture mowing schedule scared off bobolinks, a sensitive grassland bird species that used to frequent the property. Although bird experts told Glynwood not to expect the bobolinks to return, we delayed mowing protocol, so other ground nesting birds have a chance to fledge the nest. We are delighted these efforts are allowing us to welcome bobolinks back to our property.
Glynwood enjoys a unique site full of biological diversity. It has been designated as an Audubon 'hot spot' because the site hosts a number of grassland and shrubland birds that are in decline in the region. Glynwood offers rare shrubland and grassland habitat necessary for these species to reproduce.
Glynwood researched and adopted a protocol for delayed mowing for the purposes of maintaining grassland bird habitat and productively managing its grasses. It is an important stewardship practice to manage the wildlife that helps keep insect populations in balance. Grassland birds eat many insects that are harmful to our forage plants and vegetable production efforts. Glynwood has prioritized more than 30 acres of pasture for delayed mowing practices. (The best grassland bird habitats are large fields of 15 acres or more.)  
As field conditions permit, Glynwood engages in early clipping from mid-March to April 10th. Rather than mowing an entire field, smaller sections of pasture are clipped in succession. This benefits grass availability for livestock by staggering the availability of mature grasses in the spring. Grassland bird species like a range of grass heights, so this will also be to their benefit. The early clipping period ceases on April 10th.
Management note: Mowing from the center of the field and out 'chases' wildlife away from the path of mowing rather than pushing them inward into harm's way.
April 11th-July 14th is a no-mowing period, which gives the nesting birds an opportunity to fledge. Glynwood staff walk fields and monitors for grassland bird activity before clipping is resumed on July 15th. The best time for removal of woody vegetation is between mid-August and the beginning of November.
Glynwood will monitor and adapt these practices as appropriate for the best management outcomes for pastures and wildlife.
Resources:
Hayfield Management and Grassland Bird Conservation
Managing Habitat for Grassland Birds