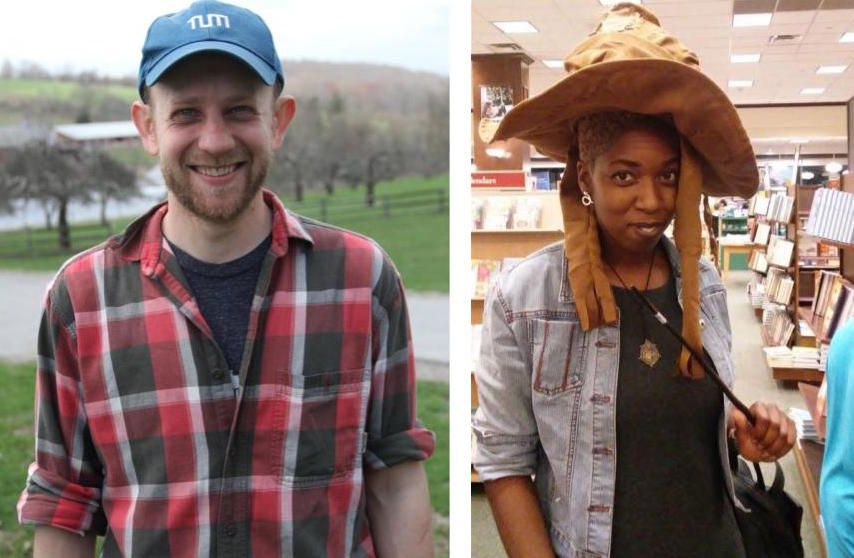 Every season, Glynwood welcomes six apprentices to live and work on our farm. Three Vegetable and three Livestock Apprentices join us to learn all that they can through hands-on work, training sessions, conferences, and more. Livestock Apprentice Eli Roberts and Vegetable Apprentice Kione McAulay join us for this season's first installment of Meet Your Apprentices.
Eli has raised chickens, ducks, dairy goats, mushrooms, vegetables, and fruit & nut trees on a hobby scale; this is his first foray into farm-scale livestock operations. He's looking forward to getting more familiar with the pastures here at Glynwood. He is especially interested in how farmers can use trees to make our farms more productive (and how to make that actually show up on the balance sheet). He has degrees in psychology and forestry. Psychology is more relevant to natural resource management than he expected. In his last job, he encouraged private landowners to actively manage their forests, and helped them use USDA resources to share the cost. He now appreciates the chance to do physical work outside. He plays the clarinet, sings shape note music, and is always searching for pickup soccer games.
Kione is a vegetable apprentice at Glynwood, expanding their existing knowledge of plant pathology and ethnobotany in an agricultural context. Kione trains in a variety of dance styles including Ballet, Contemporary, and West African. They have worked as an environmental science teacher, a Conservation Corpsmember, and a dance therapist for domestic abuse survivors and adults with disabilities. Kione will pursue graduate research in plant pathology in sustainable food systems. In their free time, Kione sleeps.