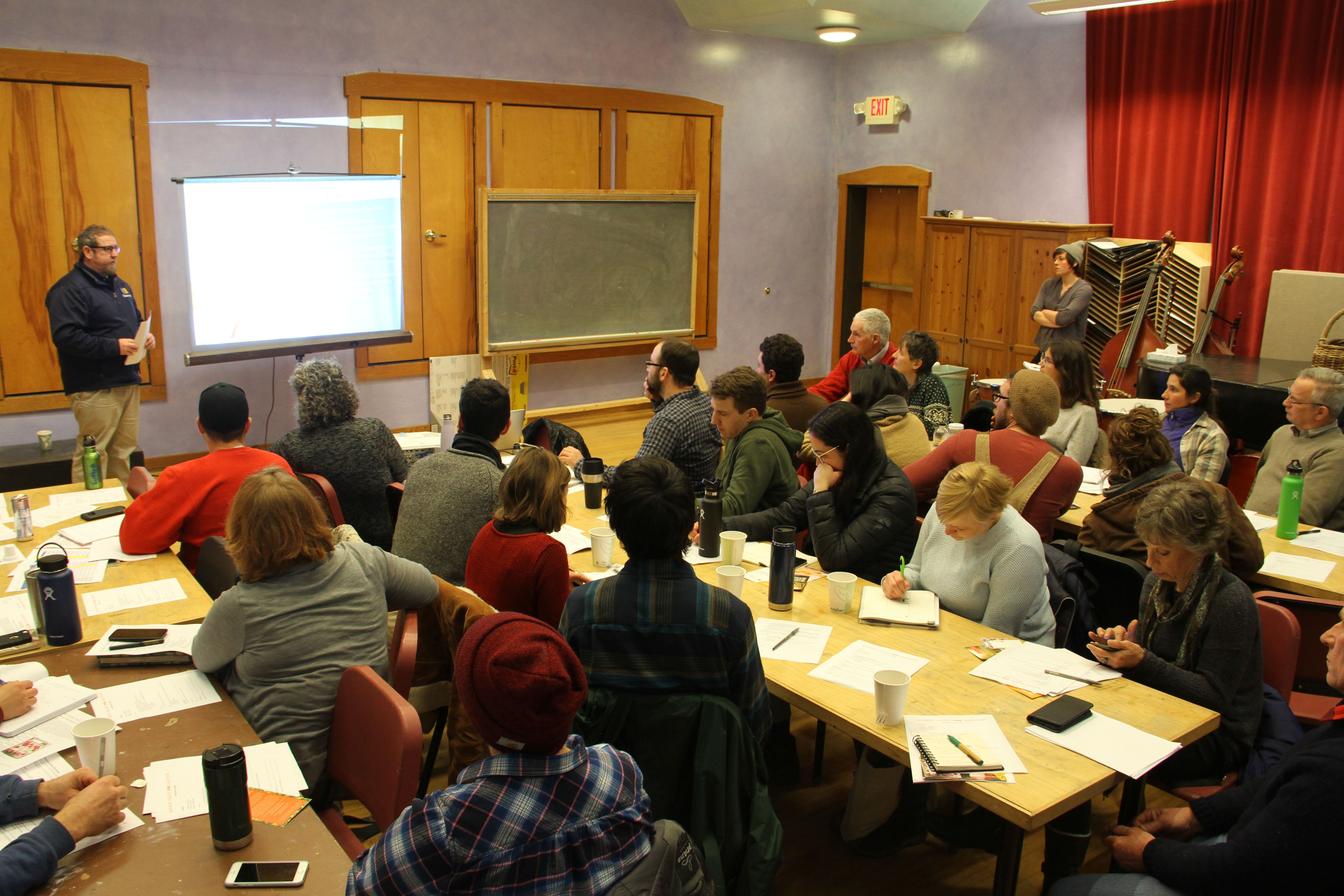 On Feb. 7th, The Hudson Valley CSA Coalition held its Annual Meeting at The Hawthorne Valley School in Ghent, NY. The Coalition, a network facilitated by Glynwood comprised of over 80 farms across ten New York counties, aimed to set a future course of action for farms by discussing near, medium, and long term decisions regarding the popularity and viability of community supported agriculture (CSA) in the region.
Glynwood's Director of Regional Food Programs and HV CSA Coalition coordinator Megan Larmer organized and led the night's events from start to finish. She began with a discussion of the Coalition's activities and achievements to date, including the production of a spring campaign to encourage CSA membership, extensive market research on current and potential CSA customers, and a new partnership with Clearway Solar.
Craig Hightower of Clearway Community Solar  spoke on the partnership between the two organizations. Clearway's involvement has proven to be an enormous help, as they have assisted the Coalition in exploring how to better connect low-income households to CSA. Additionally, their support helped complete the much-needed market research done for the group. Marc Goullet of Russell Research presented next, discussing the findings of the study, which will be made publicly available in the coming months. He revealed that only 6% of Hudson Valley CSA residents know what CSA is, a startling statistic which the Coalition is working towards changing. Through this market research they were able to gather eight qualitative interviews, 300 non-member and 300 current CSA member surveys.
A break was provided for dinner as well as a chance for those who were willing to record short videos of themselves as part of the CSA sign-up campaign in April - follow @hudsonvalleycsa to see the results! Farmers were encouraged to record their thoughts on the importance of the CSA model and just how much their members mean to them. The night concluded with working group breakouts in which attendees could join discussions on CSA-related topics of interest and eventually share their findings with the larger group. Breakout sessions were facilitated by a mix of Glynwood staff and the farmers who serve on the Coalition's leadership committee.  They addressed topics such as instituting a CSA Community of Best Practices, what should be included in CSA member kit materials, food access work, CSA Vegetable Share cost comparison, wellness benefits of CSA's, and more.
The night was an energizing opportunity for farms to come together and strategize to make the CSA model more visible to Hudson Valley locals. It's clear that The Coalition's work is far from over, as this spring they'll be hosting various CSA fairs throughout the valley to increase awareness of the delicious alternative to store-bought groceries.