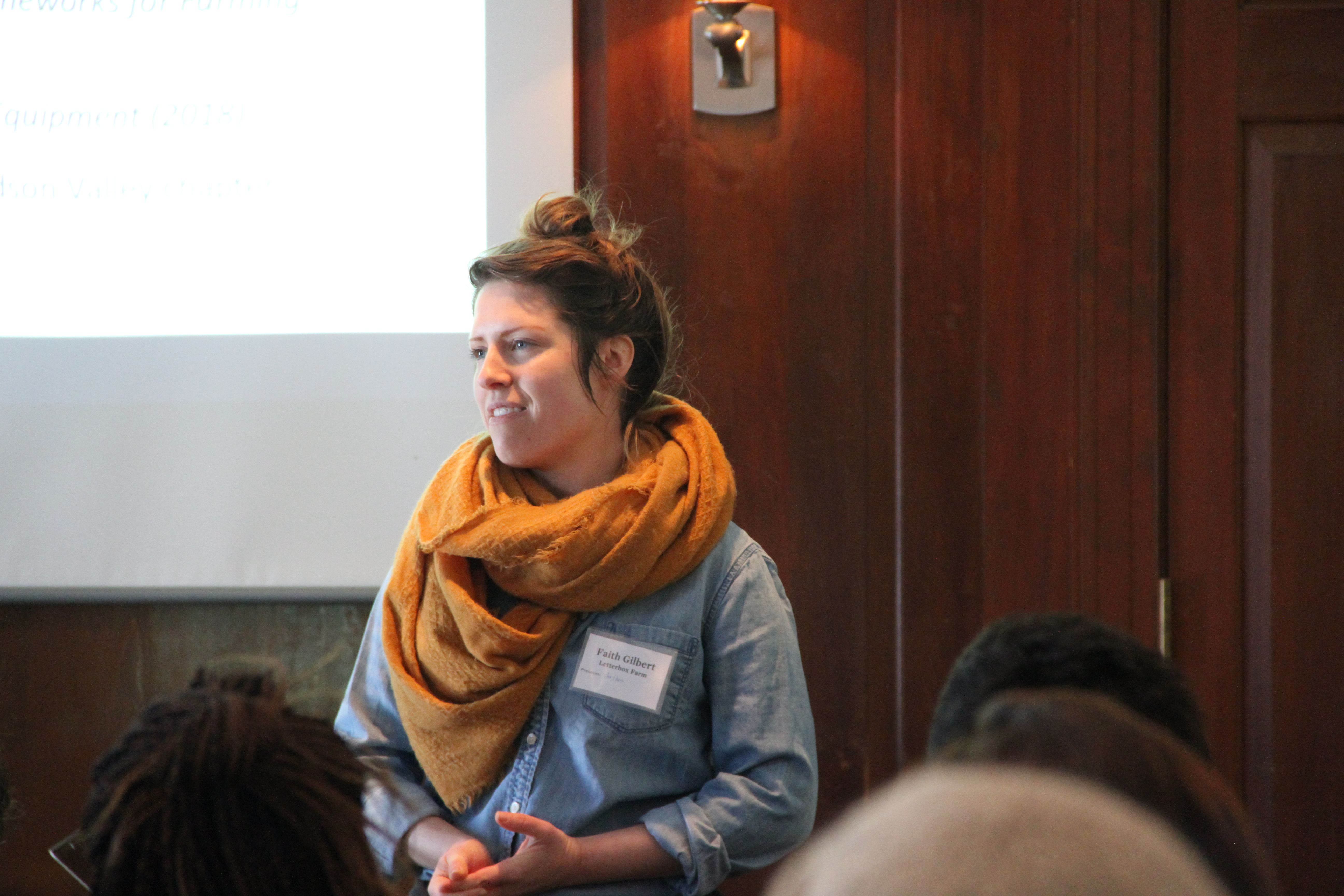 Recently at Glynwood, we kicked off our Winter Farmer Training Workshop Series with a standing-room-only, day-long seminar for farmers interested in learning more about cooperative models of farming.  
While general cooperation is a well-worn part of a farmer's toolbox, Cooperative Farming as a business or marketing model is gaining increased interest as small scale farms try to find their footing among larger competitors with greater market access.  
The workshop was facilitated by Faith Gilbert of Letterbox Farm Collective and member of the leadership team of the Hudson Valley CSA Coalition. Faith recently authored a guidebook about co-op farming, published by The Greenhorns, so we were thrilled to have her expertise on hand.  Just as important to what a coop is, is what it isn't, according to Faith. Coops are legally structured business entities and an ethos of business management and community building. Coops are not a substitute for a sound business model.
Also presenting at the workshop was Jonah Fertig-Burd, of the Cooperative Development Institute (CDI) in Maine.  Led by Jonah, the group brainstormed some important guiding principles for why farmers cooperate - specifically through coops, including reasons such as sharing expertise, facilitating life and business transitions, and encouraging a healthy and supportive workplace for individuals with diverse abilities and needs. CDI has a number of important resources for farmers interested in exploring co-ops further, including a chart to help you determine which business entity is right for your business.  Farmers can even request several hours of free consultation from CDI's trained staff to explore their best options.
Before lunch the group was eager to hear what worked in practice from a farmer-panel comprised of northeast farmers engaged in various cooperative enterprises, including Hilary Corsun (Good Food Farmers Network and Dog Wood Farm), Hilary Martin (Intervale Farm Equipment Company and Digger's Mirth), and D. Rooney and Maggie Cheney (Rock Steady Farm and Flowers).  The importance to a co-op of building a strong foundation of engaged team members was underscored several times. As Rock Steady's D put it: "Your soil and your team are the most important things to think about when you look at the health of your farm. Seriously. If either are not healthy, you will be challenged."
The workshop concluded with an afternoon of active learning centered on communication and inclusivity. Joe Maraffino of the Democracy at Work Institute facilitated group discussions to help cooperators determine shared values and priorities. Knowing what a potential coop won't do is just as important as knowing what it is setting out to do. Melchor Hall shared some of the work done by Soul Fire farm and invited workshop participants to consider how anti-racist perspectives can better inform their cooperative enterprises. We look forward to exploring next steps for regional farmers interested in learning more about co-ops in the coming weeks and months.