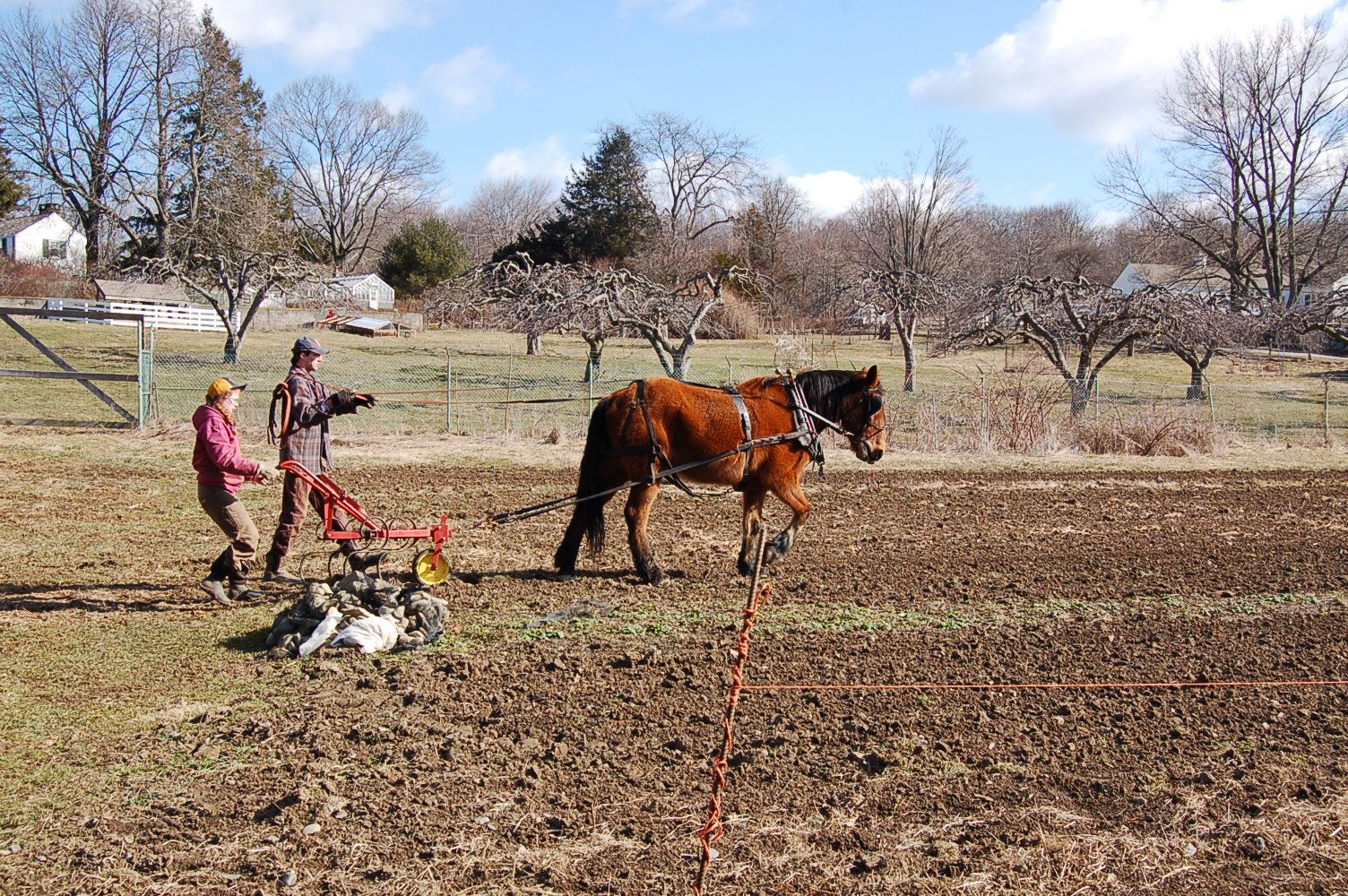 I should tell you with regret about the passing of my dear 31 year-old (!) draft horse, Maggie, but I instead prefer to celebrate her adventurous and well-lived life.
Maggie was a valuable contributor to farm operations at Glynwood. In fact, she was a regular co-worker in the early years of Glynwood's CSA. Maggie's utility in wet field conditions kept us on schedule in the spring. A horse is easier on the soil than a tractor and can get into a field before you would consider using a machine. That early field preparation made it possible to transplant our greenhouse seedlings on schedule. Those early CSA pickups were usually made possible by the old girl.
I always enjoyed introducing our apprentices and volunteers to draft horse work, and demonstrated her graceful work at some of our spring events. Working soil with horses increases one's connection with the natural world in a way you don't get with machinery. And caring for a horse -- feeding them every day, rain, sleet or snow -- builds a close bond.
Maggie grew up on a Mennonite farm in Pennsylvania, where she worked side-by-side with her half sister Mirt, and birthed a few foals. When she was past her breeding years, she went to a new home, where she and Mirt were used for trail rides and occasional driving. A few years later, the new owner posted an ad in Rural Heritage, "free to good home". I was in the market for a well-broke team of horses more than a dozen years ago. I sought a seasoned team to use for light tillage and cultivating vegetables, and training new farmers. The owner liked my plan and the team became mine. I was then, and remain, a pretty green teamster. Maggie and Mirt had me pegged from the start and dragged me ten feet the first time I tacked them up. We sorted it out amicably.
Mirt passed away a long time ago, but Maggie was able to press on, pulling a single-horse cultivator to incorporate cover crops in the spring and cultivate countless weeds. Maggie was strong, stoic, resilient, bombproof and patient. I learned far more from her than she ever did from me, and she served us all well. Maggie was laid to rest in a pasture on the farm. She was loved and will be missed.